What Place Has the Best Weather in the World?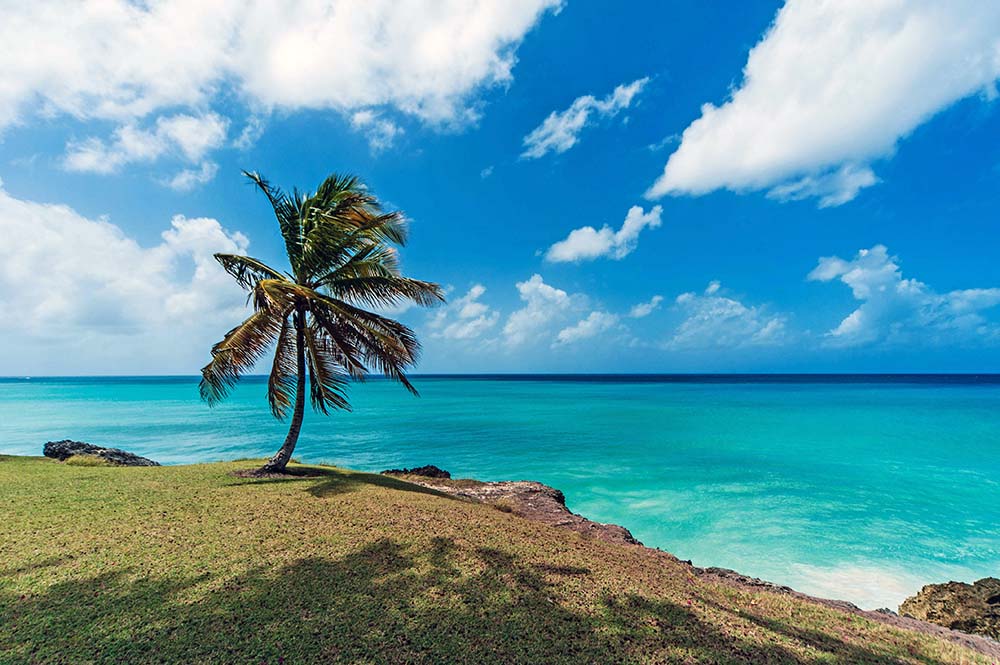 One of the main reasons why I travel so much is because I hate the weather in my home country of Poland. I love blue skies and high temperatures. They last, at best, 2-3 months in Poland. So I travel to various destinations around the globe to find a place with the best weather in the world.
In this article I'm going to share with you the places I've found so far that have the most pleasant climate. I'll also mention some places that others consider to have perfect weather and explain why I don't share their opinion.
For the US only, read my article on the best states for weather.
How Do I Define the Best Weather?
The best weather for me means as many months as possible of sunny, warm to hot (but not unbearably hot) weather. My criteria for a place with a pleasant climate are the following:
Daytime temperatures are always above 20 degrees Celsius (68 degrees Fahrenheit) even in the coldest month. This means that very mild winters (or ideally, non-existing ones) are essential as I hate winter. I'm not interested in mild, "eternal spring" kind of destinations where it's never too cold but isn't very warm, either. (Side note: I wrote an article titled Is 20 Degrees Celsius Hot or Cold?)
Nighttime temperatures in the coldest months don't go below 10 degrees Celsius (50 degrees Fahrenheit). And ideally, they're over 15 degrees Celsius (59 degrees Fahrenheit). As for the average summer temperature at night, preferably they aren't higher than about 23 degrees Celsius (73 degrees Fahrenheit).
The air temperature in the hottest months shouldn't go on average much above 30 degrees Celsius (86 degrees Fahrenheit) so that it's possible to engage in (land-based, not water only) physical activity even during the day.
The weather is sunny most of the time. The place needs at least 2,500 sunshine hours a year. And the more, the better.
If there's a rainy season, I don't want to see more than 10-15 rainy days a month. Some rain (50-100 days a year) is desirable as I'm not a fan of very dry, arid climates.
Water temperature is warm enough to swim year round (so at minimum, it has 20 degrees Celsius or 68 degrees Fahrenheit). Ideally, it reaches at least 25 degrees Celsius (77 degrees Fahrenheit) for most of the year. Of course, the more the better.
I wrote a detailed article titled What Is the Best Climate to Live In? In it, I explore the most suitable climates for human beings. You may want to read this article to get a broader perspective on various types of climates that may suit you better than my idea of best weather.
My Top 3 Places With the Best Weather in the World Year Round
After traveling to over 30 countries, including multiple times to various regions of the same countries (like Spain, the United States or Australia), here are my current top 3 places with the best weather in the world.
1. Barbados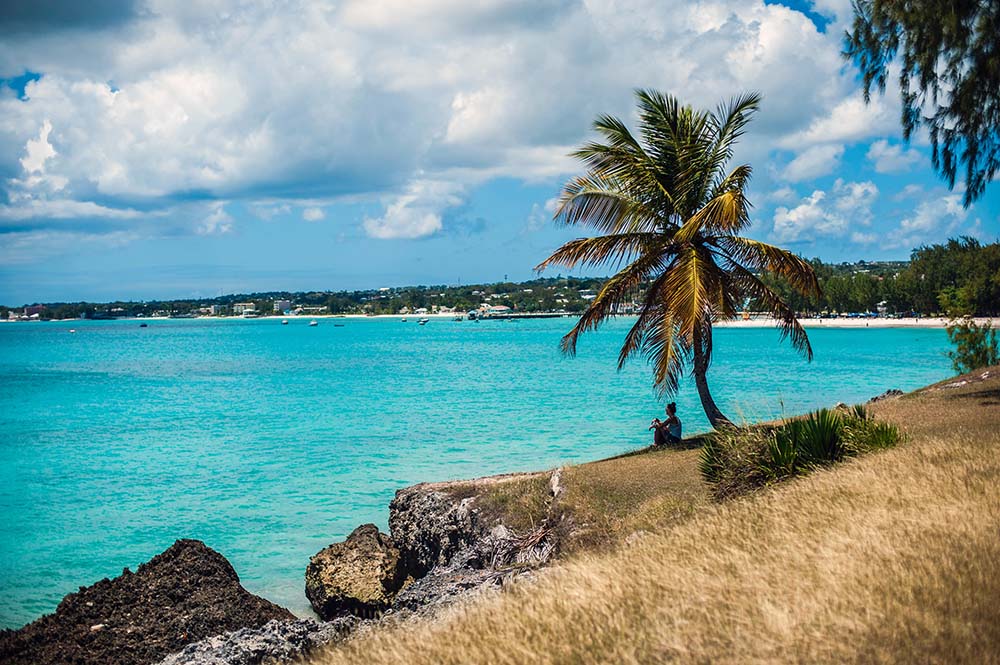 As a fan of consistently hot and sunny weather, Barbados is my top pick for the absolute best weather in the world. Yes, it may be a little too hot for some people (particularly considering hot nights). But the year round trade winds generally cool things down quite well.
Because it's so close to the equator and has a tropical savanna climate, Barbados has very consistent temperatures year round. They stay around 29-30 degrees Celsius (84-86 degrees Fahrenheit) during the day and 23-25 degrees Celsius (73-77 degrees Fahrenheit) at night. The only major change is the wet season from June to December with increased rainfall. But even then, sunny days are plentiful and the rainy season doesn't feel so bad.
Humidity is high, around 80% most of the year. But strong trade winds keep things comfortable. I've rarely felt there oppressive heat so common in places with a tropical climate.
The best thing about Barbados is balmy ocean temperatures year round. This island country is surrounded by the Atlantic Ocean on the east and south and the Caribbean Sea on the west.
You can choose from very different beaches, from wild and rugged breaking on sharp reef to calm turquoise lagoon-like waters. All of them have one thing in common, though: they're always pleasantly warm.
Even in the coldest month, the water temperature is still at least 26 degrees Celsius (79 degrees Fahrenheit). That's the same or only slightly cooler than the waters of many popular tourist destinations in the summer, including the Mediterranean coast.
For me, Barbados is a tropical paradise when it comes to weather (not so much as for nature, as unfortunately the island is very urbanized) and has by far the best climate out of all the places I've visited.
Regardless of the time of the year, it's always hot and sunny. Out of all the places I've been to, it has the most stable climate in the world if you don't want to feel cold ever again.
2. Oahu, Hawaii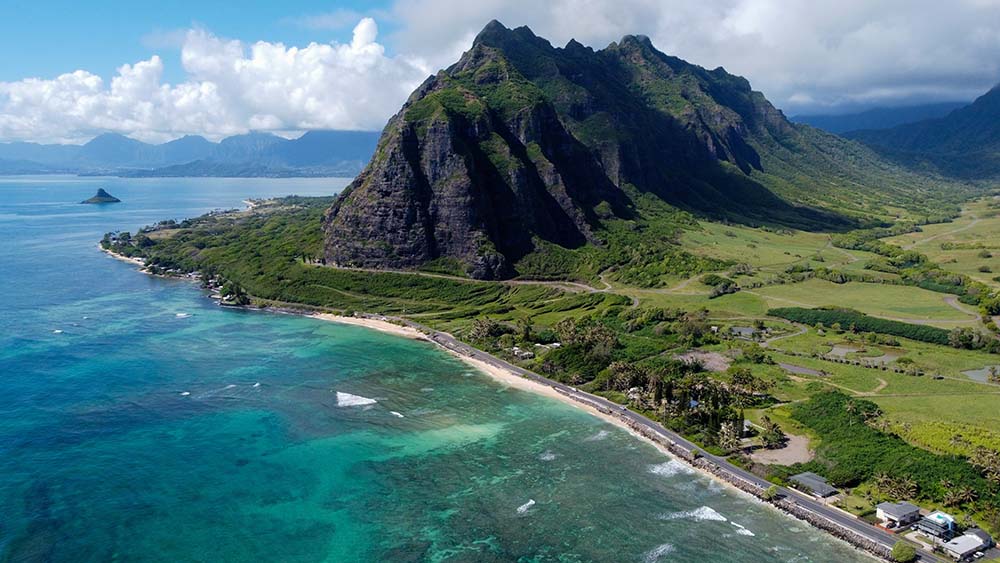 There's a reason why so many people flock to one of the most popular tourist destinations in the Pacific Ocean. Hawaii, and particularly Oahu, is blessed with one of the most comfortable climates in the world.
The average temperature at low elevations of the archipelago is always balmy. It rarely gets stifling hot. The Pacific Ocean has a moderating effect on the island's climate. It also never gets cold, with temperatures in the coldest months generally not going below 19 degrees Celsius (67 degrees Fahrenheit) at night.
Oahu, as many islands in the world, has various microclimates. You can drive from one area of the island to another and go from rain to blue skies. Sometimes even a short drive of 15-20 minutes is enough to switch to more favorable weather. This flexibility is one of the greatest aspects of living on these islands.
Ocean temperatures on Oahu stay comfortable year round, though not as hot as in Barbados. They range from 23 degrees Celsius (73 degrees Fahrenheit) to 26-27 degrees Celsius (79-81 degrees Fahrenheit).
3. Sunshine Coast, Australia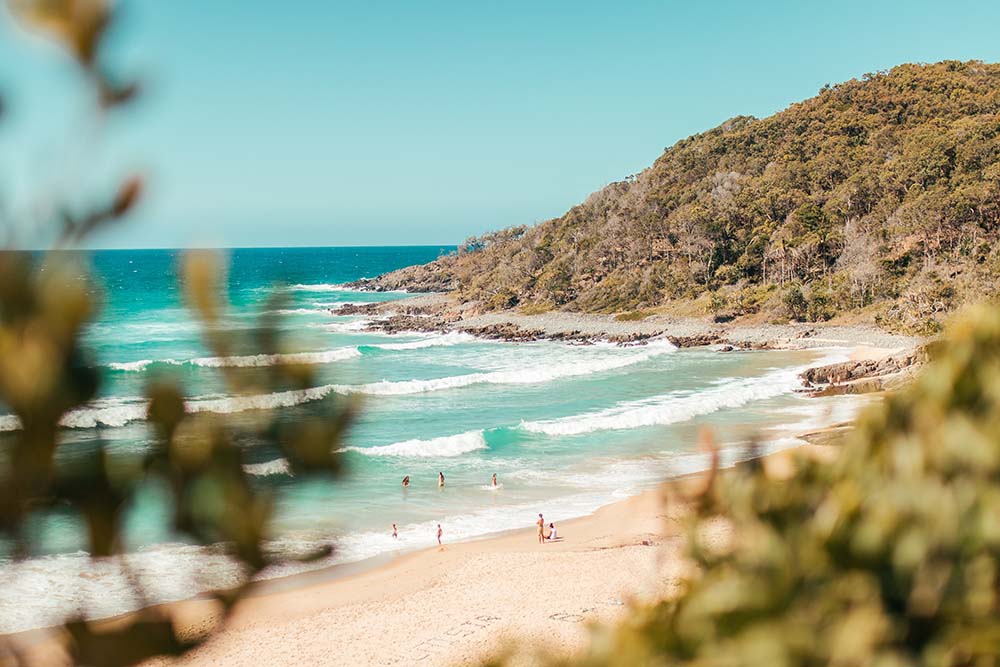 The region of Sunshine Coast in Australia (including Noosa) has the mildest climate out of the three of my top picks. In fact, it barely fits my criteria for year round great weather as winter nights can get a bit chilly.
Considering that I'm from Europe, I don't see it as such a big problem. If slightly cooler weather bothers you, you can vacation in Europe during the summer while it's winter in the southern hemisphere. This way, you get the best of both worlds.
Other than the three coolest months between June and August, the area has pleasant, generally sunny (there's a reason for that name) and (comfortably) humid climate. Rain may sometimes be an issue as the region doesn't have a pronounced rainy season. Instead, it rains consistently year round. But Sunshine Coast still enjoys abundant blue skies and a summer season lasting most of the year.
The ocean temperature remains above 20 degrees Celsius (68 degrees Fahrenheit) year round and can get up to 28 degrees Celsius (82 degrees Fahrenheit) in the warmest months. This almost tropical climate ensures that you can enjoy the ocean year round.
All this combined makes the Sunshine Coast have the most beautiful climate in the world if you love warm, sunny weather but without going into super hot or super cold weather.
Places With Good Weather That I Don't Find So Great
While I've enjoyed most of the places I'm about to describe, I don't agree that they have a perfect climate year round. They may have great weather for about 6 months or so but the rest doesn't fit my criteria.
Do they have the best weather on the planet for some people? Of course. I do like these places a part of the year. But they don't have the best climate year round.
1. Mediterranean Countries in Europe: Greece, Italy, Spain, Cyprus, France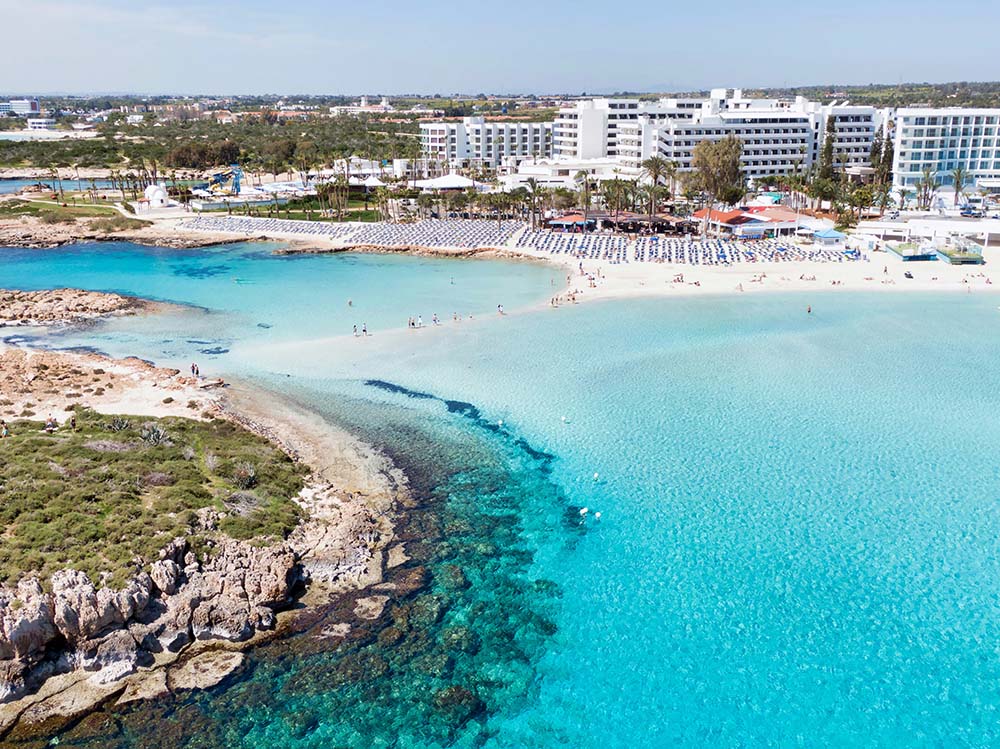 The countries bordering the Mediterranean Sea may have a mild climate but I don't consider the local climate perfect. All these places can enjoy between 6-9 months of good to great weather. Summers in particular offer reliable sunshine and warmth, offering the most stable weather on the continent in this period of the year.
The summer season is nice but the winters can get surprisingly chilly. Combine that with poor building standards with terrible insulation, a lack of proper heating, and a lot of rainfall, and winters can get very unpleasant.
The coldest I've ever felt in my life (for a prolonged period of time) was in Greece and Spain in the cooler months. While daytime temperatures can go above 15 degrees Celsius (59 degrees Fahrenheit), nights can drop to just a few degrees Celsius (about 40 degrees Fahrenheit).
Indoors, without proper heating, with single pane windows and paper-thin walls, it was impossible to think straight without blankets and thick clothes. And that doesn't help if you need to take a shower and the bathroom feels like you're in the Arctic.
The sea is too cold to swim in for at least six months, with temperatures dropping to 15-18 degrees Celsius (59-65 degrees Fahrenheit) or less. Despite warmer temperatures than elsewhere in Europe, seasons are still noticeable and winter can still be a struggle.
Having said that, I do see the benefits of such a temperate climate for those who want some respite from warmer weather. For me, I prefer when the average winter temperature is still as summer-like as possible.
As a side note, the Canary Islands that belong to Spain don't apply here. The weather there is the best you can find in Europe. While I prefer other places, I can't say that the Canary Islands don't have a pleasant climate for almost the entire year (particularly in southern Tenerife which is one of the prime tourist destinations for winter getaways).
If you want to explore more about the Mediterranean countries, I wrote articles about the warmest cities in them:
I also have an article on European destinations where it's warm year round (hint: Canary Islands are one of them) as well as an article titled Is a Mediterranean Climate the Best Climate in the World?
2. The Algarve, Portugal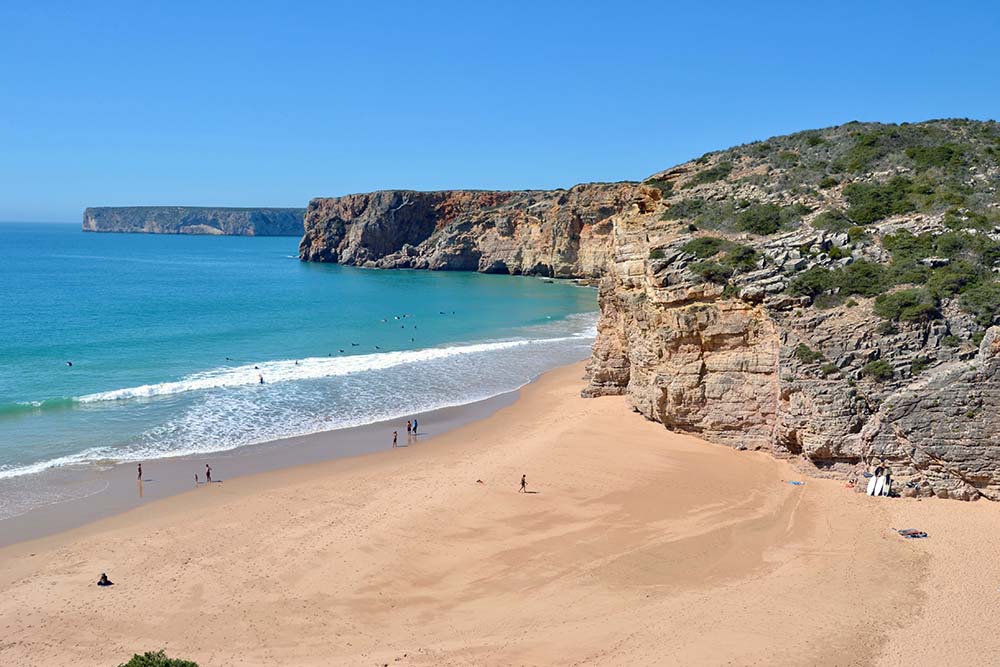 Algarve's average temperatures range from mild to warm, rarely getting as hot as the Mediterranean destinations and generally staying a little warmer (and sunnier) in the winter. It's the warmest area of mainland Portugal.
While consistent blue skies are very welcome, the Algarve deals with the same problems as Mediterranean destinations. It can still get cold in the winter. While the sun helps during the day, mornings and evenings can require a jacket, with the average temperature dropping to a winter-like one.
As long as you're outside in the sun, you'll be warm. But buildings in Portugal are designed for hot, sunny weather, so winters can get terribly cold if you're staying many hours indoors.
If you want a mild climate, it's a great option. But if you want warmer weather, mainland Europe doesn't offer it. Portugal is one of the safest warm countries in the world, though, so that may be an extra factor making up for cooler weather.
If you want a warmer climate and still stay in Portugal, Madeira in the Atlantic Ocean may be a good alternative, though it's much less sunny than the Algarve (its mountain ranges are spectacular, though). I wrote an article in which I compare Madeira with the Canary Islands. You can read it here: Madeira vs Canary Islands.
The Azores, the land of eternal spring, are also relatively warm year round but are much cooler than Madeira and also much cooler than mainland Portugal in the summer. Many of the islands in the archipelago also have very cloudy and rainy weather.
3. Quintana Roo, Mexico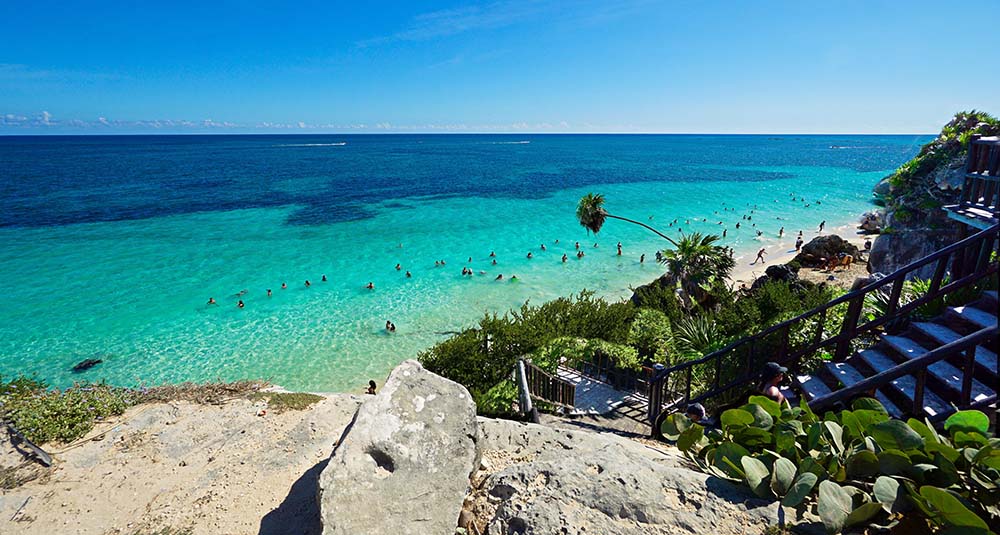 Quintana Roo, including places like Cancun and Playa del Carmen, has near perfect weather in the winter months, between November and April. It's hot but not unbearably hot. It rains but it doesn't rain too much.
Outside of these months, the hot and humid weather with temperatures reaching up to 35 degrees Celsius during the day (95 degrees Fahrenheit) makes it difficult to enjoy the day without air conditioning and/or being drenched in sweat. Physical activity other than water sports can get difficult and outright unpleasant with such high summer temperatures. In fact, Cancun is one of the warmest cities in Mexico.
Note that this mostly applies to mainland locations. The islands like Cozumel and Holbox have a much more pleasant climate that's cooler in the hottest months.
When choosing between the mild temperatures of the Mediterranean or Portugal and Quintana Roo, I'm a little conflicted. But ultimately, as a fan of hot weather, I'd rather be hot than cold. Still, Quintana Roo and similar hot and humid destinations in regions like Southeast Asia or Central America are not my idea of the most pleasant weather.
You may also want to read my article "What Country Is 20 Degrees All Year Round?" for some options for mild weather destinations.
We are sorry that this post was not useful for you!
Let us improve this post!
Tell us how we can improve this post?