Safest Warm Countries to Live In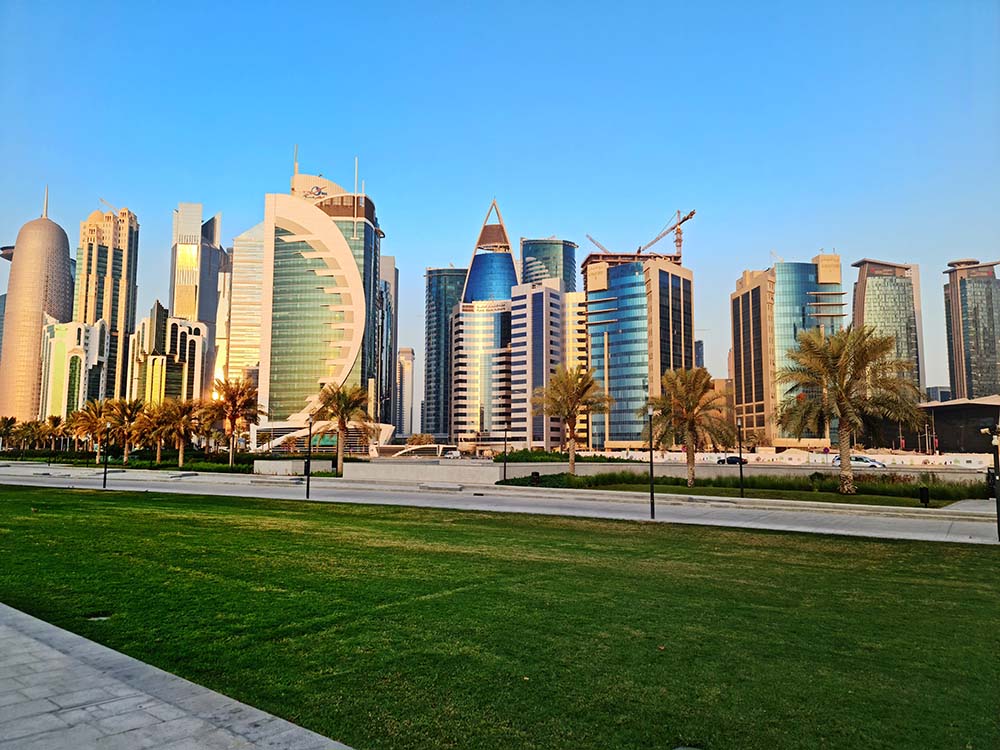 Many countries around the world have consistent warm weather but not that many of them offer a pleasant climate and safety all in one package. I've traveled to over thirty countries looking for that perfect mix of low crime and great weather. In this article I want to share with you the best places in the world where you can enjoy a warm climate and feel safe—based on data and my own personal experience.
The Problem With Safety in Many Warm Countries
While it's easy to find a place with high temperatures, it's not that easy to find a place where you don't have to worry about getting targeted by criminals.
Take Central America. Every country in this region offers various areas with great weather. For hot temperatures, go to the coastal areas. For cooler weather but still warm year round, head to the mountain towns.
Costa Rica is one common destination in Central America where you can enjoy the always hot Caribbean coast, surf on the drier and sunnier Pacific Ocean facing coast, or find a more temperate climate at higher elevation in a popular expat destination like Alajuela.
It all sounds good until you realize there are zero places in this region (or in most of South America, as well) that have a very low crime rate. In fact, most countries consistently rank as some of the most dangerous in the world. Even countries in Latin America that aren't that bad (like Costa Rica or other countries popular with expats like Panama) are still infamous for high levels of petty crime or worse. Armed robberies, home break-ins or car break-ins are a normal part of life.
So yes, you can get a perfect climate with spring like temperatures (or hot temperatures year round), natural beauty, stunning scenery, rugged mountain ranges, paradise beaches, etc. but the question is: at what cost?
I don't know about you but I can't live abroad in a place where I'm constantly on the lookout, worried about my personal safety. If you want to move somewhere to improve your lifestyle, don't you want to feel comfortable there?
Here's where my analysis comes in.
The Problem With Global Peace Index and a Better Source of Data
You can find many articles online listing the safest countries in the world. The problem is that most of them rely on a methodology called Global Peace Index. The Index not only takes into account crime rates but also largely irrelevant to a regular person indicators like military expenditure, neighboring country relations, or armed services personnel.
To me, it doesn't offer proper insights into how safe a given country is on a daily basis. For example, according to Global Peace Index, United Arab Emirates, a country virtually devoid of crime, places 60th, well behind countries known for high rates of everyday crime like Costa Rica or Mongolia.
There's a better alternative to get quantitative data on crime. Granted, it may not be as popular but I find it much more accurate. That alternative is Numbeo, the world's largest crowd-sourced global database of quality of life data created by over 700,000 contributors around the world.
Numbeo also has rankings pertaining crime. Their Crime Index by Country is what I'll use for this article to share with you the best safest warm countries in the world. This index is created by contributors around the world who report on the most useful for our purposes issues such as:
General perception of crime.
Perceived safety: feelings of safety while walking during the day and at night.
Concerns about specific crimes: worries regarding mugging, robbery, car theft, physical attacks by strangers, harassment in public places, and discrimination based on factors like skin color, ethnicity, gender, or religion.
Property crimes: observations on property-related crimes, such as burglary, theft, vandalism, etc.
Violent crimes: perception of violent crimes, including assault, homicide, sexual offenses, etc.
All this data comes from people visiting or living in these places, offering a much more useful glimpse into the safety of a given place.
As a side note, if you're also interested in the United States, I have an article on the safest warm places in the US. You may also be interested in my article Is Europe Safer Than the US?
And if you're looking for the most budget-friendly options, I also published an article on the cheapest and safest places to live in the world.
What Are the Top 15 Safest Warm Countries to Live In?
Here are the safest countries in the world that enjoy a warm climate. I only highlight countries that have areas where the average temperature in the winter months (or the cool season) reaches at least 15 degrees Celsius (or 60 degrees Fahrenheit).
Note that this filter removes some places that have a Mediterranean climate that's too cool in the winter (for example Croatia).
Since it's a list of countries to live in, I excluded from my top 15 Cuba as it's very difficult to move there as a foreigner.
Each country comes with its Safety Index. The higher the index, the safer the given country is. Levels above 80 mean extremely safe while levels between 60-80 mean very safe.
For comparison, countries below 20 are extremely dangerous (Venezuela) and 20-40 are very unsafe (including for example South Africa, Honduras, Jamaica, Brazil, or Puerto Rico).
These unsafe countries do at times have safe areas with lower crime levels but on the whole, other countries are much safer for living abroad. Later in the article I share a table with all warm countries listed on Numbeo along with their Safety Index.
1. Qatar – Safety Index of 85.2
According to Numbeo, Qatar is the safest warm country in the world. I've been to Qatar and I can attest that not even once have I felt unsafe there. Granted, while crime may be very low, living as a foreigner in a country like Qatar may be difficult due to many laws you may not be used to.
Still, if you want to live abroad in an extremely safe place with consistent warm to hot weather, Qatar may be the best choice for you. Just be aware that while Qatar is super pleasant in the winter (about 22-24 degrees Celsius or 72-76 Fahrenheit during the day), summers are brutally hot with daytime temperatures soaring to 40-42 °C (104-107 °F).
Also, I didn't find Qatar particularly interesting in terms of natural beauty. Unless you absolutely love the desert, you'll probably be spending most time in the capital city of Doha or on its beaches.
2. United Arab Emirates – Safety Index of 84.9
United Arab Emirates have almost the same Safety Index as Qatar. While most people head to more liberal Dubai, Abu Dhabi, the capital city of UAE, is another choice for a slightly less busy lifestyle. I've been to both of these cities (plus in the mountains in the north in Ras-Al-Khaimah) and crime will definitely not be a worry for you (traffic jams will be, though).
UAE has slightly warmer winters than Qatar (the coldest month is 24 degrees Celsius or 75 Fahrenheit), meaning that it never gets cold there. Summers are similarly hot to Qatar, with three months with temperatures over 40 °C (104 °F).
Like Qatar, United Arab Emirates offer perfect weather in the winter but similarly unbearably hot summers when you're largely confined to air-conditioned interiors. Unlike Qatar, UAE has more variety to offer, though, both in the cities as well as in terms of outdoor activities.
3. Taiwan – Safety Index of 83.8
Unlike the first two countries with their dry, desert climates, Taiwan is largely a humid, subtropical to tropical country. This means that when it gets hot, the weather may feel extremely muggy.
Winters in Taiwan are pleasantly warm. Depending on the city, daytime temperatures range from about 20 to 25 degrees Celsius or 68-77 Fahrenheit. Meanwhile, summers bring temperatures of up to 35 °C (95 °F) with very high levels of humidity (70-80%). Taiwan is not a particularly sunny country, though. The sunniest city, Kaohsiung, records about 2,210 sunshine hours a year compared to about 3,500 in Qatar and United Arab Emirates.
Taiwan boasts excellent healthcare system while also offering a much lower cost of health insurance than many other countries. It's thus not only one of the safest countries but also one of the most popular places for expats who want to live comfortably without worrying about the state of hospitals, clinics, etc.
4. Oman – Safety Index of 80.3
Similar to Qatar and United Arab Emirates, Oman is another hot, dry country in the Middle East. I've been to Oman as well. It's one of the most fascinating places I've explored, with very friendly locals and a safe atmosphere throughout the country.
The capital of Oman, Muscat, offers the best climate out of the three countries. It's the hottest in the winter (but still pleasant) and the coolest in the summer (still hot but a bit more bearable). Winter temperatures are around 26 °C (79 °F) while the hottest month brings temperatures of about 40 °C (105 °F). Other summer months are up to a few degrees Celsius cooler than in Dubai.
5. Hong Kong – Safety Index of 78.5
Hong Kong is the second safest Asian country in this ranking. It doesn't come with a low cost, though, with prohibitively expensive housing costs. Hong Kong routinely ranks as the most expensive city in the world. The city is also one of the most densely populated places in the world. You need to absolutely love urban living if you want to move there.
The humid subtropical climate in Hong Kong offers mild winters with temperatures of about 19-20 °C (67-69 °F). Summers (the rainy season in the city) are humid and hot, with temperatures above 30 °C (86 °F) and lots of rain.
6. Japan – Safety Index of 76.9
Japan isn't technically a warm country as most of its cities get cold in the winter. Even cities with a humid subtropical climate, like for example the cultural capital of Japan, Kyoto, record temperatures of just 10 degrees Celsius (50 degrees Fahrenheit) in the winter. One of the country's regions, Okinawa, is a warm region, though.
Okinawa's main city, Naha, has a humid subtropical climate bordering on tropical rainforest climate. Winters are mild with temperatures about 20 degrees Celsius (68 degrees Fahrenheit). Summers are hot and humid, with temperatures climbing to 32 degrees Celsius (89 degrees Fahrenheit).
Despite a very different culture (or perhaps because of it?) Japan is popular among foreigners who are attracted to its well-developed, safe cities. Those who relocate permanently need years to adapt to the culture but with Japan being one of the safest countries in the world, at least they don't have to worry about crime.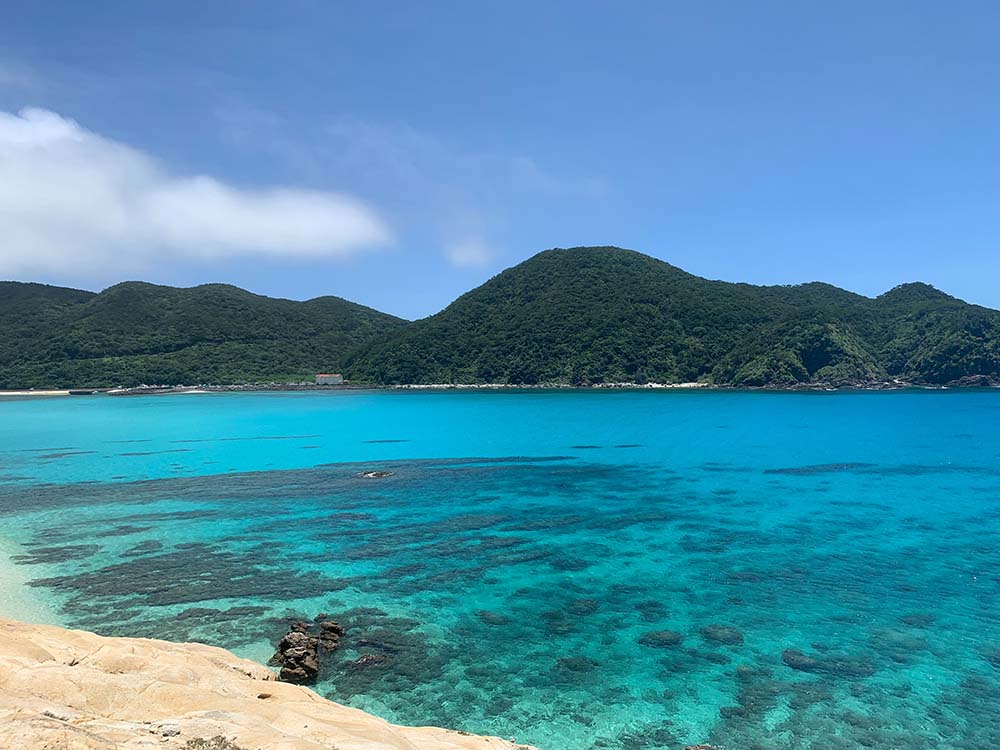 7. Bahrain – Safety Index of 76.0
Bahrain is another country in the Persian Gulf region. As the the third smallest nation in Asia after the Maldives and Singapore, Bahrain is a tiny country. It has a large number of foreigners and is more liberal than neighboring Qatar and Saudi Arabia.
Its arid climate is somewhat similar to that found in Qatar or United Arab Emirates. Winters are slightly cooler, though, with temperatures around 20-22 degrees Celsius (68-72 degrees Fahrenheit). Summers are noticeably cooler, with the hottest months bringing temperatures of 38 °C (100 °F).
8. Saudi Arabia – Safety Index of 75.4
I debated whether to include Saudi Arabia in this list as the country's restrictive rules mean that most foreigners live there only temporarily in compounds for expats. Still, the same can be said for other countries in the region, so in the end I decided to include Saudi Arabia as well.
Harsh laws may not be particularly welcoming but the country is nonetheless very safe. Warm, sunny weather is also guaranteed. Winters in Riyadh are mild (20-22 °C or 68-72 °F), though with colder nights than in Qatar or Dubai. Summers are extremely hot, and the hottest out of all the Middle East countries in this list. Temperatures go above 43 °C (110 °F) in two months and stay extremely hot between May and September.
9. China – Safety Index of 73.7
As the third largest country in the world, China is home to a variety of climates. These also include warmer regions in the southern part of the country, for example in Guangdong and Hainan. In these areas, winters are short and mild, with temperatures around 20 degrees Celsius (68 degrees Fahrenheit). Summers are hot (32 degrees Celsius or 90 Fahrenheit) and humid and last six months or longer.
China is known for a low level of violent crime but unfortunately poses a high risk for arbitrary detention or harsh enforcement of local laws you may not even be aware of breaking. Consequently, while the country may be safe and convenient, you need to exercise caution.
10. Rwanda – Safety Index of 72.4
Rwanda is the first and only African country on this top15 list. It may come as a surprise that an African country ranks so high, yet it does, largely due to the country's efforts to become the Singapore of Africa.
Granted, quality of life in such an undeveloped country will be a challenge for most foreigners. It's not anywhere near as convenient as living in any of the previous covered cities. And there may be infrastructure-related risks that the previous cities don't have. Still, according to Numbeo contributors, it's a very safe country.
The capital of Rwanda, Kigali, enjoys one of the most pleasant climates out of all cities mentioned in this article. Year round, temperatures stay between 26-28 degrees Celsius (79-82 Fahrenheit). The city's tropical highland climate gives it pleasant temperatures and plenty of rainfall in the rainy season, with mostly dry weather outside of it (June-August).
11. Brunei – Safety Index of 71.0
Brunei is a lesser known Islamic country in Southeast Asia, completely surrounded by the Malaysian state of Sarawak. It's a small nation with a population of less than 500,000 people. Due to the petroleum and gas industry, Brunei attracts many expatriates.
The country doesn't have warm weather: it has hot weather, and it's always hot, without any respite. Because Brunei has a tropical rainforest climate, temperatures are always above 30 degrees Celsius (86 Fahrenheit) and it's always extremely humid (over 85%). If you don't do well with humidity and rain, Brunei is not a good place for you as it also rains over 200 days a year.
12. Singapore – Safety Index of 70.8
Singapore is by far the richest and most developed country in Southeast Asia. Virtually devoid of violent crime, Singapore is arguably the world's most successful city-state. This comes at a cost, though, with extremely high prices.
Cost of living aside, Singapore is one of the best choices if you want to live in a warm, safe, country and you don't mind living in the city (Singapore doesn't have any real "countryside" to speak of). I've been to Singapore and the thought of crime doesn't even enter into your mind; that's how safe it feels.
Singapore's tropical rainforest climate guarantees three things: consistent hot weather, consistent extreme humidity, and consistent abundant rainfall. If you don't like any of these, Singapore may be too much for you unless you don't mind constantly using air conditioning.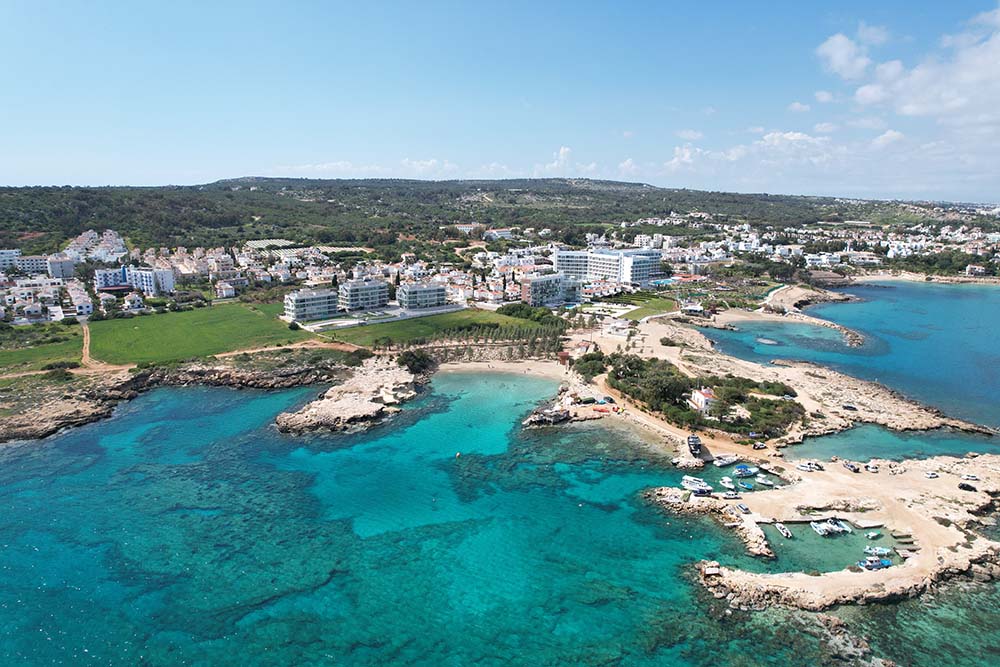 13. Cyprus – Safety Index of 68.6
The island nation of Cyprus is the first European country on this list. While technically located in Asia, Cyprus is considered a part of Europe due to its cultural and political ties with the continent.
I've been to Cyprus twice so far. While certain areas of the country feel a little rundown and potentially unsafe at night, overall it has a low crime rate with many expats living there enjoying its pleasant semi-arid climate.
During the winter, you can expect about 17-18 degrees Celsius (62-65 degrees Fahrenheit). Summers, which are virtually rain-free for up to five months, can get hot with temperatures climbing to 32 degrees Celsius (90 degrees Fahrenheit).
14. Portugal – Safety Index of 68.5
The second European country on this list is almost as far away from Cyprus as possible if we look at the map of Europe. Located in Western Europe on the Iberian Peninsula, Portugal also has archipelagoes in the Atlantic Ocean (Madeira and the Azores).
I've been to various areas of Portugal and felt safest in the countryside of the Algarve as well as on the island of Madeira. Some neighborhoods of cities in mainland Portugal felt a little sketchy due to dilapidated buildings and abandoned streets.
While some areas of Portugal in the northern part of the country get cold winters, the rest of the country can be considered as warm year round with winter temperatures of at least 15 degrees Celsius during the day (58 Fahrenheit).
Madeira and the Azores are firmly in the warm year round climate category. The former enjoys 20 degrees Celsius (68 Fanhrenheit) even in the coldest month while the Azores are cooler but still above 16-17 °C (61-63 °F). Summers on Madeira and in the Azores are pleasantly warm but never too hot, with average temperatures going up to 26 °C (79 °F).
Check out my list of the warmest cities in Portugal.
15. Israel – Safety Index of 67.4
Israel has a complicated political situation, with frequent clashes with Palestine. But the country in itself has a low crime rate. The nation enjoys a Mediterranean climate with warm to hot temperatures year round.
The southern part of the country, with its resort town of Eilat is hot almost the entire year. Winter days are still around 21-23 °C or 70-73 °F while summers are very hot, with temperatures above 40 °C (104 °F).
Meanwhile, the biggest cities like Jerusalem, Tel Aviv or Haifa are cooler (and Jerusalem is cold compared to the latter two). Tel Aviv and Haifa experience about 18 °C (64 °F) in the coldest month and around 30-32 °C (86-89 °F) in the hottest.
96 Warm Countries Ranked by Safety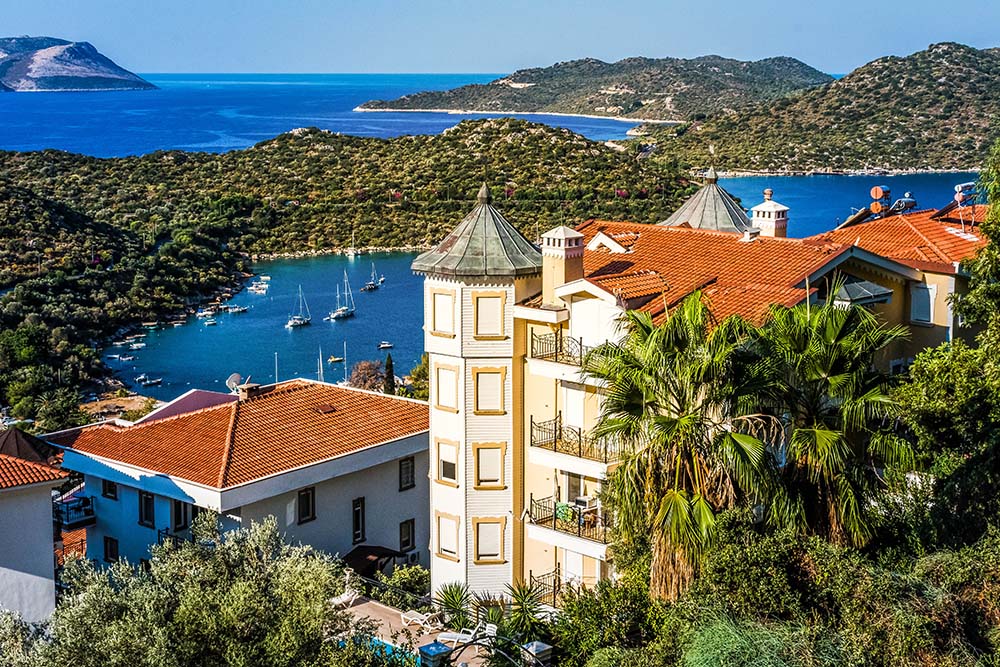 Here's a table with 96 warm countries ranked by safety. Note that these rankings apply countrywide and may be influenced by reports from bigger cities while smaller cities may be much safer.
| Rank | Country | Safety Index |
| --- | --- | --- |
| 1 | Qatar | 85.2 |
| 2 | United Arab Emirates | 84.9 |
| 3 | Taiwan (China) | 83.8 |
| 4 | Oman | 80.3 |
| 5 | Hong Kong (China) | 78.5 |
| 6 | Japan | 76.9 |
| 7 | Bahrain | 76 |
| 8 | Saudi Arabia | 75.4 |
| 9 | China | 73.7 |
| 10 | Rwanda | 72.4 |
| 11 | Brunei | 71 |
| 12 | Singapore | 70.8 |
| 13 | Cyprus | 68.6 |
| 14 | Portugal | 68.5 |
| 15 | Cuba | 68.4 |
| 16 | Israel | 67.4 |
| 17 | Kuwait | 67.4 |
| 18 | Spain | 64.3 |
| 19 | Nepal | 62.4 |
| 20 | Thailand | 61.3 |
| 21 | Turkey | 59.9 |
| 22 | Jordan | 59 |
| 23 | Palestine | 59 |
| 24 | Sri Lanka | 58.6 |
| 25 | Pakistan | 57.7 |
| 26 | Malta | 57.5 |
| 27 | Philippines | 57.3 |
| 28 | Panama | 56.3 |
| 29 | Ghana | 55.5 |
| 30 | Vietnam | 55.5 |
| 31 | India | 55.4 |
| 32 | Tunisia | 55.4 |
| 33 | Australia | 54.5 |
| 34 | New Zealand | 54.2 |
| 35 | Indonesia | 54.1 |
| 36 | Iraq | 53.9 |
| 37 | Lebanon | 53.8 |
| 38 | Sudan | 53.5 |
| 39 | Morocco | 53.2 |
| 40 | Italy | 53.1 |
| 41 | Greece | 53 |
| 42 | Egypt | 52.8 |
| 43 | Barbados | 52.1 |
| 44 | Mauritius | 51.9 |
| 45 | Myanmar | 51.8 |
| 46 | Zambia | 51.2 |
| 47 | Nicaragua | 51.2 |
| 48 | United States | 51 |
| 49 | Iran | 50.1 |
| 50 | Paraguay | 49.2 |
| 51 | Ethiopia | 49.1 |
| 52 | Algeria | 47.4 |
| 53 | Uruguay | 47.3 |
| 54 | Cambodia | 47.1 |
| 55 | Malaysia | 47.1 |
| 56 | Belize | 46.9 |
| 57 | Botswana | 46.3 |
| 58 | Costa Rica | 46.2 |
| 59 | Mexico | 45.6 |
| 60 | Maldives | 45.5 |
| 61 | Uganda | 45.1 |
| 62 | France | 44.7 |
| 63 | Tanzania | 44.5 |
| 64 | Kenya | 43 |
| 65 | Fiji | 43 |
| 66 | Chile | 41.9 |
| 67 | Ecuador | 40.6 |
| 68 | Guatemala | 40.3 |
| 69 | Colombia | 39.8 |
| 70 | Libya | 39.8 |
| 71 | Zimbabwe | 39.5 |
| 72 | Bolivia | 39.2 |
| 73 | US Virgin Islands | 39.1 |
| 74 | Dominican Republic | 38.8 |
| 75 | Puerto Rico | 38 |
| 76 | Bahamas | 37.6 |
| 77 | Bangladesh | 37.4 |
| 78 | Mozambique | 36.6 |
| 79 | Argentina | 35.7 |
| 80 | El Salvador | 35.6 |
| 81 | Cameroon | 35.2 |
| 82 | Namibia | 35.2 |
| 83 | Angola | 34.6 |
| 84 | Nigeria | 34.5 |
| 85 | Brazil | 33.4 |
| 86 | Peru | 32.4 |
| 87 | Jamaica | 32.2 |
| 88 | Somalia | 31.4 |
| 89 | Syria | 31.2 |
| 90 | Guyana | 31 |
| 91 | Trinidad And Tobago | 29.4 |
| 92 | Honduras | 25.8 |
| 93 | South Africa | 24.6 |
| 94 | Afghanistan | 21.4 |
| 95 | Papua New Guinea | 20.1 |
| 96 | Venezuela | 17.4 |
We are sorry that this post was not useful for you!
Let us improve this post!
Tell us how we can improve this post?