Madeira vs Canary Islands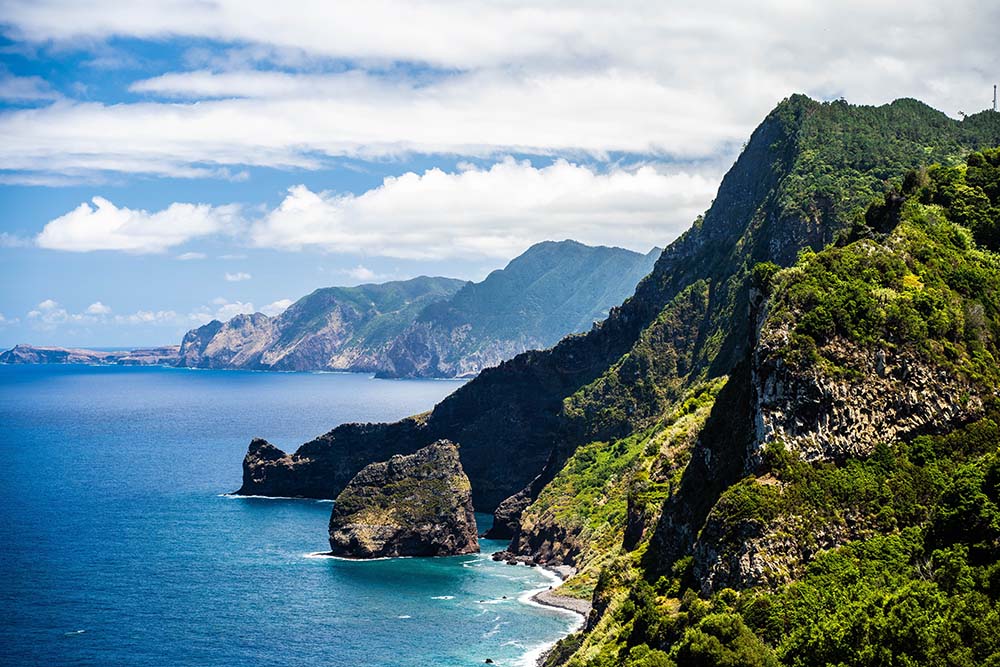 Whether you want to travel or move to Madeira or the Canary Islands, this article is for you. I've been to all the islands in the Canary Islands archipelago as well as to Madeira so I have first-hand experience with both. Here are my thoughts on these two destinations.
Madeira vs Canary Islands: Climate
Let's start by comparing my favorite aspect first: local climate. Even though the islands seem to be relatively close, they feature a different climate.
The Canary Islands Are Sunnier
If you're looking for the sunniest weather possible, Madeira is a much worse option than the Canary Islands. Even the cloudiest islands of the Spanish archipelago, such as La Palma, are still sunnier and drier than Madeira.
If you compare the sunniest places in the Canaries such as southern Tenerife to Madeira, most of Madeira (except for drier and sunnier western Madeira) is gloomy in comparison. For short vacations, if you desperately want it to be sunny all the time with as few rainy days as possible, the Canary Islands are a much safer bet.
If you go for a week-long vacation to Madeira outside of the summer months, there's a risk that it'll rain on at least a few days of your stay. For example, while it rains in Funchal (the capital of Madeira) only 1-2 days in July and August, it can rain up to 10-13 days between December and February. And it can rain for a few days straight, which is rather rare in the Canary Islands.
BUT… If you compare Madeira to most places in northern Europe, it'll still be much sunnier (and incomparably warmer even in the coldest months). So if you have an option to go to Madeira, don't let it discourage you from going there.
You can mitigate the risk of bad weather by choosing to stay in western Madeira. For example Calheta is usually drier and sunnier. Staying close to the coast is a good idea, too, for the warmest weather.
Definitely do NOT stay anywhere at altitude. Even staying just a few hundred meters above sea level may result in having constant cloud cover and much lower temperatures than by the coast. I also wouldn't recommend staying in the northern part of the island that tends to be rainier and cloudier.
My advice for the best weather would be to base yourself somewhere south or east of Funchal. It can be anywhere from Calheta to Funchal in the south or from Caniço to Caniçal on the eastern side of the island.
As for the Canary Islands, for the warmest and sunniest weather the rule is to always base yourself in the south of each island. Don't stay at elevation, either. You can find cheaper accommodation inland but it'll come with temperatures at least a few degrees Celsius lower. There'll be also more clouds, particularly in the northern part of Tenerife and Gran Canaria.
Madeira Is More Humid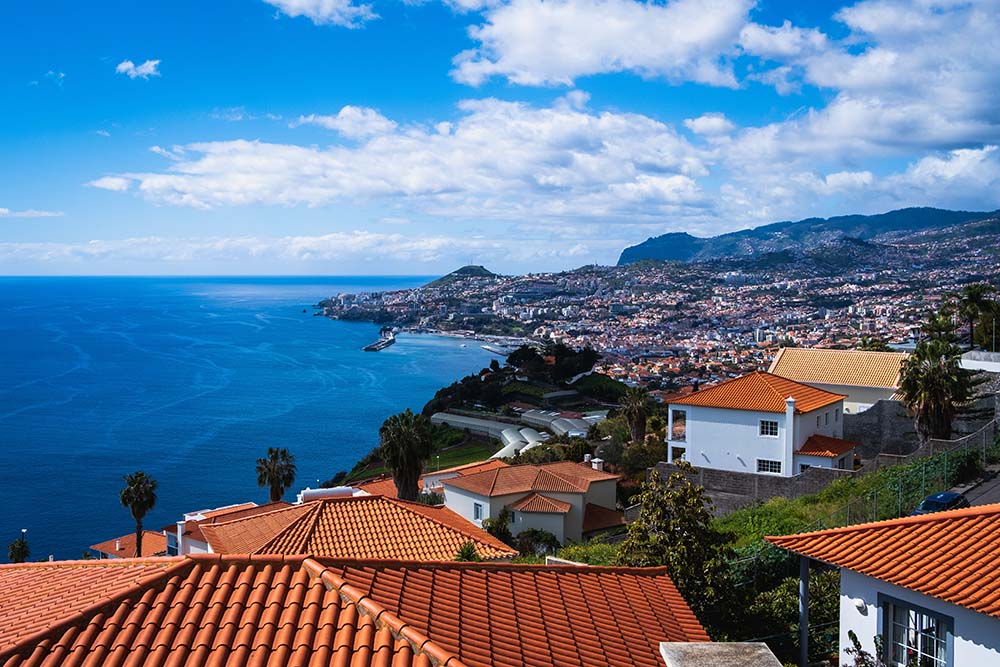 What Madeira offers that the Canary Islands don't is higher humidity. When the weather is warm, higher humidity gives a warmer thermal sensation. This means that 20 degrees Celsius in the Canary Islands with low humidity (say, 35%), will feel colder than 20 degrees Celsius in Madeira with higher humidity (say, 65%).
This effect is even more pronounced when you're exposed to strong winds common in much of Canary Islands. The islands are largely barren and unprotected from the wind. You'll feel warmer in Madeira because you won't deal with windchill. Meanwhile, high humidity will slow down the sweat evaporation process (this is what makes humid weather feel hotter).
But of course, if you don't like humidity, then Madeira is not for you and the Canary Islands are better.
Most of the time I felt comfortable both in Madeira and the Canary Islands. The only exceptions were the islands of Fuerteventura and Lanzarote. They have strong winds that make the weather feel unpleasant even if it's otherwise warm.
Madeira as a whole has a milder climate than the Canary Islands. Summer highs reach about 25-26 degrees Celsius compared to 27-28 in the Spanish archipelago. Winters are also warmer in the Canaries.
Both Archipelagos Are Warm Year Round
Both Madeira as well as all of the Canary Islands are warm year round. Even in the coldest months, you can still expect on average daytime temperatures of at least 20 degrees Celsius. Wind speed and humidity do have an impact on how warm it feels, though, as I explained before.
I don't recommend Fuerteventura or Lanzarote in the colder months because they're too windy and unpleasant. Even on the most spectacular sandy beach that these islands are known for, you won't enjoy it much if you're constantly pelted with sand.
The Ocean Is Slightly Warmer in the Canary Islands
Islands with the warmest ocean water in the Canary Islands are Gran Canaria, Tenerife, La Gomera, El Hierro, and La Palma (Fuerteventura and Lanzarote tend to be a little cooler). Temperatures in these places don't drop below 18 degrees Celsius while in Madeira they can drop to 17 degrees. At its warmest, the water temperature reaches up to 26 degrees Celsius in both archipelagos.
Madeira vs Canary Islands: Beaches
Here's my comparison of beaches in Madeira and the Canary Islands. I'll start by briefly covering all the Spanish islands and then Madeira.
Beaches in the Canary Islands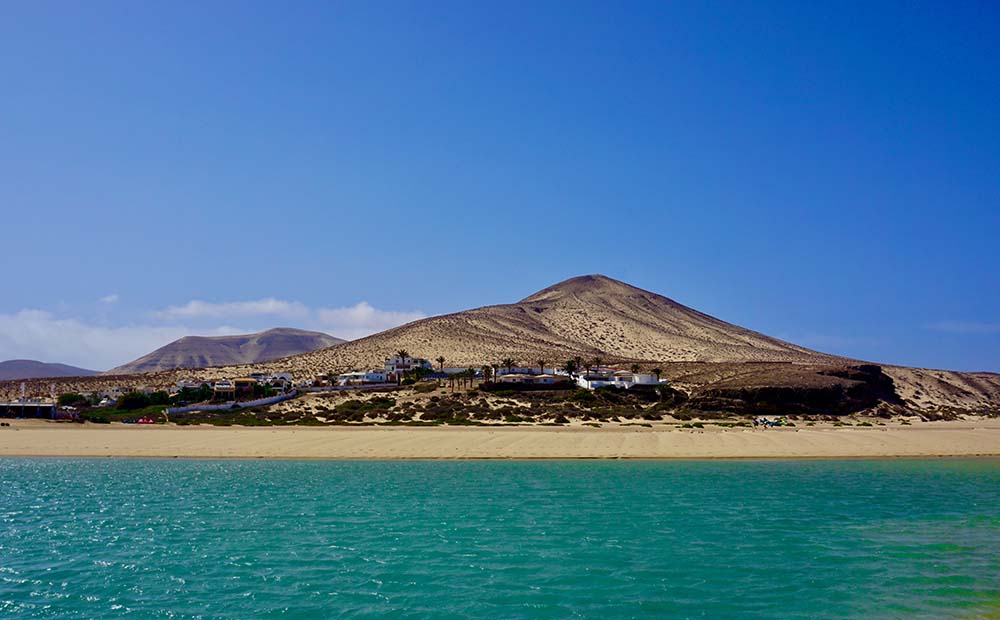 Let's start with the most well-known beaches of the Canary Islands located on the two islands closest to the African coast: Fuerteventura and Lanzarote.
I'm a fan of sandy beaches but I don't enjoy windy beaches. So while the beaches on Fuerteventura and Lanzarote look spectacular when you google them, most of the time the wind ruins the experience.
It's strange to cover yourself up on a beach when it's 25 degrees Celsius and sunny. But that was largely my experience with beaches on the islands closest to the African coast. I doubt many Instagram influencers will let you in on this little secret. Most tourists come unprepared. They expect a great beach day and end up hiding somewhere behind a rock to get some respite from the relentless wind.
Gran Canaria doesn't have any memorable beaches. The ones that appear in tourist brochures are man-made and are surrounded by large hotels. I found the most popular beach of Las Canteras ugly. I've been to some nicer wild beaches in the southern part of the island but overall, I don't consider Gran Canaria a good beach vacation destination.
Tenerife would be my primary recommendation for beach lovers. It has spectacular black sand beaches in the north (though they're usually unsafe for swimming) and some nice yellow sand beaches in the south (that are usually calm).
La Gomera has some nice little beaches, too. I particularly loved the small Playa de Vueltas in Valle Gran Rey.
El Hierro has very few beaches but it has some spectacular natural swimming pools for snorkeling, such as the one in Tamaduste.
La Palma isn't a beachgoer destination, either, though Playa de Nogales is one of the most beautiful beaches in the archipelago (to look at, as it usually has strong surf).
Beaches on Madeira
Madeira doesn't have as many beaches as the Canary Islands and they aren't particularly spectacular. In fact, I wouldn't recommend Madeira as a place for beach lovers.
While there are some sandy beaches that are nice to relax for a while (for example a protected beach in Machico or the beach in Seixal harbor), Madeira is more known for rugged cliffs or rocky beaches. If you're into the latter, one of the nicest beaches is Praia da Maiata in Porto da Cruz.
The most well-known beach in Madeira is the man-made beach in Calheta with imported yellow sand. But I'm not a fan of such places as it's very touristy and doesn't feel natural.
Madeira vs Canary Islands: Landscape
Madeira is a green island, with lush vegetation that is hard to find in the Canary Islands except for some parts of La Palma, La Gomera, and Tenerife that have laurel forests. And while Madeira has much fewer beaches than the Canary Islands, the stunning scenery, including its coastline, more than makes up for it.
Madeira is one of the most beautiful places I've ever been to. It's more beautiful than the Spanish archipelago. The closest island with similar natural beauty is La Palma but even that island, known for its wetter climate and its nickname Isla Bonita (pretty island) is not as diverse and spectacular.
Of course, I'm not saying that the Canary Islands are ugly. El Teide National Park on the island of Tenerife deserves its reputation. So do the Anaga mountains and the black sand beaches. La Palma has beautiful green forests, too, and so does La Gomera. But overall, Madeira offers more diverse landscapes. And that's on just one island half the size of Gran Canaria.
Madeira vs Canary Islands: Convenience
In the Canary Islands, you have big cities like Santa Cruz de Tenerife on Tenerife or Las Palmas de Gran Canaria on Gran Canaria. On Madeira, you only have Funchal, and even that city isn't particularly big.
If you want access to great food, countless restaurant options, easy shopping, better infrastructure, etc., then the most developed of the Canary Islands (Tenerife, Gran Canaria, and Lanzarote) win over Madeira. Madeira wins if you're looking for something a lot quieter than the most popular islands of the Canary Islands.
Driving is much easier in the Canary Islands as most islands have wide, flat highways. Madeira is much more difficult, with countless winding mountain roads, tunnels, steep narrow streets etc.
Madeira is definitely less convenient but also less oriented toward mass tourism as the Canary Islands are. If you're into quiet places, it'll be right up your alley. If you need your vacation destination to be alive all the time, the Canary Islands are better.
If you're looking for other warm destinations in Spain or Portugal, check out my article on the warmest cities in Spain and the warmest cities in Portugal.
Frequently Asked Questions
Is Madeira similar to Canary Islands?
While there are some aspects of the island that reminded me of some of the Canary Islands (particularly La Palma), in general Madeira is very different. It's greener, more mountainous, and has much more spectacular peaks and hiking trails.
Is Madeira warmer than Tenerife?
Due to higher humidity, Madeira can feel warmer than Tenerife. But overall, temperatures in Madeira, particularly compared to southern Tenerife, are lower year round.
Is Madeira better than La Palma?
I liked Madeira more than La Palma. While both islands are green, Madeira has more lush vegetation and much more beautiful mountains.
We are sorry that this post was not useful for you!
Let us improve this post!
Tell us how we can improve this post?