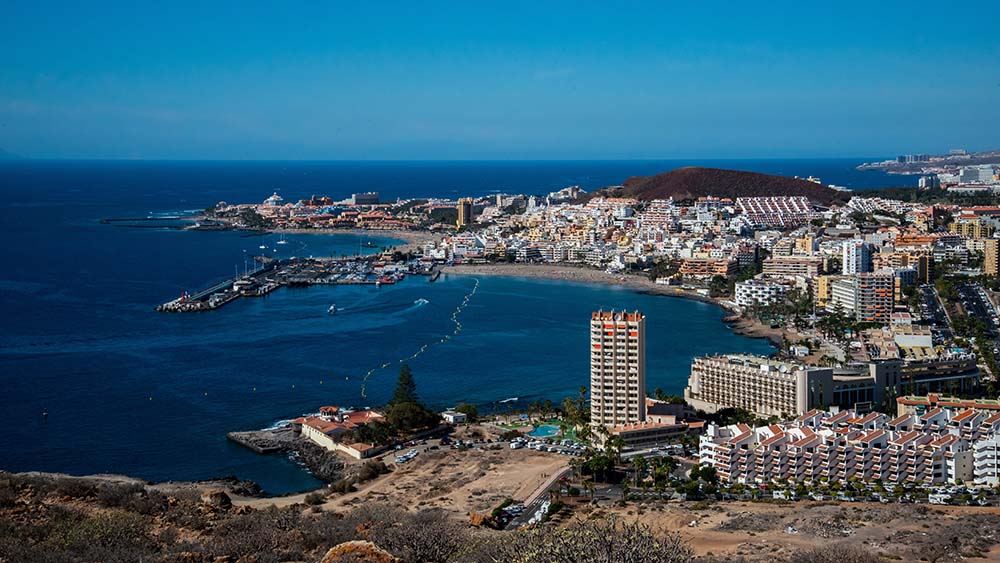 Tenerife and Gran Canaria are two of the most popular choices for people going on a trip to Spain's Canary Islands. I've been to both islands, three times in Tenerife and once in Gran Canaria. In this article I'm going to share my thoughts on both islands. Spoiler alert: I absolutely recommend AGAINST one of these islands.
Tenerife or Gran Canaria: My General Impressions
Let me put it bluntly: I don't like Gran Canaria. It's an overpopulated, ugly island with very little to offer. I spent ten days on the island and explored all regions of it. If I can give you one piece of advice, it's to skip it and head to Tenerife. Despite being the most visited island in the Canary Islands, it's far, far, better than Gran Canaria.
The southern part of Gran Canaria is covered with ugly tourist resort areas. It regularly smells of sewage there, and the smell will greet you on the highway already. Poop and other delicious stuff is being pumped straight into the ocean, leading to main beaches being regularly closed due to water contamination (Puerto Mogan is one of many places where this happens).
The eastern part of the island is industrial, with countless gray warehouses, factories, etc. It's also ridiculously windy, which is why it's a favorite among windsurfers (and a complete torture for any tourist who's not into this sport).
The northern part is extremely densely populated, with buildings chaotically squeezed one against another wherever they can fit. Las Palmas de Gran Canaria reminded me of favelas in Rio de Janeiro.
The nicest part of the island is the undeveloped western side where few people live and where mass tourism hasn't (yet) arrived. Some mountainous areas in the interior are also nice. Other than that, I wouldn't bother with the island.
Yes, Gran Canaria does have dry, sunny and warm weather and some nice tourist attractions like Roque Nublo. But overall, it's not worth time and money. I've been to all of the Canary Islands and the only island I consider worse than Gran Canaria is Fuerteventura.
Tenerife is better than Gran Canaria in all aspects. Its natural beauty is worth the hype. It has much nicer beaches. It has much better hiking. Its mass tourist areas are still not as bad as they are in Gran Canaria. It still has authentic towns and cities, including La Orotava and Santa Cruz de Tenerife which is much nicer than Las Palmas de Gran Canaria. And it has a lot of variety which Gran Canaria lacks.
Out of these two islands, I see no reason to choose Gran Canaria over Tenerife. But let's go into more detail.
Tenerife vs Gran Canaria: Climate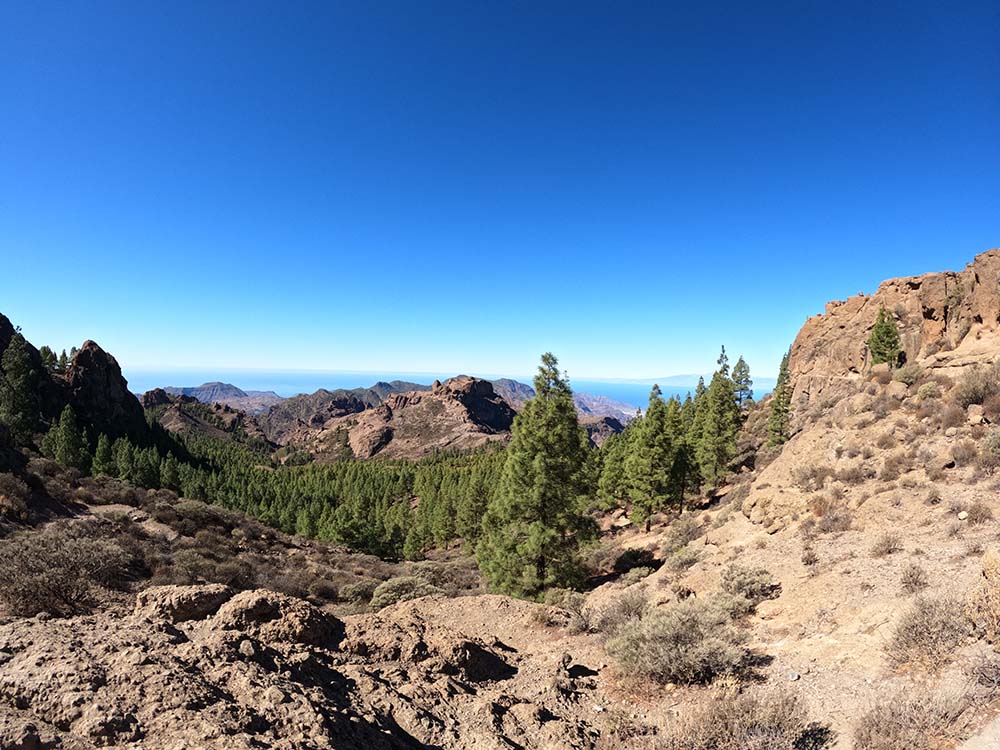 Gran Canaria is drier and windier than Tenerife. The southern part of Tenerife from Costa Adeje to El Médano and the southern part of Gran Canaria from Taurito to Bahia Feliz offer roughly the same warm and sunny climate. It's one of the hottest climates in the Canary Islands and most reliable sunshine-wise.
The northern part of Tenerife is cooler and cloudier than the northern part of Gran Canaria. But it's also much greener and lush which makes up for the worse weather. It's also a nice change if you're a little tired of drier, less vegetated areas in the south where most tourists stay.
Winters in both Tenerife and Gran Canaria offer daytime temperatures of about 21 °C while at night temperatures drop to about 15 °C. In the summer, average high temperatures reach about 29 °C while average low temperatures drop to about 22 °C. Winters are preferable for hiking while summers are preferable for beachgoers.
Water temperatures are also virtually the same. Between December and April they range from 17 to 22 °C which is too cold for most people to have a pleasant swim except for the maximum temperatures in December and April. Between May and November temperatures range from 19 to 25 °C.
Sunshine hours on both islands are almost identical: about 2,800-2,900 hours of sunshine a year. They're one of the sunniest places in Europe, though much less sunny than Limassol in Cyprus with 3,400 sunshine hours a year.
The southern areas of both islands may have temperatures higher by up to 2-3 degrees compared to the northern part (particularly in Tenerife in San Cristobal de La Laguna). And of course, at higher elevation temperatures will be even lower, even reaching just a few degrees Celsius in El Teide National Park in Tenerife in the winter months.
Tenerife vs Gran Canaria: Beaches
Both islands have some famous beaches, including Playa del Ingles and Las Canteras beach in Gran Canaria, and Playa de las Americas and Playa de las Teresitas in Tenerife. All of these beaches, and particularly Playa del Ingles and Playa de Las Americas, are not enjoyable places to be if you don't like sharing the beach with hundreds of people.
I don't think that the Canary Islands are particularly great for beach vacation. If you go in the summer, you can find much better beaches (with much warmer and calmer water) on the Mediterranean coast. And if you go in the winter, the water will be too cold for comfortable swimming (unless you're into water sports and bring a wetsuit).
But if I need to choose whether I prefer beaches of Tenerife or Gran Canaria, I'd still choose Tenerife.
The problem with Gran Canaria is that most of its beaches are overdeveloped and man-made. I also didn't particularly like the color of the sand. Volcanic black sand in Tenerife, as unique as it is, is much more aesthetic compared to fake brown yellow sand of Gran Canaria.
If you want to see some more secluded amazing beaches, Tenerife is much better. Granted, the most beautiful beaches are in the north where surf is usually rough and you shouldn't enter the water unless you're an experienced surfer.
If you want a touristy, developed man-made beach right by a tourist resort, then Gran Canaria may be a better choice for you. Just be aware that Gran Canaria has issues with water quality and you may encounter something far more unpleasant in the water than an ugly fish or a floating piece of plastic.
Tenerife vs Gran Canaria: Landscapes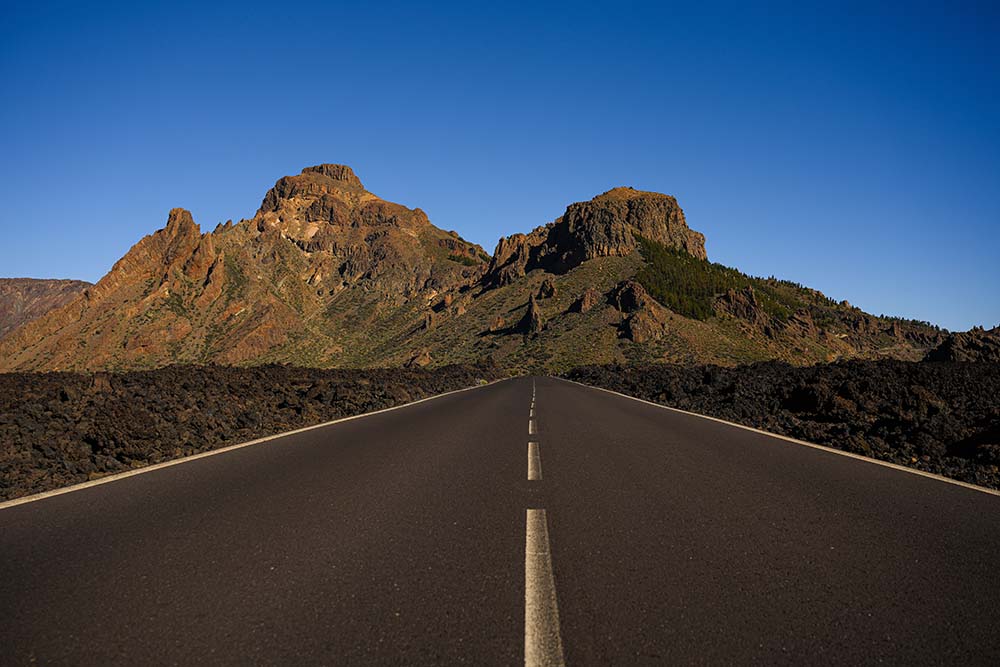 I think you can already predict which Canary island has better landscapes. Tenerife, hands off. There's no contest here.
Tenerife has a huge variety of landscapes. You have your standard tourist beaches in the south. You have huge Los Gigantes cliffs with a (very crowded) Masca Gorge trail leading to them. You have a spectacular national park of El Teide. You have lush laurisilva forests in the north. You have hiking trails in the the Corona Forestal Nature Park pine forests encircling Teide. And then you also have some hidden gems, including natural pools, cliffs for sport climbing, and more.
It's sometimes said that Tenerife is a miniature continent. It's the only Canary island that has close to everything you may want to enjoy relaxing vacation. Tenerife isn't as beautiful as Madeira but it's still a very scenic place.
In comparison, Gran Canaria is largely the same. Yes, it does have mountainous areas with some beautiful scenery but overall there's little variety on the island. The south is dry and barren and the rest of the island, except for its western part, is extremely overcrowded.
Tenerife vs Gran Canaria: Cities
I don't spend much time in cities when traveling but my choice is still obvious here: Tenerife.
The largest city of Gran Canaria, Las Palmas de Gran Canaria, is one of the ugliest cities I've ever seen. It's rundown and tacky, with zero urban planning. Other cities on the island aren't much better.
In comparison, Tenerife offers much nicer cities and towns. Santa Cruz de La Palma has some charm. La Orotava is a beautiful small town with well-preserved historic buildings. Even in the south, popular tourist cities like Los Cristianos or Adeje that attract tourists in hordes are still much less offensive than an average city of Gran Canaria.
Tenerife vs Gran Canaria: Getting Around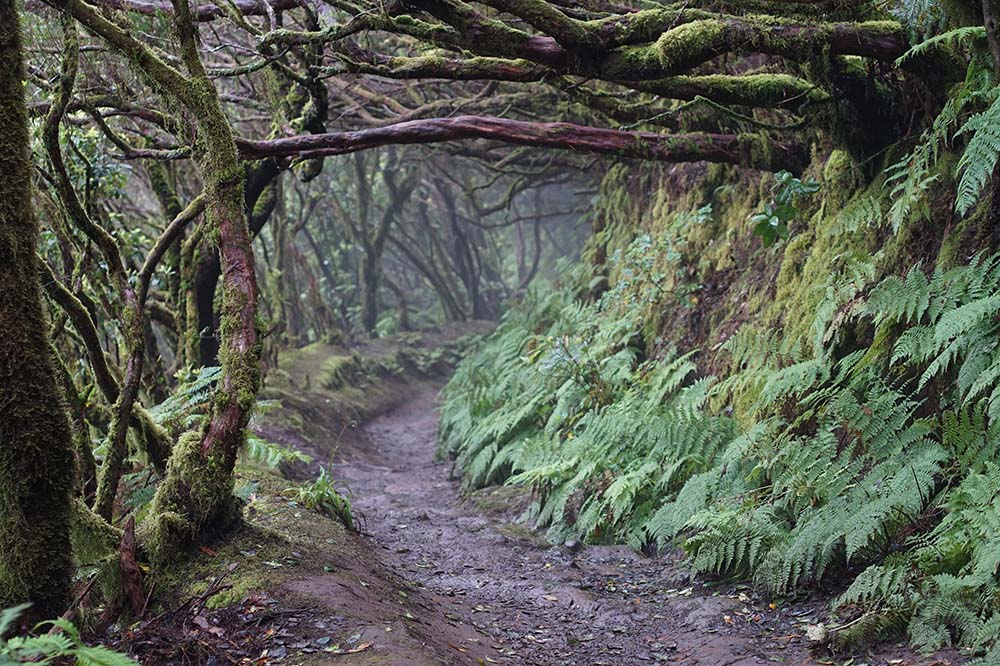 Both islands have a good network of highways and it's very easy to drive around most areas of the islands, except for their western parts both in Gran Canaria and Tenerife.
Because Tenerife is a larger island, you definitely need more time to explore it properly. This means more driving (I highly recommend renting a car). You'll also more likely to drive down winding mountainous roads, for example in Anaga. Take that into account if you're not comfortable driving on narrow roads.
The airport in Tenerife (Tenerife Sur) has more connections and is more conveniently located, with a quick drive to all the most popular tourist areas. In comparison, the airport in Gran Canaria is situated on the eastern part of the island, with a slightly longer drive to the south.
Tenerife North is the principal airport for traveling between all the Canary Islands. If you want to do some island hopping, it's much better to stay in Tenerife as otherwise you may be forced to fly from Gran Canaria to Tenerife North and then to your destination.
Tenerife or Gran Canaria: Where to Stay?
If you still plan to visit Gran Canaria, I recommend staying in the southern part of the island, in the valley leading through El Sao north. It's a quiet, pleasant area that's close to all the amenities but without the crowds and massive hotels.
An even quieter alternative is the valley leading through El Hornillo (though it's a little too far away from the rest of the island). If you prefer staying in a city, Arguineguín, the only regular town in the area, is a good option.
As for Tenerife, the area between El Médano and Costa del Silencio offers good weather without the development of towns further west. If that's more of your thing, Los Cristianos offers various accommodation, from cheaper hotels to luxurious Airbnbs.
In the northeastern part of the island, San Andrés is a good base for exploring the Anaga mountains. If you're more into culture and history, La Orotava is beautiful and conveniently located for exploring the north.
Regardless of the island, I advise AGAINST staying in any towns at a higher elevation (above 500 meters above sea level) if you're going in the winter. These areas will be noticeably colder. Few buildings in the Canary Islands have proper insulation and heating which means you'll be freezing inside.
Frequently Asked Questions
Is Gran Canaria or Tenerife better?
Unless you really love mass tourism and don't plan to leave your resort, Tenerife is infinitely better than Gran Canaria. There are some people who love Gran Canaria but I'm not one of them. It's one of my least favorite destinations in the world. All the Canary Islands, except for Fuerteventura, are in my opinion better than Gran Canaria.
Is it hotter in Gran Canaria or Tenerife?
Both southern Tenerife and southern Gran Canaria are some of the hottest destinations in the Canary Islands. Gran Canaria tends to be drier but is windier than Tenerife which makes it feel colder. So overall, for the hottest weather, I'd recommend southern Tenerife.
Is Tenerife or Gran Canaria more expensive?
I didn't notice much of a difference in prices between Tenerife and Gran Canaria. Tenerife may be slightly more expensive due to offering much more than Gran Canaria. You'd also likely be driving more to see all the sights, and that will increase your costs. Tenerife also has more luxury resorts if that's your thing. But overall, prices are similar.
We are sorry that this post was not useful for you!
Let us improve this post!
Tell us how we can improve this post?