Where Is It Warm All Year Round in Europe?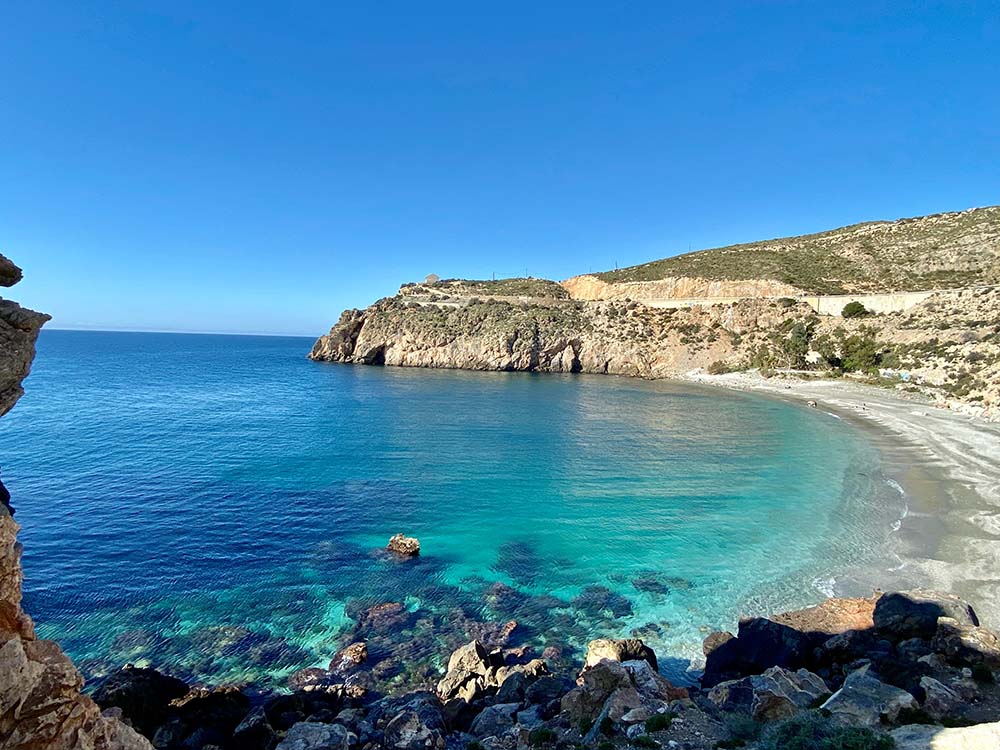 KEY TAKEAWAYS
It's warm all year round in Europe in Spain (southern continental Spain or the Canary Islands), Portugal (southern Portugal, Madeira, and the Azores), and Cyprus.
Whether you're looking for a warm place in Europe to live year round or want to get some winter sun (and then come back to cold winter weather), in this article I'll give you inspiration on where to go.
As a person from Europe who's addicted to warm and sunny weather, I know everything there is to know about the best European destinations with good weather. I've been to pretty much every place that would fit my requirements so I have firsthand experience about this. I'll give you the best options for warmest weather year round and the best options to enjoy that winter sun without freezing.
But first, let's define what warm weather even means.
What Does It Mean That a Place in Europe Has Warm Weather Year Round?
I've read many articles listing the best European destinations with warm weather in the winter season only to see places that reach maybe 13 °C (55 °F) during the day and get all the way to 5 °C (41 °F) at night. That's not warm! I can call it mild weather but I wouldn't consider such winter temperatures as warm.
Of course, the definition of "warm" depends on a person. If you live in a place where in the summer you can expect 20 °C (68 °F) at most, then you'd probably still consider 13 °C (55 °F) as "warm" weather.
For me, warm year round weather in Europe means average daily highs of at least 17-20 °C (62-68 °F) even in the winter months. For nighttime temperatures, I don't want to see temperatures lower than around 7-10 °C (44-50 °F).
This doesn't mean that I always expect it to be so warm as that's unrealistic for Europe. But at least most of the colder season, that's how warm it should be so I can consider it a warm year round destination.
Excluded Destinations That May Work for Some
My filter excludes destinations that others may consider warm that aren't that comfortable, either due to lower daily temperatures or colder nights. These excluded destinations are:
southern France and Corsica,
Malta,
Greece, including the warmest Greek islands such as Crete, Santorini, and Kythira,
Italy, including Sardinia, Sicily and neighboring islands such as Lampedusa and Pantelleria,
regions of Spain such as Catalonia and the Balearic Islands,
Lisbon in Portugal,
countries in the Balkans including Albania, Montenegro, and Croatia
Do these places still get reliable winter sun and can be warm on some days in the winter season? Of course. But on average, they aren't warm year round.
Warm Doesn't Necessarily Mean Beach Weather in the Winter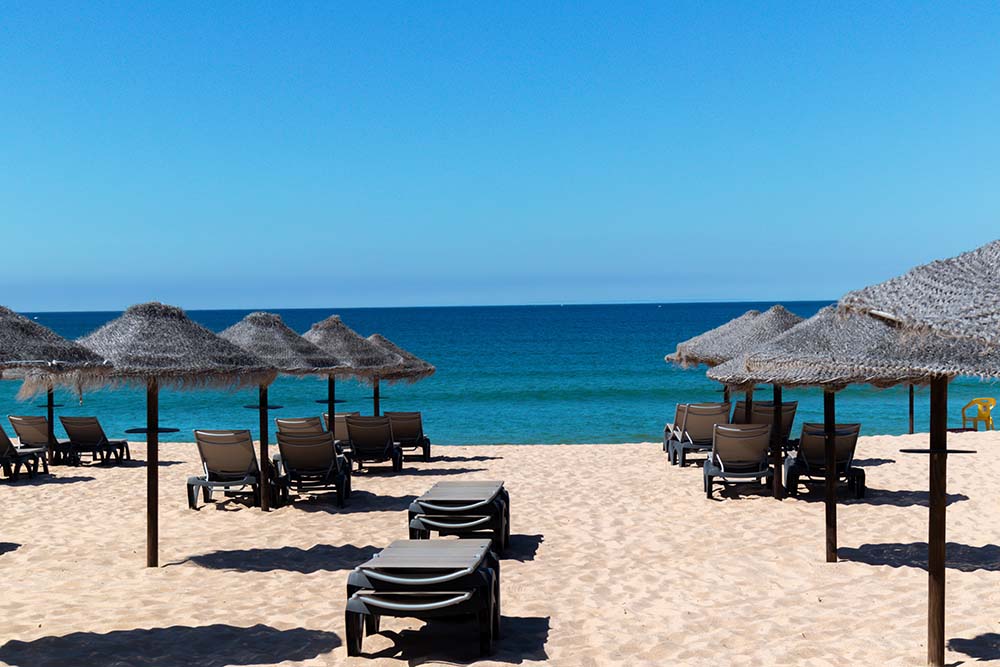 Even in the warm destinations in Europe, winter sun isn't always that strong that you can hang out at the beach.
Europe in winter, even in the warmest places, isn't tropical or anywhere close to it. Even on a day with 17 °C (63 °F), if it's windy, you'll likely need a jacket for a walk down the beach. And you'll definitely need one in the mornings and evenings.
Swimming in the off-season isn't that comfortable, either, unless you're cold-acclimatized or wear a wetsuit.
The warmest waters of the Mediterranean Sea around Cyprus reach between 16-18 °C (61-64 °F) in the coldest months. Meanwhile, the Atlantic Ocean on the continent in southern Portugal will be between 15-17 °C (59-63 °F) and in the warmer waters around the Canary Islands, between 18-20 °C (61-66 °F). The Canary Islands are thus the best option but still a little chilly.
In other words, these are definitely not hot springs temperatures. For most people, anything more than a quick dip won't be particularly comfortable.
An Important Caveat on Winter Months in Warm European Destinations
There's one important caveat I need to explore before we proceed to my list of the warmest places in Europe.
Namely: the warmest places in Europe may feature a warm climate but are much colder indoors than what you're used to (if you're coming from a cold country).
In warm countries, houses are primarily designed to be cool and dark during the long, hot season. They lack proper insulation, don't have double-glazed windows and most don't have heating. This means that they can get very chilly at night. Even if you have AC or electric radiators to heat the place, most of the heat will promptly escape.
To this day, the coldest I've ever felt in my life was when I was in late February in Alicante in Spain and in early February in Athens. It was freezing cold indoors, sometimes to the point it was hard to work. Unless you sat under a blanket right by an electric radiator, you were very cold.
Do NOT underestimate how cold a building designed for warm weather can get. If you spend a lot of time indoors, you'll feel way more comfortable in the winter months in a cold country that you will in a warm European place.
Here Are the Warmest Year Round Places in Europe
If you're looking for a warmest place in Europe, there are generally two definitions.
One is that you're looking for a place geographically on the European continent. This would be the most literal definition.
The second one is that you allow Spanish enclaves in North Africa and the Outermost Regions of Spain and Portugal that are located in the Atlantic Ocean. Most of these areas are geographically considered a part of the African continent but politically and culturally they belong to Europe.
There's one more much lesser known option but we'll discuss that later in the article. For now, let's focus on the two main options for year round warm temperatures.
Continental Europe Where It's Warm Year Round
There are three countries and one overseas territory in continental Europe that would fit my definition of a place that's warm year round, with winter temperatures reaching on average 17-20 °C (62-68 °F).
Here's an overview of these destinations with the warmest places in each of them. You may also want to read my article on the hottest country in Europe.
Spain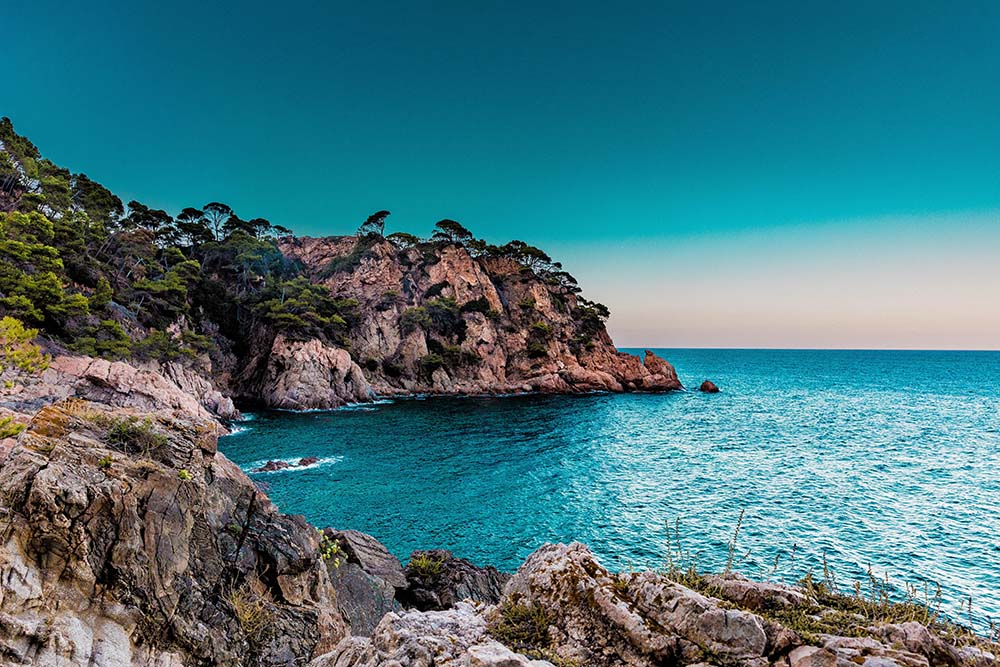 The regions of continental Spain that would fit my criteria are Andalusia, Murcia, and Valencia.
If you're looking for the warmest and sunniest, almost guaranteed weather, look no further than Andalusia. The warmest year round regions of Andalusia are coastal areas including:
The province of Cádiz with cities such as Cádiz (one of the sunniest cities in Europe), Jerez de la Frontera, and Algeciras. This also includes Costa de la Luz, a less developed Atlantic ocean-facing part of southern Spain. I spent several weeks in the area in the fall and early winter. Its mild climate was definitely much better than the cold weather I'd experience in my home country of Poland.
The province of Málaga, including Málaga (the warmest big city in Europe) and Marbella. I've been to the area twice. I can attest that the local subtropical Mediterranean climate can be pleasant even in the winter. If someone asked me for the best warm big city in Europe, I'd answer that Málaga is a great option. Other than that, the entire Costa del Sol is great for reliable winter sunshine and the Mediterranean Sea is beautiful even on a colder winter day.
So-called Costa Tropical or Costa Granadina in the province of Granada, including Motril. This region has a unique subtropical microclimate with slightly higher winter temperatures than anywhere else in continental Spain, reaching about 18 °C (64 °F) even in the coldest month. The climate is so favorable that it's possible to grow exotic tropical fruits there such as avocados, cherimoyas, guavas, litchi, mangoes, and papayas.
Murcia, the province neighboring Andalusia, also has some areas that I could consider warm year round. As in the case of Andalusia, they're coastal parts of the province. One example is the city of Cartagena with its hot semi-arid climate.
Another Spanish region to consider is Valencia. The city of Valencia features a Mediterranean climate similar to Andalusia, only it's hotter in the summer and less sunny year round. There are also many smaller cities near the city of Valencia that feature the same climate, including Denia and Gandia.
Except for January and February in some areas, the winter daily highs for these places are always around at least 17 °C (62 °F) and nights don't get lower than 7-10 °C (44-50 °F) unless you go into the mountains or further from the coast. Meanwhile, summers get hot, reaching on average up to 30-31 °C (86-88 °F) during the day.
I consider Spain the best warm country in Europe.
Gibraltar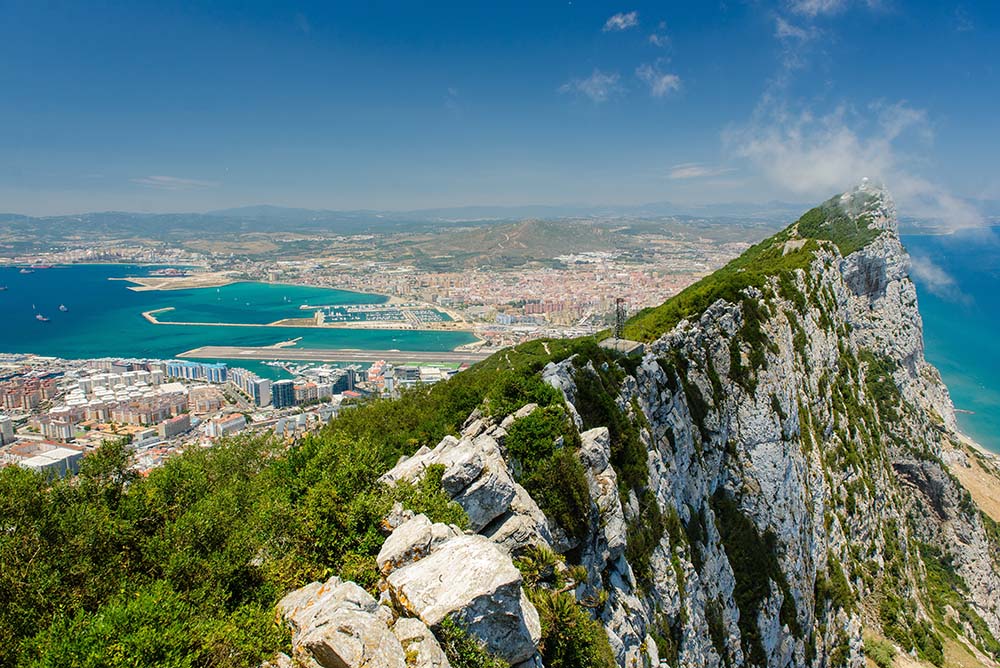 Gibraltar is a tiny British Overseas Territory at the southern tip of the Iberian Peninsula, located close to the Spanish city of Algeciras. It's a very densely populated city with about 34,000 inhabitants. It shares the same climate as the warmest areas of southern Spain. It's the warmest English-speaking destination in Europe.
Portugal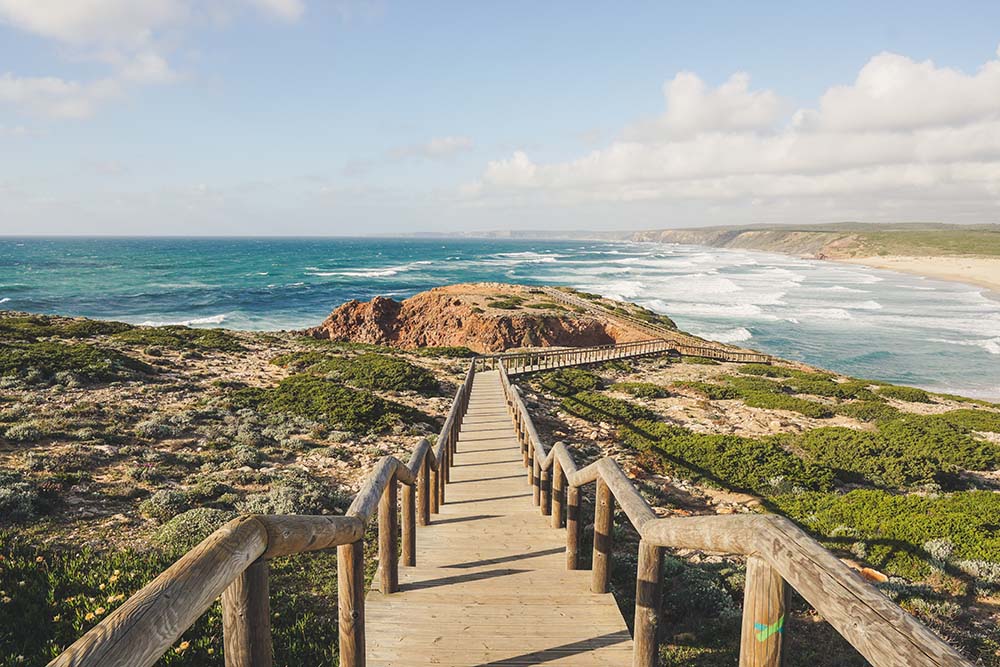 As is the case with Spain, the warmest places in Portugal are located in the sunniest, southern part of the country. They feature a Mediterranean climate.
The warmest places are in the Algarve region. Most cities and towns are concentrated along the southern coast, from Lagos to Faro (one of the sunniest and warmest cities of Europe). Except for January, daily highs are always above 17 °C (62 °F) while nights don't go below 7 °C (44 °F).
The Atlantic coast, particularly in the surf town of Sagres, is often windswept and feels much colder than the rest of the region.
The climate in Southern Portugal is moderated by the influence of the ocean. This means that summers are generally slightly cooler than in southern Spain.
Cyprus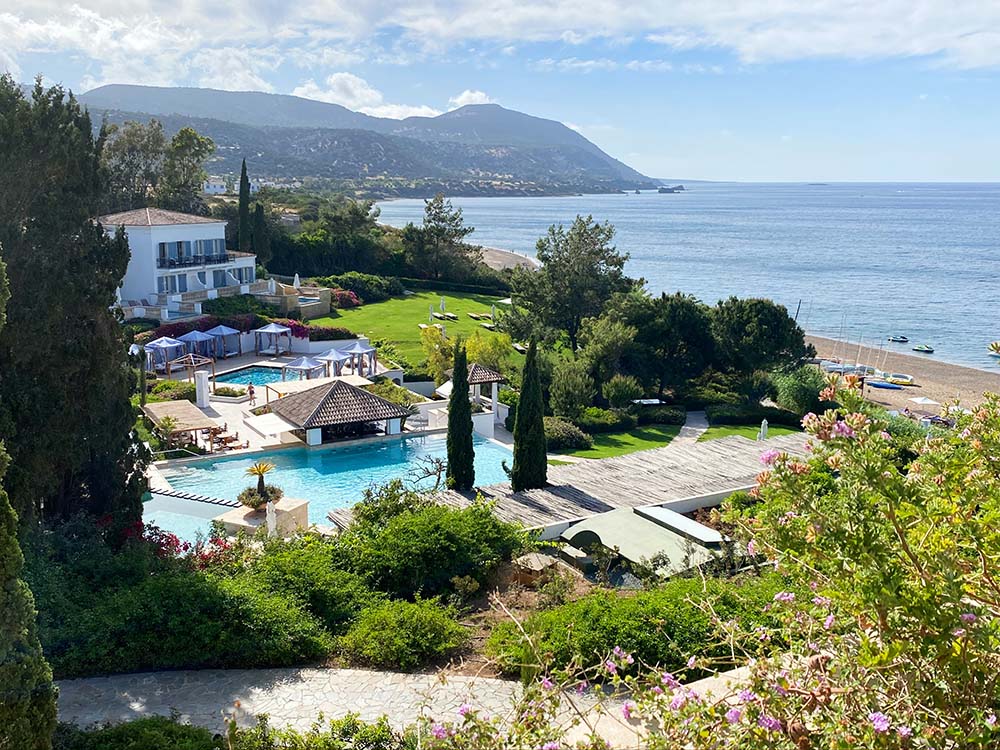 Cyprus is often considered a part of the Asian continent but politically and culturally it's a European country. For the purposes of this article, I'm grouping it with other countries in continental Europe.
The warmest year round destinations in Cyprus include:
Limassol (the warmest city in winter, with daily highs of about 18 °C or 64 °F),
Paphos,
Larnaca.
Both Paphos and Larnaca have a subtropical semi-arid climate while Limassol has a subtropical Mediterranean climate.
Note that the capital city of Cyprus, Nicosia, doesn't qualify for this list. Because it's inland, in January and February it has daily highs around 15-16 °C (59-61 °F) and nighttime temperatures can drop to just 5 °C (41 °F).
Cyprus gets very hot in the summer (for some people, unbearably hot), so take that into account. Average temperatures in Larnaca in the hottest months reach 33 °C (91 °F).
Summing It Up
By European standards, these four destinations offer the warmest year round weather.
Are there slightly cooler places that otherwise have a similar climate? Yes, there are.
For example, the Greek islands closest to Cyprus are only slightly colder. But in this article I wanted to focus only on the warmest places. If you're interested in alternatives, use Google Maps to look for neighboring regions.
You may also be interested in reading the following articles:
Belonging to Europe But Not on the Continent Where It's Warm All Year Round
There are two special cases of warm European destinations that one may argue aren't "truly" in Europe. They are the Spanish enclaves in North Africa, the Canary Islands, Madeira, and the Azores.
Spanish Enclaves of Ceuta and Melilla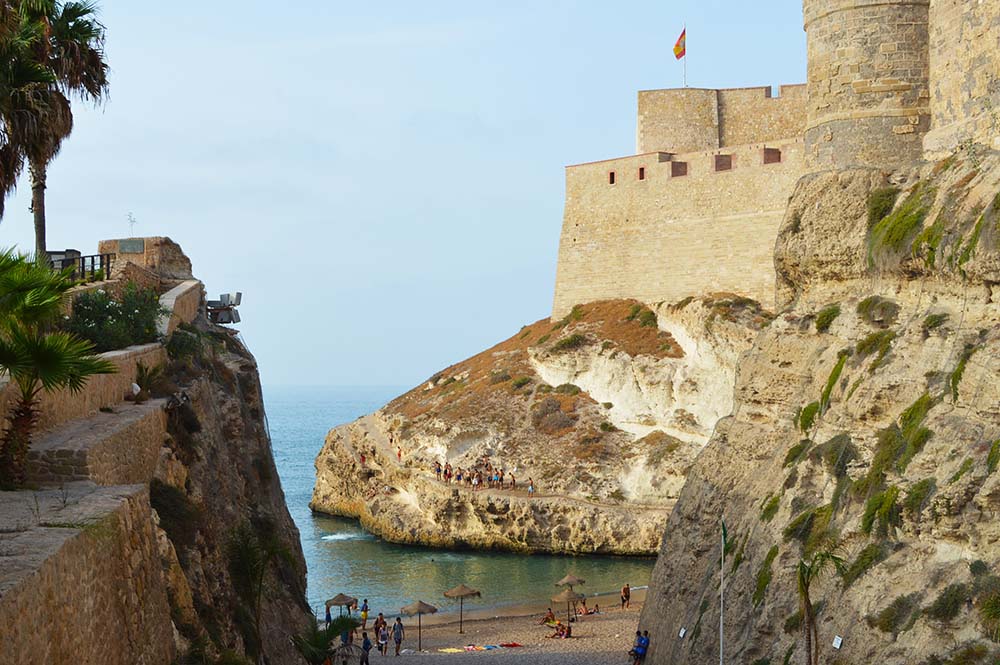 Spain has two enclaves in Morocco in North Africa: the cities of Ceuta and Melilla. Both of these cities are thus geographically African cities. However, they have strong political, economical, and cultural ties with Europe.
The city of Ceuta is located close to the Strait of Gibraltar. It roughly shares the climate with Gibraltar and Algeciras that are both only about 25 km (15.5 miles) north from the enclave.
Melilla is located further south and features a slightly warmer climate with daily highs year round of at least 17 °C (62 °F) during every month.
None of these cities are vacation spots (and rarely considered as places to move to) but this article wouldn't be complete without mentioning them.
The Canary Islands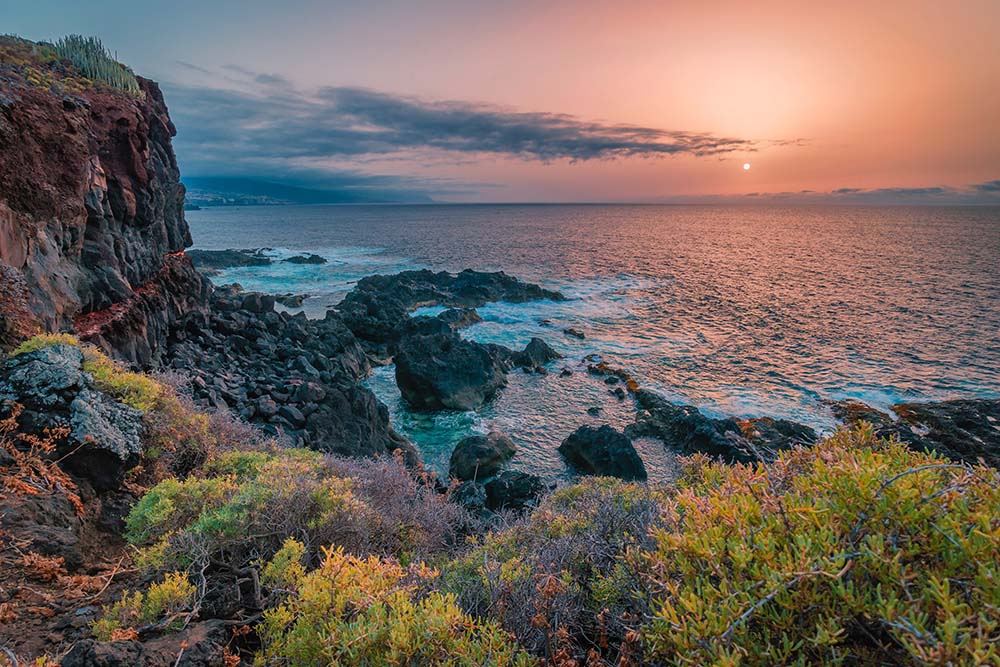 The Canary Islands are geographically African as they're only about 100 km (62 miles) west of Morocco. Culturally, economically, and politically, they're European, with easy access via plane from the continent.
These volcanic islands feature by far the warmest year round climate in Europe. Even during the winter, you can expect daily highs of 21 °C (70 °F) and nighttime temperatures of about 15 °C (59 °F). Sunny days are guaranteed most of the time, both in the winter and in the summer.
Climate-wise, the archipelago is by far the best winter getaway in Europe. For people from colder regions like Scandinavia, the average temperature during the winter day will feel like the summer (minus the summer crowds). If you want to enjoy warm, sunny weather in Europe in December, January, or February, there's no better option for your winter vacation.
The eastern islands of the archipelago (Fuerteventura, Lanzarote, La Graciosa and Gran Canaria) offer a desert climate and dry landscapes.
Be aware that Fuerteventura, Lanzarote, and La Graciosa are windy islands. The constant, strong wind makes them feel much, much colder. When the wind was particularly strong, I didn't feel comfortable on these islands even in October (let alone in the middle of the winter).
The western islands (Tenerife, La Gomera, El Hierro and La Palma) offer a wetter, semi-arid climate and greener landscapes. La Palma is a particularly lush island, though it's mostly lush on the east coast (that also gets cooler weather), while the west coast is drier and sunnier.
The warmest islands of the western islands are Tenerife and La Gomera. El Hierro and particularly La Palma have more rainy days (though the latter has some spectacular natural wonders).
The warmest regions of the entire archipelago include southern Tenerife (the area roughly between Las Galletas and Costa Adeje) and southern Gran Canaria (the area roughly between Puerto Rico and Maspalomas).
I've been to all the islands and consider Tenerife the best island overall, offering both nature as well as developed infrastructure.
Madeira and Porto Santo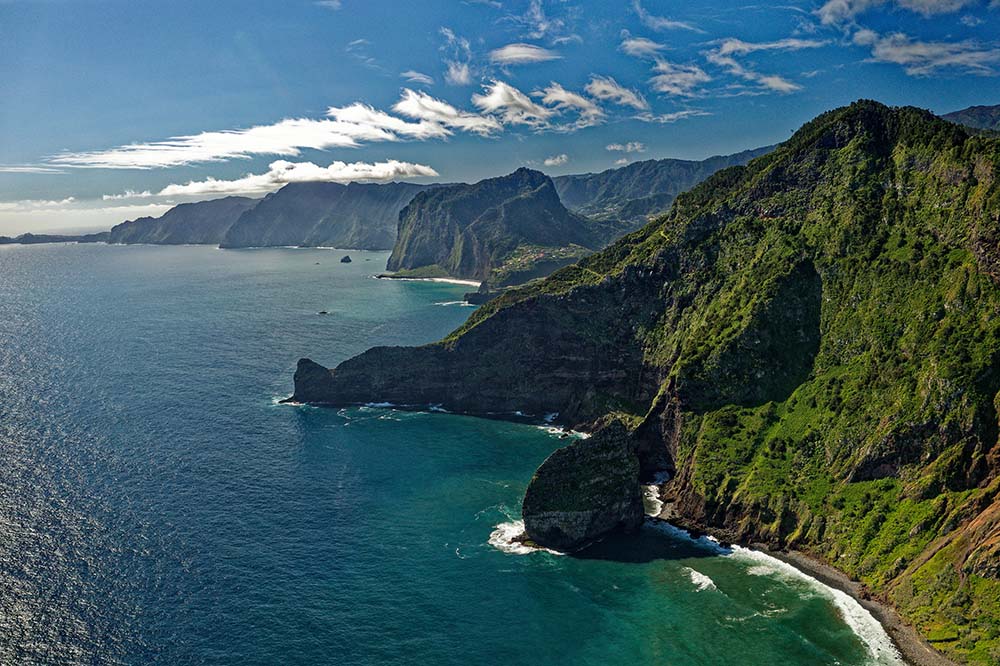 Madeira and a tiny neighboring island of Porto Santo in the Atlantic Ocean form the Autonomous Region of Madeira. The region belongs to Portugal and is culturally, economically and politically European even though it's geographically in Africa.
Similar to the Canary Islands, Madeira is a volcanic island. Unlike the Canaries, it's a much wetter, more humid, and cloudier destination, particularly its northern side.
Funchal is the capital city of the island located on the southern coast. It enjoys daily highs of 20 °C (68 °F) and nighttime temperatures of about 14 °C (57 °F) even in the coldest months. While the amount of sunshine is lower than in the Canaries, it's still much more than in northern Europe.
The most popular towns in Madeira such as Funchal, Calheta, Santa Cruz, and Machico are located along the southern and eastern coast.
Particularly the west coast of the island gets much sunnier and drier weather than the cloudy, chilly mountainous interior or the rugged, green north. Jardim do Mar on the southwestern corner of the island is usually considered the sunniest and warmest place.
Porto Santo is a tiny island connected to Madeira via ferry as well as short flights. Because it's flat compared to Madeira, it features a much drier climate and landscape. It's cooler than Funchal but still reaches daily highs of 18 °C (64 °F) even in January and February (while being slightly sunnier than Funchal).
I consider Madeira one of the best places like Hawaii in Europe.
The Azores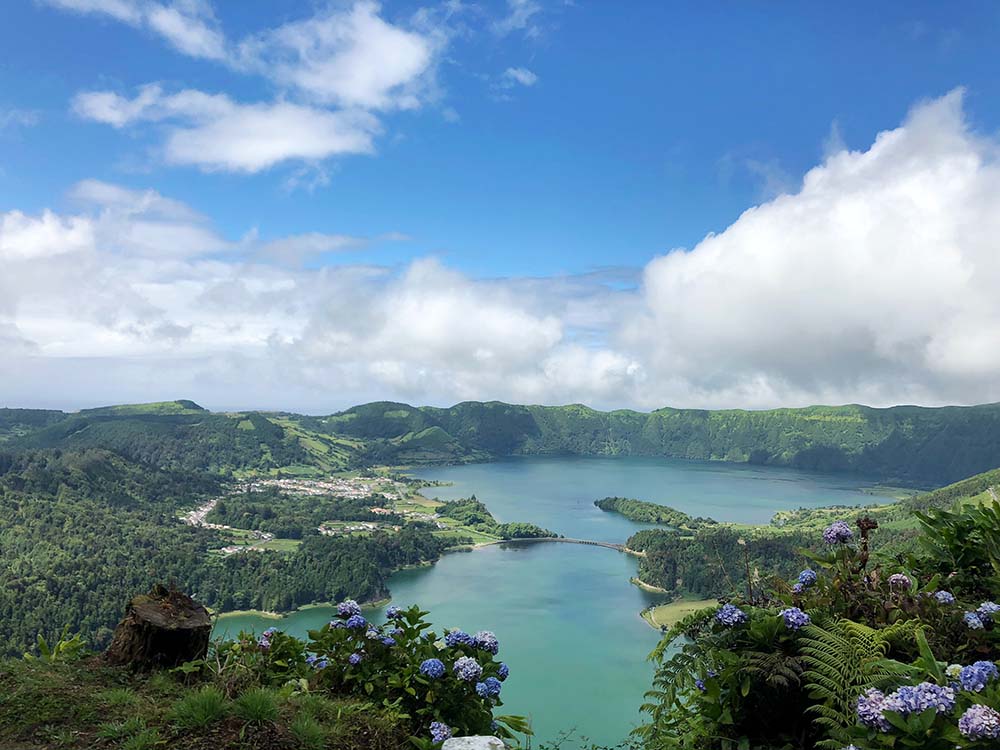 The Azores are the second autonomous region of Portugal. There are nine major islands. From the east: Santa Maria, São Miguel, Terceira, São Jorge, Graciosa, Pico, Faial, Flores, and Corvo. Out of these, the most populated ones are São Miguel (by far), Terceira, Faial, and Pico.
This volcanic archipelago is located much further northwest than both the Canaries and Madeira. Because of that, these beautiful islands have a climate influenced by the warm Gulf Stream and the surrounding ocean, making them wet and rainy year round.
The warmest and driest island of the archipelago is Santa Maria, due to its most southerly location compared to other islands. Meanwhile, the most westerly Flores island is much cloudier and rainier (and also more lush).
All islands have a moderate climate with both mild winters as well as mild summers. They reach about 17 °C (62 °F) during the coldest months with nights on average not dropping below 12 °C (54 °F). Meanwhile, summers have daily average highs of up to 26 °C (79 °F).
Because of their undeveloped character, the Azores are best for nature lovers. If you prefer mild temperatures both in the summer and the winter, this may be the best option for you.
European Destinations That Are REALLY Warm All Year Round But Aren't Really in Europe
Not everyone knows that there are several destinations considered European that feature a true hot climate year round. These places aren't geographically anywhere close to Europe but politically belong to Europe.
I've described the Canary Islands, Madeira, and the Azores. These three regions are also known as the Outermost Regions of the European Union.
There are six more Outermost Regions of the European Union that I haven't mentioned yet.
Unlike the aforementioned archipelagos, these remaining six territories are so far away from Europe that nobody would ever consider them European. Yet, they still form a part of the European Union and use the euro.
Because they aren't likely to be considered by most people as European destinations, let's cover them briefly.
French Guiana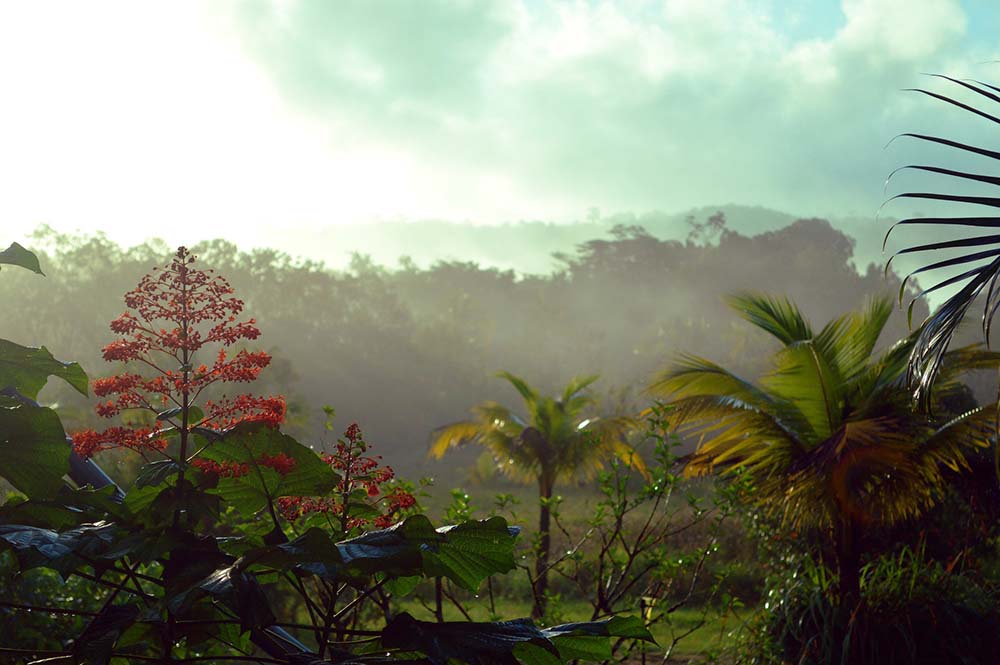 French Guiana in South America is the largest Outermost Region, comparable in size to Austria or the United Arab Emirates. 98.9% of the land territory of French Guiana is covered by primeval rainforests.
The region has a tropical rainforest climate with daily highs of 29 °C (84 °F) and average lows of 22 °C (72 °F) even in the coolest months. Except for August to November, it rains a lot every single month of the year. If you're looking for a truly tropical "European" destination, this is one of such places.
Outermost Regions in the Caribbean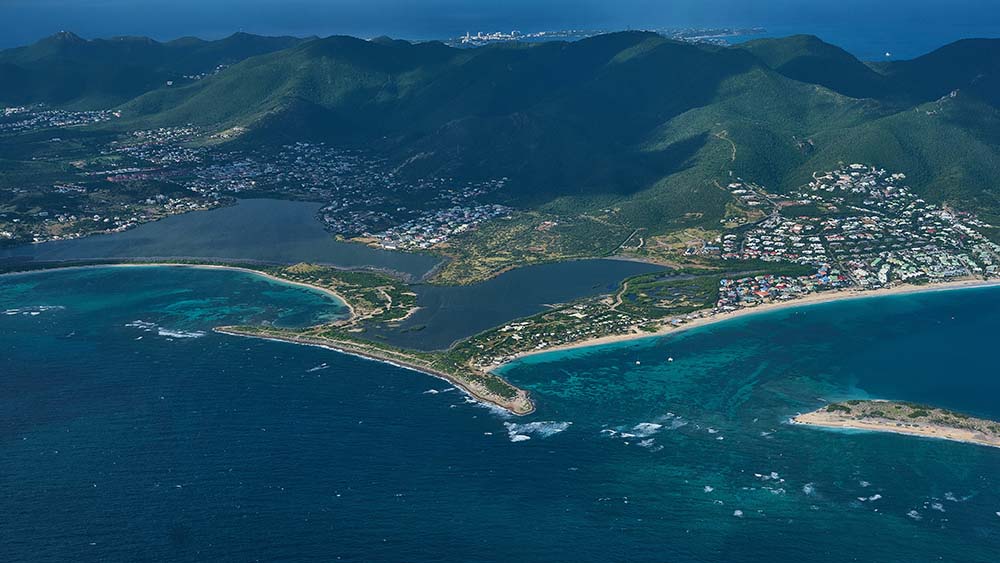 France has two overseas regions and one overseas collectivity in the Caribbean.
The overseas regions are Guadeloupe and Martinique. The former is comparable in size to Fuerteventura in the Canaries while the latter is about 33% larger than Lanzarote.
These two islands have a tropical rainforest climate tempered by the ocean. Temperatures rarely drop below 28 °C (82 °F) during the day and 23 °C (73 °F) at night.
The overseas collectivity is Saint Martin on the island of Saint Martin (shared with Sint Maarten, a constituent country of the Kingdom of the Netherlands). The entire island is so tiny that it's 20% smaller than the area occupied by Paris.
Located further north than Guadeloupe and Martinique, Saint Martin has a sunnier tropical savanna climate with average daytime highs of 29 °C (84 °F) and average lows of 23 °C (77 °F).
These regions are your typical Caribbean paradises, with beautiful beaches, rainforests, warm waters and cold drinks.
Outermost Regions in the Indian Ocean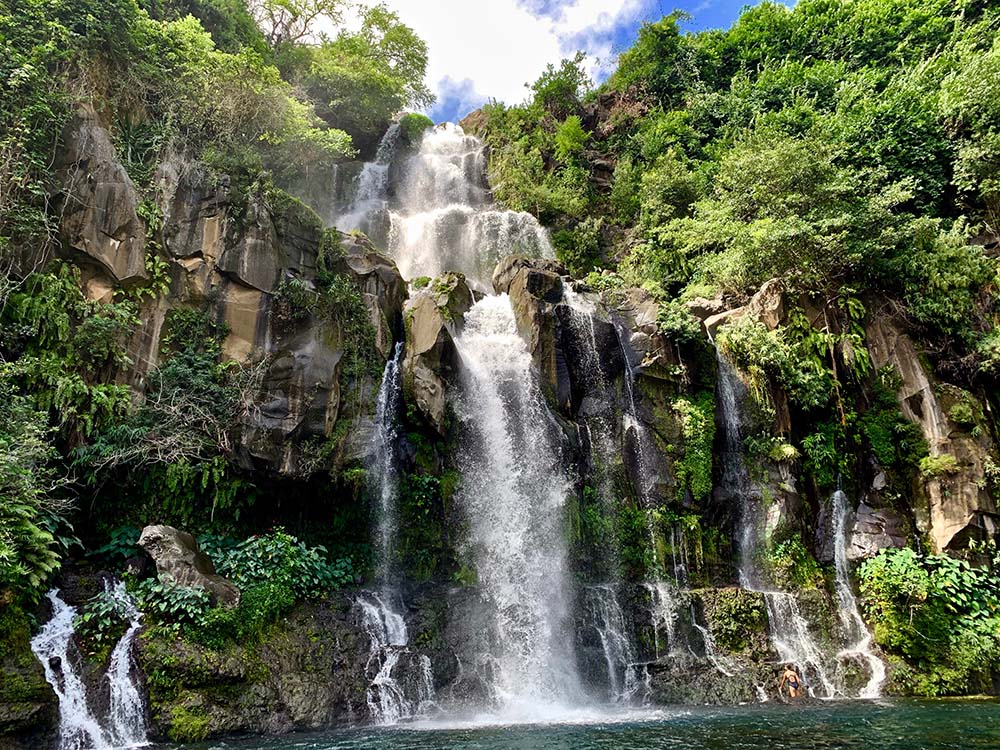 France has two overseas regions in the Indian Ocean. They're Réunion (occupying an area three times the size of Madeira) and Mayotte (slightly larger in size than Malta).
Réunion lies east of Madagascar, close to Mauritius. Mayotte is close to the African continent, between Madagascar and the coast of Mozambique. Réunion is a very popular tourist destination. Mayotte is much less developed than Réunion, being the poorest of French regions.
Réunion is mountainous and has a diverse geography with several different climates. The administrative capital of Saint Denis features a tropical monsoon climate with a hot, humid wet season from December to April and a drier season the rest of the year. Even in the cooler drier season average daytime highs reach 25 °C (77 °F) while nights stay at comfortable 18 °C (64 °F).
Mayotte has a hotter tropical savanna climate with daily average highs of at least 30 °C (86 °F) in all but one month (July). Like Réunion, Mayotte has a wet season roughly between December and April.
Note: I wrote a separate article about the best climate to live in that covers the entire globe and not just Europe.
Frequently Asked Questions
Is anywhere in Europe hot in winter?
Unfortunately there's no hot place in Europe in wintertime. The warmest destinations are the Canary Islands. But even there, the weather in the winter is warm (about 21 °C or 70 °F during the day) but not hot.

The only exception are the French overseas regions in the Caribbean, South America, and the Indian Ocean. They form a part of the European Union despite being geographically far away.
Where is best in Europe for winter sun?
If you want to stay on the continent, head to the province of Cádiz in Spain or the Algarve in Portugal. If you're willing to fly to the Canary Islands, go there—particularly to southern Tenerife or southern Gran Canaria. If you're looking for something different, Madeira (particularly its warmer and sunnier western coast) is also an option.

If you don't mind a long flight and higher expenses, you may also consider French overseas regions in the Caribbean, South America, and the Indian Ocean. These destinations also use the euro and are a part of the European Union.
Which European country has the best weather year round?
Spain has by far the best weather. In peninsular Spain, the best weather is in Andalusia, Murcia, and Valencia. Even better weather is in the Canaries in the Atlantic Ocean.

A special case are French overseas regions located in the Caribbean, South America, and the Indian Ocean. All these places get tropical weather, with the best weather in the Caribbean in Saint Martin.
What is the best beach vacation destination in Europe in January?
Your only option is the Canary Islands, though even there the ocean temperature of 18-20 °C (61-66 °F) will not be particularly inviting.

If you're willing to go beyond Europe and its nearby regions, the Outermost Regions in the Caribbean and the Indian Ocean are an excellent option with perfect beach weather in the winter. The best options include Saint Martin, Guadeloupe, and Martinique.
We are sorry that this post was not useful for you!
Let us improve this post!
Tell us how we can improve this post?