What's the Hottest Country in Europe?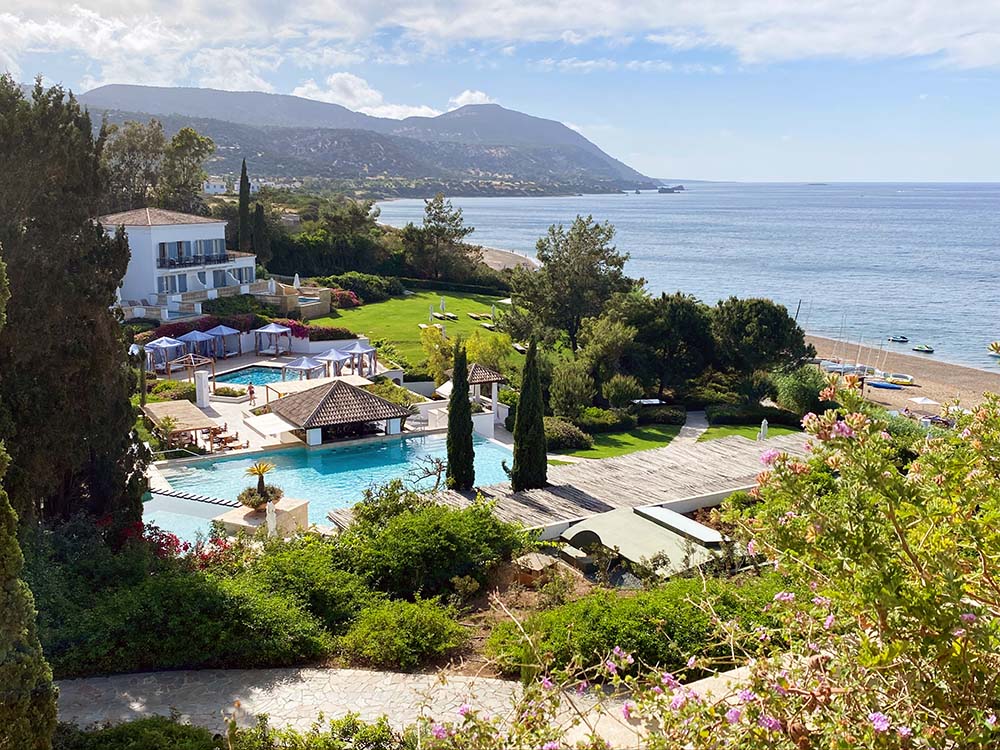 In most of Europe, warm weather is not something you can experience year round. Winter sun in many countries on the old continent doesn't give much heat and is rather infrequent. But apart from the places that experience cold winter weather, Europe is also home to some with a much higher average temperature. In this article I'll share with you my ranking of the hottest countries in Europe that offer warm weather year round. Note that even the hottest country in Europe may get periodically cold, though.
You may also want to check out my in-depth article on the warmest places in Europe year round. It includes not only the continent and immediate islands but also far-flung destinations that can still be considered European destinations. While in this article I focus on countries in general, in that one I go way deeper and offer specific destinations with microclimates that are warmer than the average climate of the country.
The 7 Hottest Countries in Europe Ranked by the Average Temperature
I wrote articles on some of the warmest European countries. Here they are:
Other countries where people head to for winter sun include Malta and Cyprus, both too small for in-depth articles on their climates but nonetheless offering warm weather, too. Then there's also Montenegro which is noticeably cooler than Greece and slightly cooler than Croatia.
The warmest European countries are all located on the Mediterranean Sea or the Atlantic Ocean. In general, the further south you go, the warmer the country is. (Southern) France is warmer than Germany while Spain is warmer than France, while the Canary Islands (also belonging to Spain) are warmer than mainland Spain.
Here are the warmest European countries ranked by the annual average temperature of their major cities. By living in these countries you'll get the best of Europe without suffering from one of its worst drawbacks (cold weather).
1. Cyprus – 19.7 °C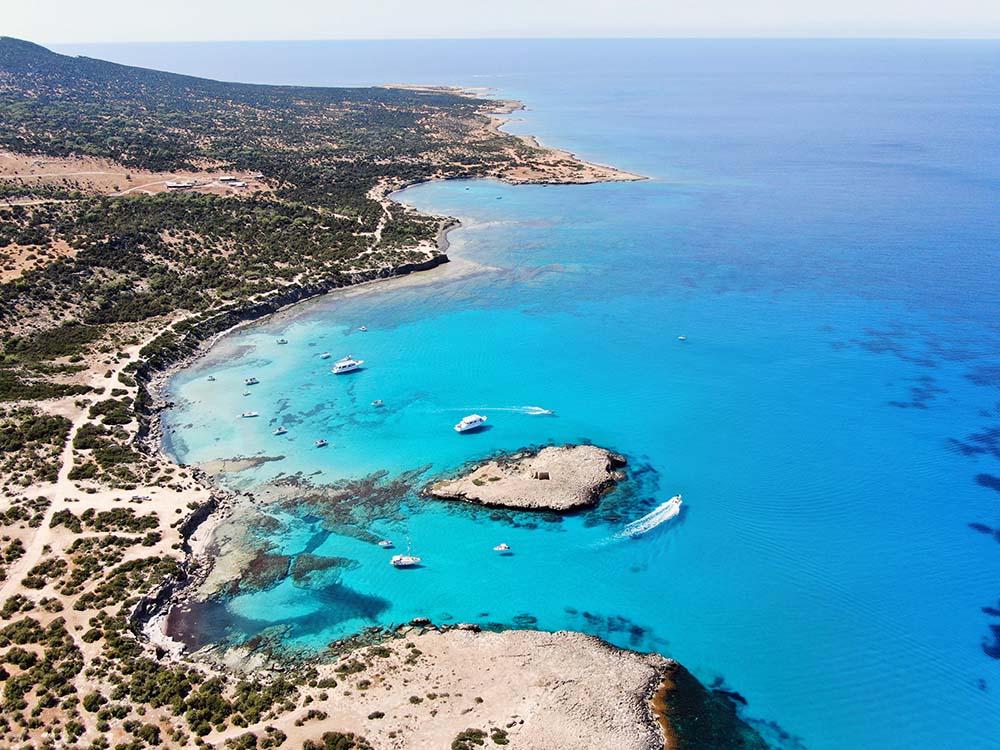 Cyprus is an island nation in the Mediterranean Sea. It's the best place to get some winter sun in Europe unless you live closer to southern Spain or the Canary Islands. While Cyprus doesn't have as many sandy beaches, it's still an excellent winter getaway with reliably high temperatures and plenty of sunshine.
The average temperatures are high year round. While winters may have chilly nights (with temperatures of 8 °C), daytime winter temperatures usually still reach at least 17-19 °C. The Mediterranean Sea is swimmable comfortably without a wetsuit until about October-November, and still possible but less nice in November-December (after that, you need to wait for the water to warm up until April/May).
Cyprus has some of the hottest summers out of the warmest places in Europe. Temperatures reach on average at least 33 °C, with very hot nights and virtually no rainfall between June and September. The Mediterranean coast of the country is then packed with tourists, so going a little earlier or a little later may be a better idea.
I calculated the average temperature for Cyprus by looking at available climate data from its five main cities: Nicosia (the capital city), Larnaca, Limassol, Paphos, and Paralimni. The average temperature would be lower if we were to take into account cooler inland towns (for which data is not available). Some areas of other European countries are warmer than Cyprus. But since they hide under the average for the entire large country, Cyprus as a whole comes first.
Geographically, Cyprus is not located in Europe but rather Asia. But politically and culturally Cyprus is a European destination that's as easy to get to as other European countries on the continent. So as far as European cities go, Cyprus offers the warmest ones.
2. Malta – 19.5 °C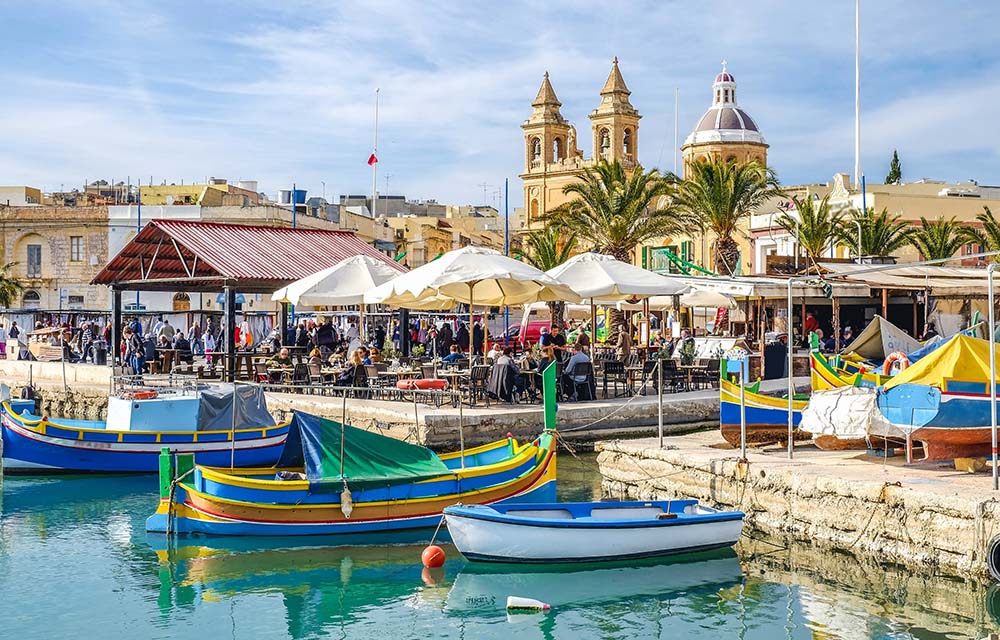 Due to its small size, the average temperature for Malta is for just one main city, Valletta. Meanwhile, in the case of other countries, the average is from various regions, both cold and hot. This means that while Malta is the second hottest country in Europe as a whole, the are hotter regions of Europe than Malta.
With its dry, sunny climate, Malta is one of the best options for winter sun, particularly coming from Northern Europe. Among expats, it's also a favorite for year round living in a place that has a mild winter season and virtually endless sunshine in the summer. Malta is a tiny, densely-populated country so apart from the marine life, it's not known for its natural wonders.
Due to the moderating effect of the sea, Malta's winters reach 15-17 °C during the day. Meanwhile, nights are warmer than in Cyprus, on average around 10-12 °C. Depending on whether you prefer hotter days or warmer nights in the winter months, Cyprus or Malta respectively are your best choices.
3. Greece – 16.5 °C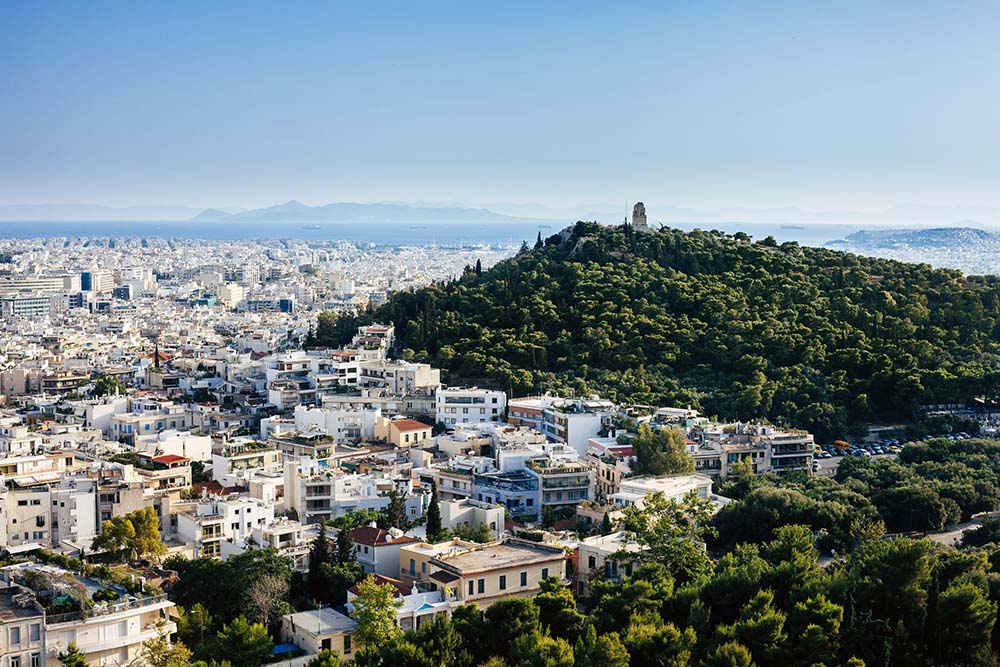 Greece is one of the hottest countries in Europe that's not an island nation. The average includes the hottest Greek islands such as Rhodes and Crete, though.
Famous for its spectacular sandy beaches, architecture, and historical sites, Greece is one of the most popular summer destinations. The country offers excellent beach weather between May and October when it rains very little and sun is guaranteed almost every day.
The warmest parts of Greece are its islands. Most notably, it's Rhodes and Crete. But mainland Greece can also be hot, with Piraeus, a port city in the Athens-Piraeus metropolitan area, offering a hot semi-arid climate. Athens is also a very hot city, known for the highest temperature ever recorded in Europe (48 °C).
For those seeking winter sun, you can expect about 13-15 °C in the warmest cities on the mainland and 15-18 °C on the warmest islands. Nighttime temperatures on the mainland may drop to about 7-9 °C while on the islands they're about 9-11 °C.
In the summer, the islands record slightly lower than the capital but still very hot temperatures of about 32 °C on average. Athens gets much hotter, reaching on average 34 °C. Both places get hot nights with temperatures of up to 24-25 °C.
For warm but not overly hot weather, usually it's best to enjoy the country's gorgeous beaches in September or maybe even early October. For sightseeing ancient ruins, any time of the year outside of the summer is great.
4. Spain – 16 °C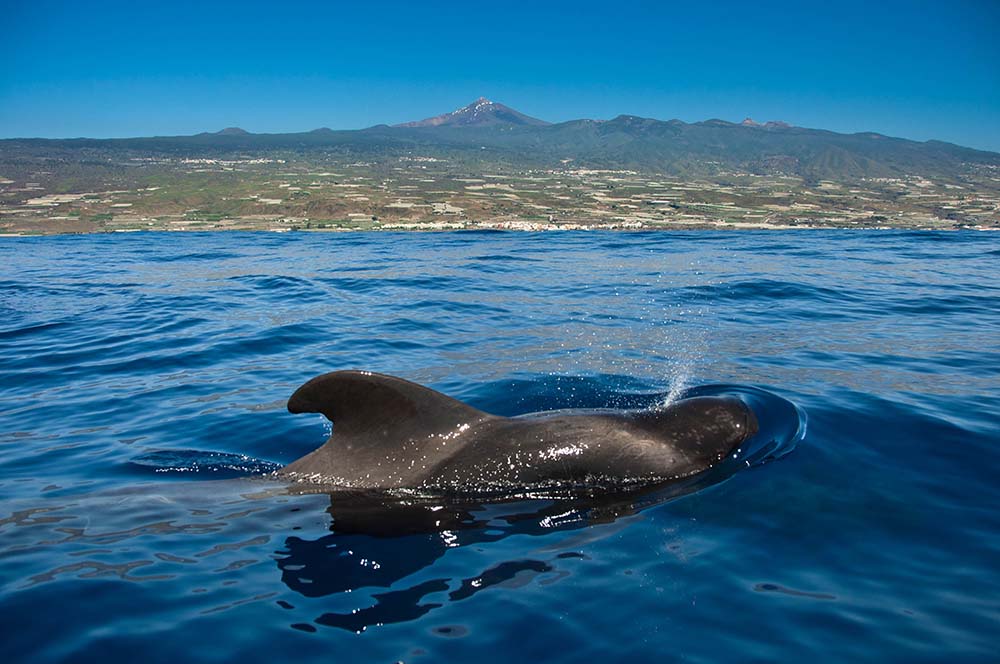 Among the hottest countries in Europe, it's Spain that's home to by far the hottest places in Europe overall. Both southern Spain as well as the Canary Islands in the Atlantic Ocean offer nearly (in the case of southern Spain) or year-round (in the case of the archipelago) summer-like temperatures.
As far as warm European destinations go, Spain's Canary Islands are as close to guaranteed warmth as possible.
In fact, the hottest place in Europe with the highest average temperature is southern Tenerife. While local climate data is only available for Santa Cruz de Tenerife in the north (and the average is 21.5 °C), the south is usually warmer by at least 2-3 °C.
This gives southern Tenerife the hottest year round weather. Note that it doesn't mean that it's unpleasantly hot in the summer: it simply has the most consistent warm to hot weather regardless of the season. In the winter, average daytime temperatures reach at least 21 °C, with nighttime temperatures dropping to 15 °C. In the summer, temperatures reach 29 °C and drop to 21-22 °C at night.
Apart from the Canary Islands, Spain is also popular for its southern coast. Based on the average temperatures, Cartagena in Murcia with its average temperature of 20.4 °C is the warmest city in mainland Spain. This makes it one of the warmest places in Europe.
Other favorites among expats, including Costa del Sol, also feature warm to hot temperatures. For example, Málaga gets about 17-18 °C in the coldest months during the day and 7-9 °C at night. In the summer, it's hotter than the Canary Islands and records highs of 30-31 °C and lows of 20-21 °C.
I consider Spain the best European warm country.
5. Portugal – 15.6 °C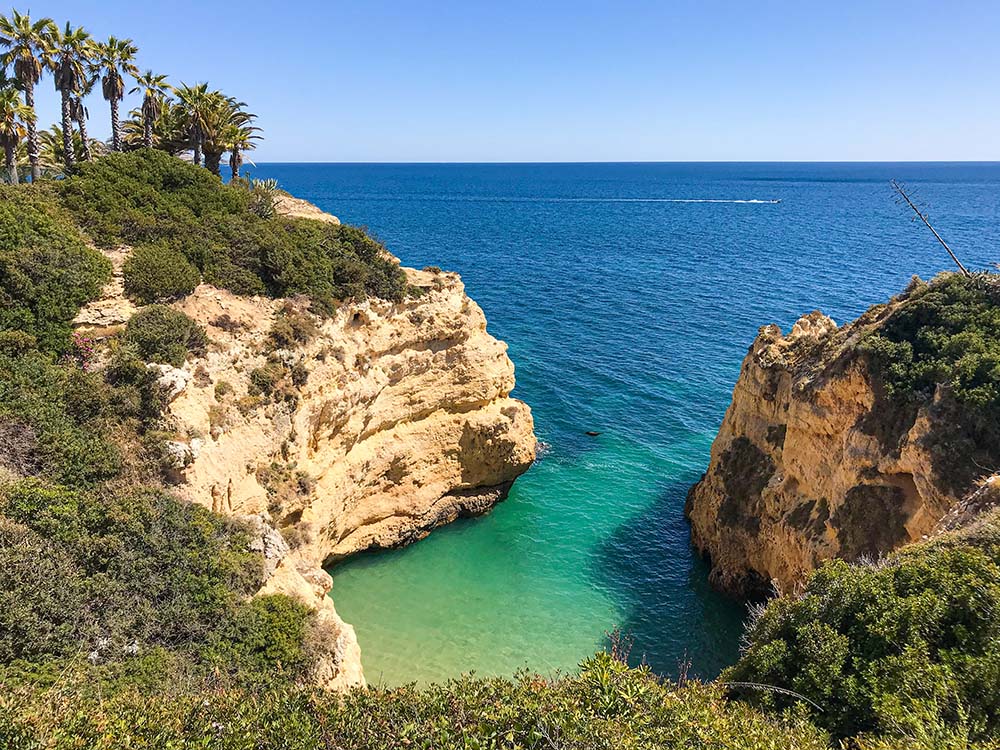 Portugal is the second hottest country in Western Europe. It's most famous for its southern part that gets the best weather year round. The Algarve in particular attracts many expats because winter months are mild and the place is consistently sunny. Meanwhile, nature lovers appreciate the famous scenic, rugged coastlines and stunning beaches dotted alongside them.
Faro in the Algarve is known as one of the sunniest and warmest cities in mainland Europe. In the winter months you can expect on average temperatures in the range of 16-17 °C during the day and 8-10 °C at night. Summers are milder than in southern Spain, reaching on average 29 °C during the day and dipping to more comfortable 19 °C at night.
The average temperature for Portugal also includes Madeira and the Azores, two archipelagoes in the Atlantic Ocean that belong to Portugal. Particularly Madeira offers a pleasant year round climate with warm temperatures close to those of the Canary Islands (about 20 °C in the winter and 26 °C in the summer). The difference is that Madeira is wetter and less sunny. You may want to read more in my comparison Madeira vs the Canary Islands.
6. Italy – 14.8 °C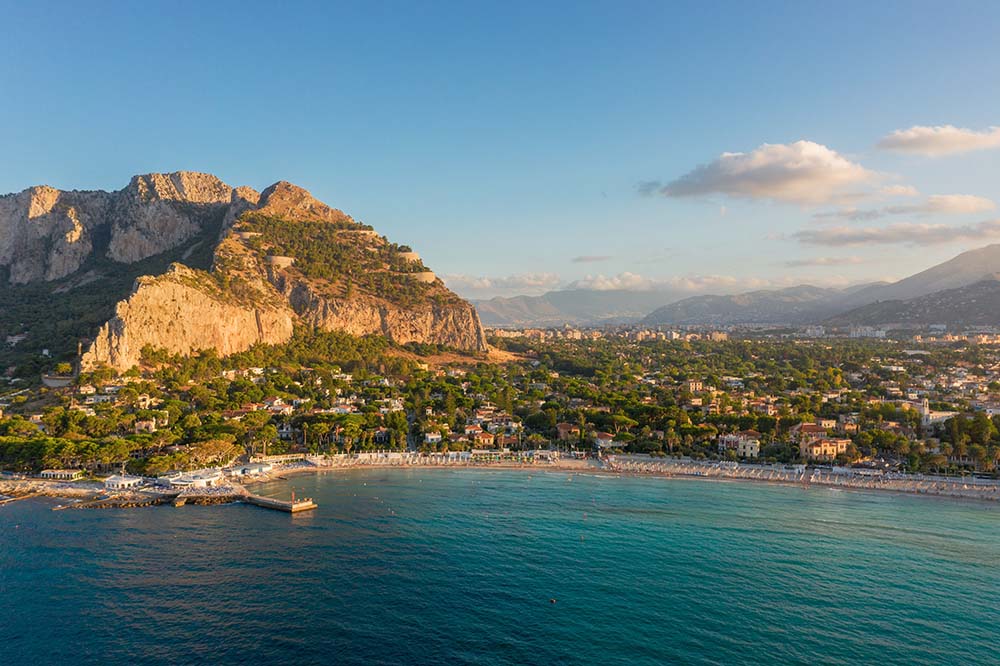 Due to its length, Italy is home to a variety of climates, from some of the coldest in this part of Europe (the Alps) to some of the hottest (Sicily). Sicily is for Italy what the Algarve is for Portugal. If you want the hottest winter temperatures, that's where you go in this country for a winter getaway.
In the warmest parts of the country you can expect average temperatures reaching about 14-15 °C in the coldest months during the day and dropping to 10-12 °C at night. In the summer, temperatures stay on average around 30 °C during the day and drop to still hot 23-24 °C at night.
As for mainland Italy, the warmest cities are still located close to Sicily. For example, the warmest non-Sicilian city is Reggio Calabria, located just across the shores of Sicily. This city offers warmer winter days and colder nights than Sicily. In the winter daytime temperatures can climb to 15-16 °C while at night they drop to 8-10 °C. In the summer, Reggio Calabria records on average 31 °C with cooler nighttime temperatures of 21-22 °C.
More average temperatures in Italy found further north are still relatively mild in the cold season but aren't particularly warm. For example, Rome still gets about 13-14 °C during the day but at night temperatures drop to cold 2-3 °C.
7. Albania – 14.5 °C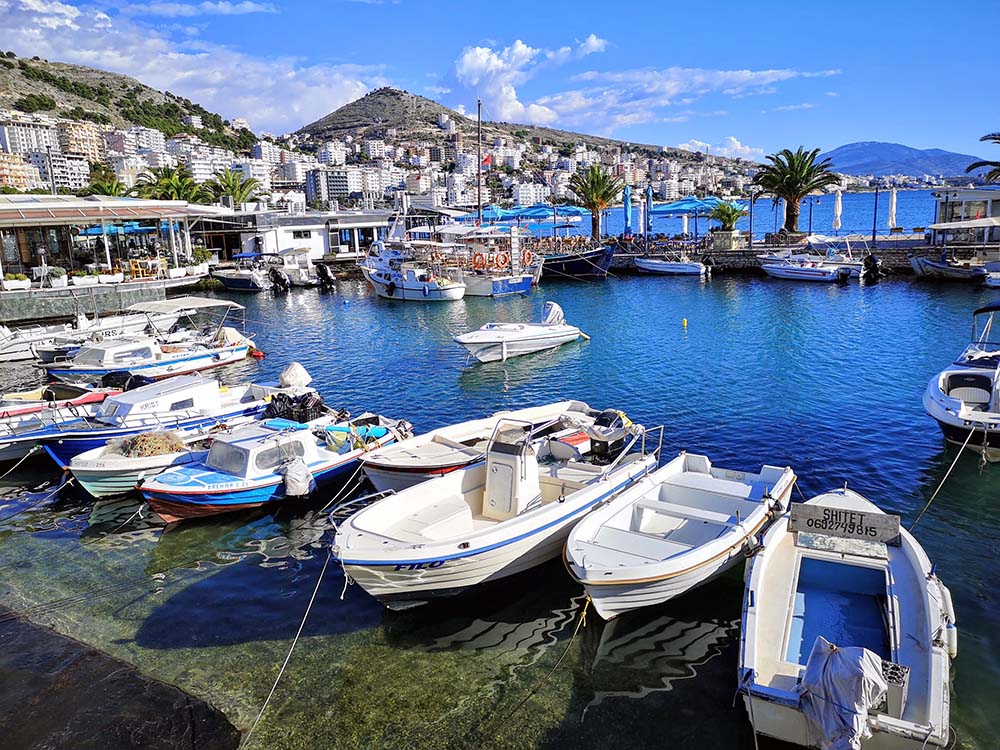 Out of all the warm places in Europe, Albania is the least known. It's a developing country without the infrastructure found in countries like Greece, Portugal, or Spain. It doesn't have spectacular cities or many luxurious hotels. But that doesn't mean that it doesn't have a warm climate that may interest a tourist or a person wishing to enjoy better weather year round.
The warmest region of Albania, southern Albania, offers wintertime temperatures of about 14 °C during the day and 5-7 °C at night. This is warmer than in the warmest areas of Croatia or France.
Albania is a small country but it has a lot to offer. Besides the Adriatic Sea, it also offers spectacular mountains, lakes, rivers, and castles.
We are sorry that this post was not useful for you!
Let us improve this post!
Tell us how we can improve this post?