Places Like Hawaii in Europe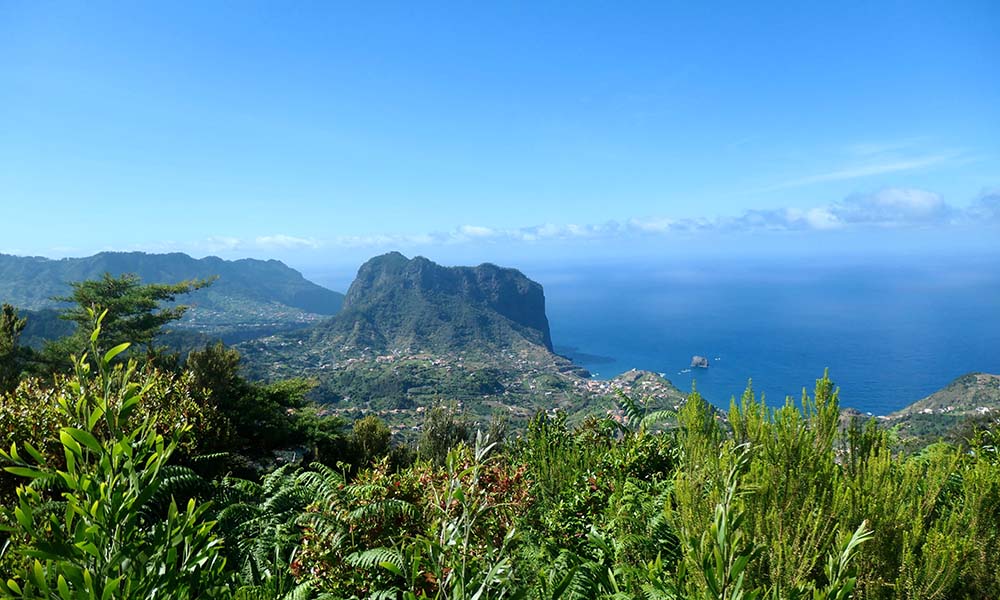 Hawaii is one of the most remarkable travel destinations in the world. The volcanic islands in the central Pacific Ocean boast a perfect climate, extraordinary landscapes, pristine beaches, a rich culture and more.
But what if you're looking for an European alternative to Hawaii? Are there even any places like Hawaii in Europe?
Are There Places Like Hawaii in Europe?
The truth is that no, there are no places exactly like Hawaii in Europe.
You may find articles claiming that certain destinations in Europe are "just like Hawaii" but the truth is that no, they aren't. There are three main reasons for that:
1. Europe Has a Much Colder Climate
Most of the suggestions for Hawaii alternatives in Europe revolve around mainland Europe which has a much colder climate.
It's hard to say that southern France is like Hawaii if it has chilly winter, no ocean, and no tropical vegetation. Same goes for southwestern France on the North Atlantic ocean. Despite having access to the ocean, the place is still much colder than Hawaii.
How can a place with a temperate climate be compared to Hawaii? I don't see the connection here, unless you call every tourist destination with some beaches a Hawaiian alternative.
2. Only Small Islands Should Count
I'd argue that only small islands can count as places similar to Hawaii.
Tourists visit Hawaii because they want an island getaway. Meanwhile, residents love where they live precisely because they live on small tropical islands in the middle of the ocean.
Hawaii is so desirable because it conjures the image of an island paradise. The island spirit permeates the place.
You can't say that a city on the continent is like Hawaii because it misses the core of what makes Hawaii Hawaii. For example, even if some destinations in mainland Portugal or mainland Greece have some features of Hawaii, it's still mainland. And that makes it feel very different from knowing that there's only ocean all around you.
3. Mediterranean Sea Isn't an Ocean
European islands in the Mediterranean Sea (whether these are Greek islands, Balearic islands, or even the less popular tiny islands of Italy) can't count as a Hawaiian alternative because they aren't in the ocean.
The Mediterranean Sea is over sixty times smaller than the Pacific Ocean. Most of the time, there's not much swell. Even the more exposed coastlines of the islands, such as the east coast of Malta, are still largely super calm most of the time (compared to Hawaii).
And even if the Mediterranean locations offer beautiful beaches, they still don't bring into mind Hawaiian vibes. You won't find any tropical beaches on the continent, even in places like Ksamil islands in Albania in the Ionian Sea. Yes, they may look beautiful in the summer with crystal clear waters and sandy beaches. But they still don't feel like Hawaii. It's just four tiny rocky islets very close to the mainland.
The islands in the Mediterranean also largely have a much drier climate. It has a very different vegetation that's more typical of California than Hawaii. And would you say that California is like Hawaii? I doubt it.
But…
There are places in Europe that offer an experience similar to Hawaii. It's not the same but it does share some characteristics. And that's the best you can get in Europe.
While Europe doesn't have any tropical islands (with a caveat), there are places on the continent that offer spectacular scenery, beautiful beaches, and an excellent climate for at least 9 months a year. It's not the same as Hawaii's year round perfect climate but it's the best you can get on the old continent.
As a bonus that may make up for the deficiencies, the European destinations offer some extra things that may not be so easily found in Hawaii such as UNESCO World Heritage Sites, cheap locally grown produce, and local customs not found anywhere else in the world.
I've visited many of the places listed in this article as well as Oahu. In my opinion, these European destinations are most similar to Hawaii, though still different.
Madeira: An Island That Most Feels Like Hawaii
Madeira is a stunning island in the Atlantic Ocean, known for its spectacular mountainous scenery and cliffs towering above the rocky coastline. It's a part of Portugal.
I consider Madeira as the most similar place to Hawaii in Europe. While it doesn't have a tropical climate (it has a subtropical one) it has the most similar feel to a tropical island that you can find in Europe.
Take a look at the picture below. The picture on the left is from Oahu, Hawaii. The picture on the right is from Madeira. Don't they look very similar?

The wettest areas of the interior of the island feel like being in a tropical jungle while its more secluded black sand beaches in the north give you a feeling of being in Tahiti. And similar to Hawaii, you can drive from one part of the island to another and have completely different weather.
Air Temperatures
Madeira has a warm year round climate with average 20 °C (68 °F) during the day pretty much every single day of the year. It does get cooler at night and at elevation but temperatures rarely go below 13 °C (55 °F). For about four months, between July and October, temperatures during the day exceed 25 °C (77 °F). This is the best time to feel like you're in Hawaii, though this is also the driest season on the island which makes it less lush than it usually is.
Water Temperatures, Beaches, and Ocean
Another thing that differs from Hawaii is water temperature. The ocean in Hawaii is at its lowest around 23 °C (74 °F) and at its highest, around 29 °C (84 °F). In Madeira it drops to just 17 °C (63 °F) in the coldest months and reaches at most 25 °C (76 °F) in the warmest months.
Madeira doesn't have any natural white sandy beaches. It does have beaches with imported sand, though. Alternatively, you can go to the nearby island of Porto Santo which has some long, beautiful beaches with all the sand you want.
While Madeira does have excellent waves year round (including some of the biggest waves in Europe), it doesn't have the same surfing culture as you can experience in Hawaii (which can actually be a good thing because the line-up is not as crowded).
Madeira is much, much cheaper than Hawaii and doesn't have problems with overtourism. You can still find secluded beaches for yourself or hide somewhere on the island's slightly more remote north coast or west coast.
It's not an excellent choice for beach lovers as the beaches are definitely much worse than in Hawaii. But still, taking all into consideration, Madeira feels most like European Hawaii.
The Azores: A Cooler Alternative to Madeira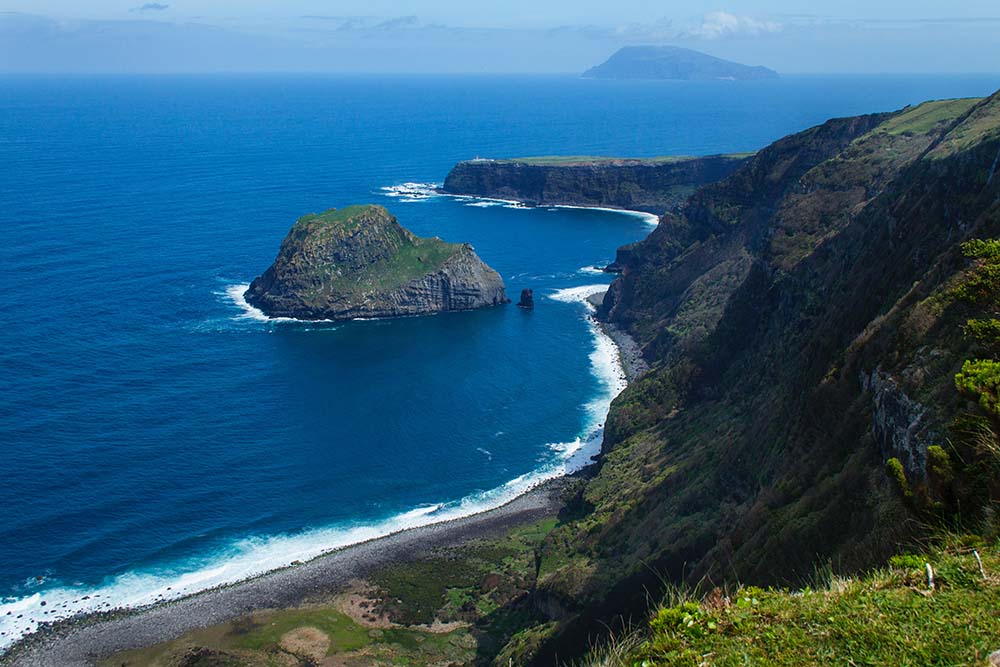 The Azores is another archipelago in the Atlantic Ocean that belongs to Portugal. Because it's situated further north than Madeira, it has a cooler climate, a transitional one between humid subtropical and oceanic.
I hesitated including the islands in this article as the weather is decidedly much cooler most of the year than in Madeira. We're talking about 5-6 months with daytime temperatures above 20 °C (68 °F). The summers can still be warm with temperatures around 25 °C (77 °F) though these are decidedly not like Hawaii which rarely gets this cool even in the winter.
Minimum water temperatures in the Azores are cooler than in Madeira. At their lowest, they drop to 15 °C (60 °F) and in the hottest month, they reach 25 °C (76 °F).
But still, Azores, and particularly Flores island, may (in the right season) remind some people of Hawaii. Just take a look at the picture above: doesn't it look a little like Hawaii's landscapes?
The Canary Islands: The Warmest European Archipelago
If you're looking for something even warmer than Madeira, the Canary Islands are my last recommendation. These volcanic islands located in the Atlantic Ocean belong to Spain.
Like Madeira, it's not a proper tropical destination. The Canary Islands have a subtropical climate. They are by far the hottest European islands but there's still winter there.
The cold season is mild, with temperatures around 21 °C (70 °F) during the day which is a little warmer than in Madeira and still a few degrees Celsius cooler than in the coldest months in Hawaii.
Still, Canary Islands are the closest thing you can find to a tropical island in Europe. And they come with a much lower price tag than Hawaii. I have two recommendations for islands similar to Hawaii.
Tenerife: Most Options on One Island Similar to Hawaii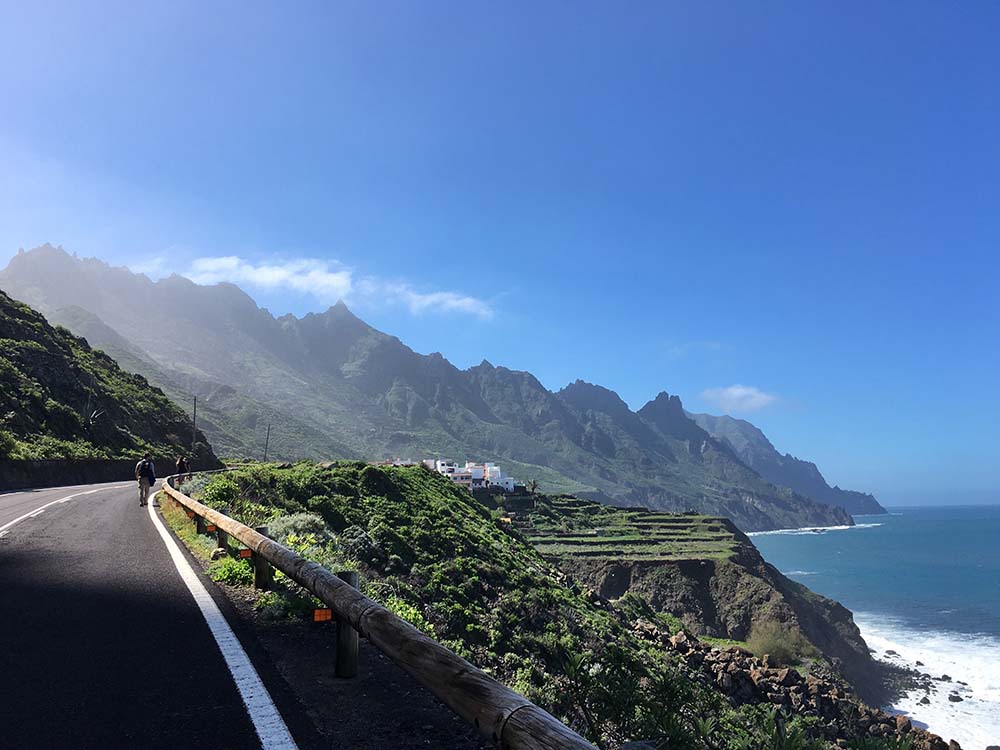 The warmest and most diverse island is Tenerife (it's much better than Gran Canaria). Similar to Hawaii, this volcanic island offers many water sport activities as well as things to do on land. You can surf, hike, see waterfalls, swim in water holes, and relax on the beach. There's even a huge volcano in the center of the island, similar to the Big Island.
The northern part of the island is more lush, with green forested mountains that descend into the ocean. This area of the island also gets the biggest waves. Though Tenerife, like all the Canary Islands, suffers from extreme localism and generally rather unfriendly vibes in the water.
The thing about Tenerife is that its warmest part is the southern, arid part which is very different from what people have in mind when they think of Hawaii. Yes, there are palm trees and some white sand beaches (or rather, white-ish) but it won't remind you of the tropics.
La Palma: a Less Popular Alternative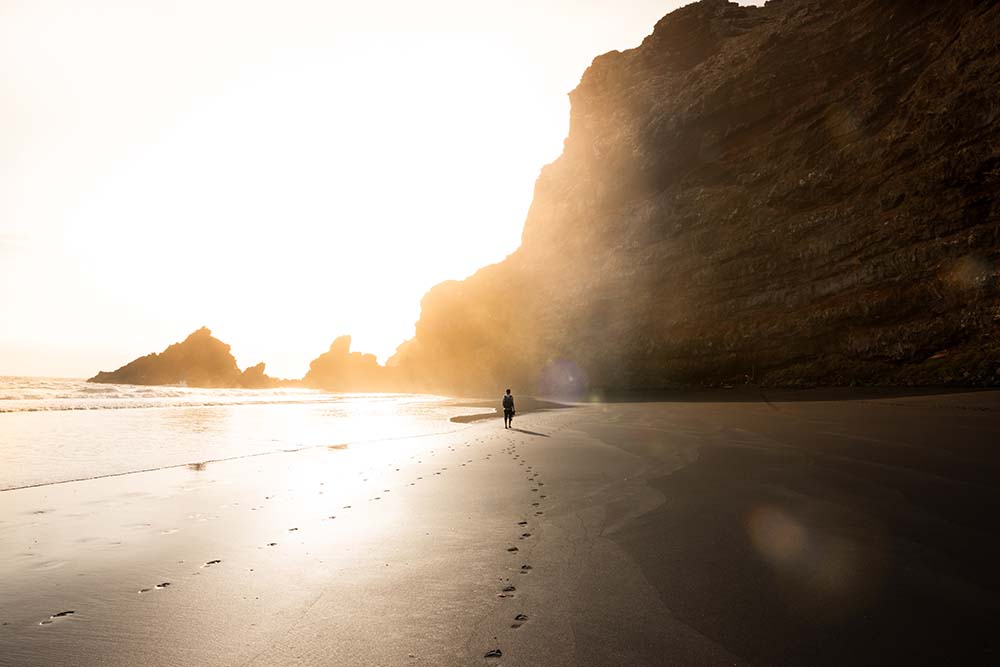 If you're looking for a quieter Canarian alternative to Hawaii, La Palma may be a good option for you.
It has a wetter climate, particularly on the eastern coast. That gives it lush rainforests and scenic views, particularly in the mountains. The coastline, particularly in the northwestern part of the island, is spectacular.
Temperature-wise, La Palma is a little cooler. Because it's the wettest island of the archipelago, cloudy weather and higher humidity is more common.
One of the major things in which La Palma differs from Hawaii is that it doesn't have the best surfing in the archipelago. For that, Tenerife is much better.
Are Lanzarote and Fuerteventura the Hawaii of Europe?
Some people call Lanzarote or Fuerteventura the Hawaii of Europe. And I can only laugh, as apart from surfing these islands have zero in common with Hawaii.
They're almost devoid of vegetation, extremely windy most of the time, and feel rather dead compared to the lushness of Hawaii. Despite being surrounded by the ocean and having some world-class waves, these Canary Islands are as similar to Hawaii as Baja California.
Even if they have some stunning beaches (like Cofete in Fuerteventura) the wind ruins everything. And it's not just sand flying everywhere but also the chill that comes with strong wind gusts that makes it difficult to enjoy the beach unless it's very hot.
Tropical European Islands Like Hawaii (With a Caveat)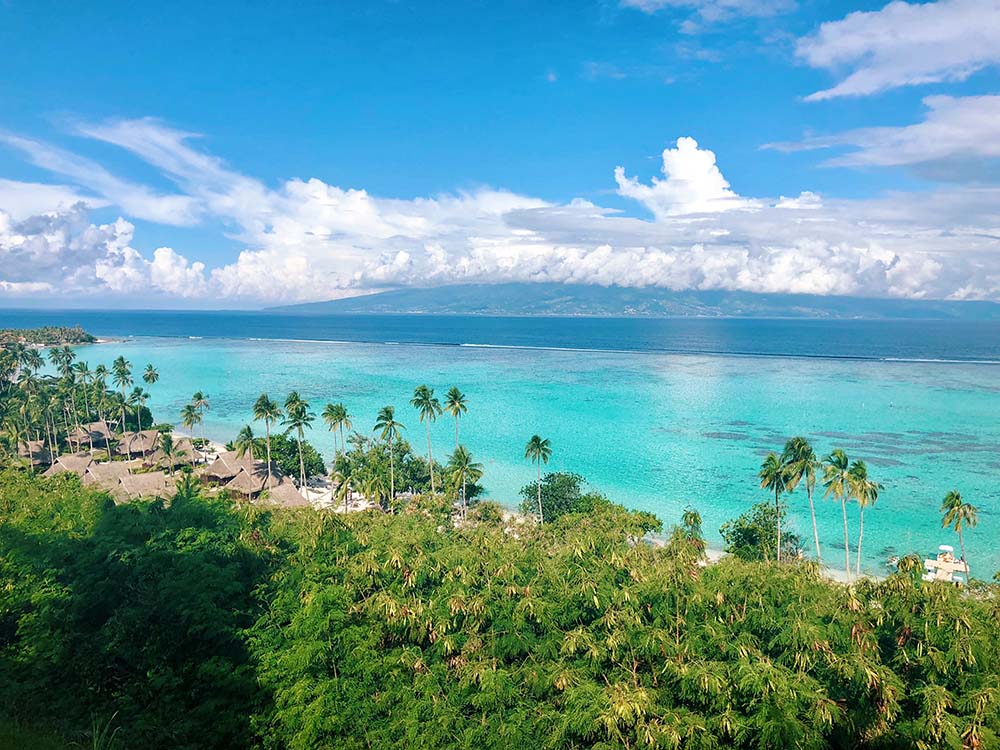 Some countries in Europe own so-called overseas territories, that is regions that aren't located in Europe (or anywhere close to it) but that function in almost the same way as the rest of the country. I describe them in more detail in my article Where Is It Warm All Year Round in Europe?
They aren't technically in Europe so I'm only going to cover them briefly as a curious fact you may find interesting.
For example, France has 13 overseas territories located in the Caribbean, Pacific Ocean, South America, the Indian Ocean, and the Atlantic Ocean.
Out of these, French Polynesia in the South Pacific is by far the most similar to Hawaii. It has a similar Polynesian culture, world-class surfing, spectacular green mountains, a hot year round tropical climate, and is surrounded by the Pacific ocean. It's much more expensive than Hawaii, though.
New Caledonia in the South Pacific is also in many aspects similar to Hawaii. Unlike Hawaii and French Polynesia, it's not particularly developed.
Then there's also Réunion in the Indian Ocean which also has many features of Hawaii. With a humid tropical climate, countless surf spots, and a massive volcano in the center of the island it sounds like an island paradise. Unfortunately, it's by far the most dangerous place to be in the water, with the highest number of shark-related deaths in the world.
Guadeloupe and Martinique, although located in the Caribbean, are also potential Hawaii alternatives. These volcanic islands have a tropical climate tempered by the trade winds, making it similar to Hawaii's climate. Both islands offer great surfing, beautiful beaches, and lush forested interiors.
We are sorry that this post was not useful for you!
Let us improve this post!
Tell us how we can improve this post?