What City Has the Best Weather in Texas?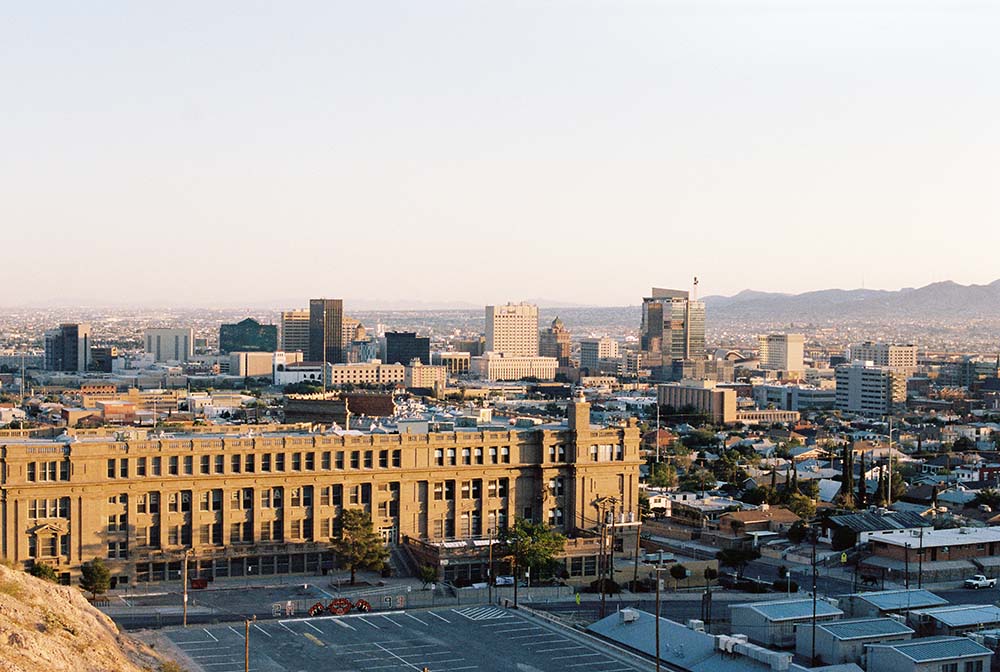 The Lone Star State is one of the most popular states to move to for people who want to enjoy warm weather and plenty of sunny days. But average temperatures in the summer in the major Texas cities can climb all the way to very hot and humid levels, making the weather feel deeply uncomfortable.
Is there any city where you can enjoy the warm and sunny Texas climate without sweating and panting for several months a year? Where can you find the coolest temperatures in the state? Which of the six major cities offers the best climate?
If you're wondering which cities have the best weather in Texas, you're in the right place. In this article you'll discover a few options for the best place to live in Texas for weather. I'll offer my suggestions based on a few different preferences. I also encourage you to check out my article on the warmest cities in Texas and my article on what winters are like in Texas.
What City Has the Best Weather in Texas If You Want the Mildest Weather?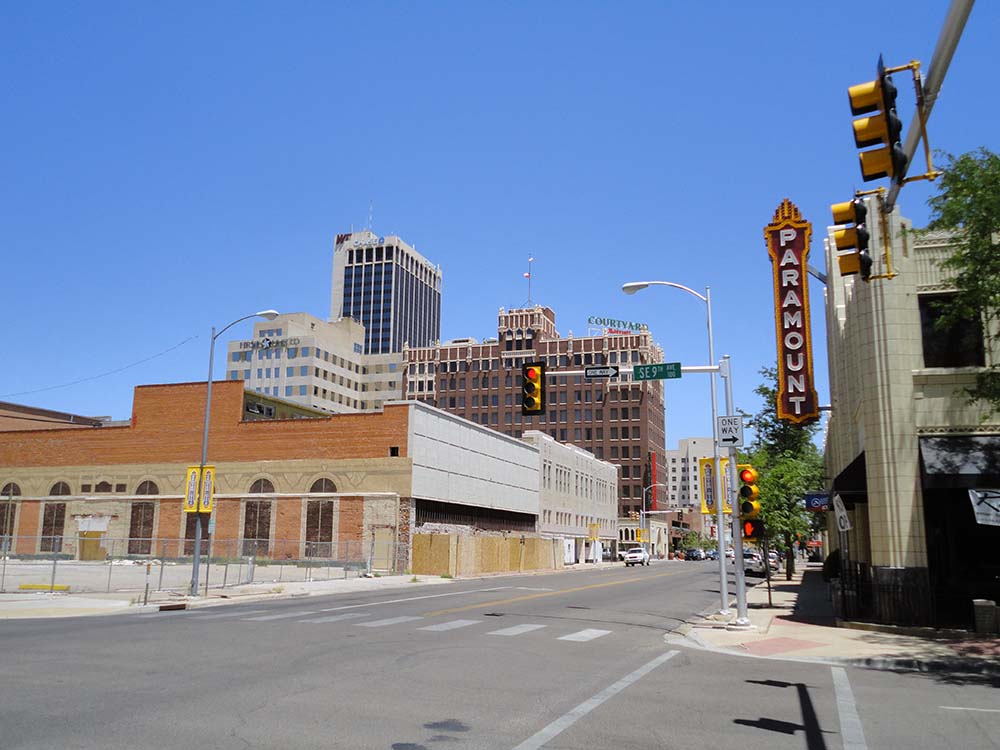 Texas is not a state known for mild weather. While some months can bring mild temperatures, in general if you're looking for mild weather, you need to make some kind of a compromise. No Texas city has perfect weather year round. You choose from cities that:
Have warm winters with rare frost but extremely hot and humid summers, like Houston.
Have cooler winters with the average low temperature going below freezing but milder summers, like Amarillo.
Have cooler winters (potentially with frost) and hot summers but with lower humidity levels, making the weather more comfortable, like El Paso.
Considering that the average temperature in most cities in Texas is above 80 °F up to seven months a year, for the mildest weather we need to optimize for the coolest hot months and not the warmest winters.
In such a case, out of the major Texas cities, the city with the mildest weather is Amarillo. While on average it has freezing temperatures at night between December and February, the average high temperature during the day is always above 50 °F even in the coldest month.
As for the hottest months, Amarillo's temperate semi-arid climate produces only four months of daytime temperatures above 80 °F. And while they can on average reach up to 93 °F, the relative humidity is much lower than in cities like Houston, meaning that such a high temperature is much more bearable.
Amarillo is one of the few cities in Texas with 4 seasons and one of the coolest places in Texas.
Of course, Amarillo is also known for its wildly unpredictable weather and potential catastrophic natural disasters which are nowhere near "mild." When I say that Amarillo has the mildest weather, I refer only to its temperatures which are much lower than in other parts of the state.
If you're looking for the coldest city in Texas, the small town of Stratford has the coldest temperatures year round. The average low temperature stays below freezing five months a year and reaches very cold for Texas 20 °F. The average high temperature is still around 50 °F, with summer temperatures lower by 1-2 °F than in Amarillo.
What City in Texas Is Best If You Want the Sunniest and Driest Weather?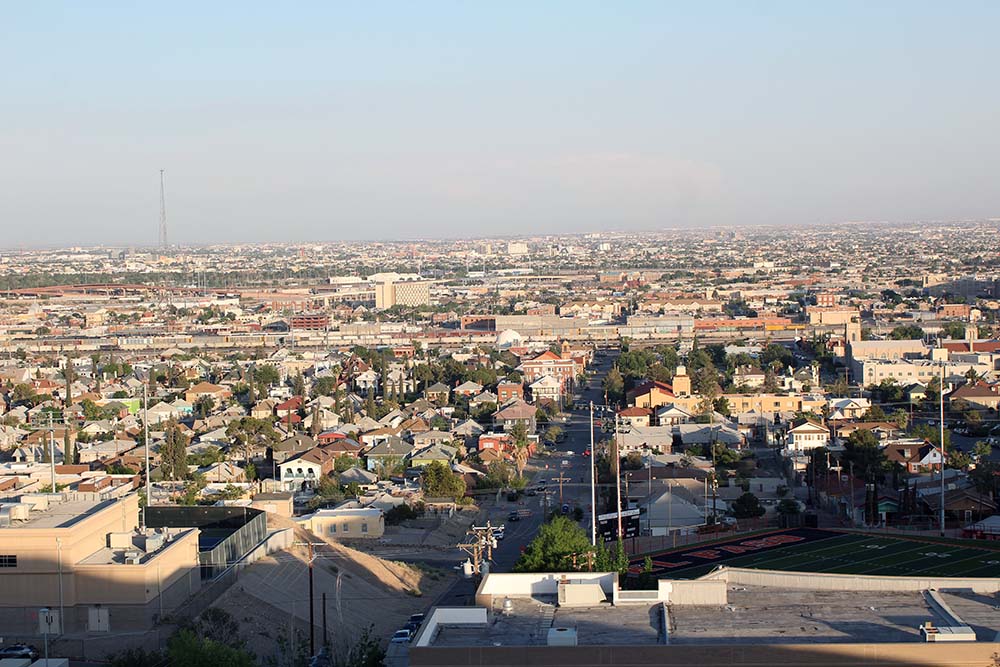 The western part of the state features a semi-arid or arid climate with low humidity levels and the highest number of sunshine hours. If you want to escape the typical for the eastern part of the state humidity, West Texas is your best option.
El Paso is by far the sunniest and driest city in Texas. The average relative humidity ranges from 27% in the driest month (May) to 52% in the most humid month (December). This means that even when the city hits hot summer temperatures of up to 97 °F on average (they can go even higher than that), it'll still be more comfortable than Houston or coastal cities on the Gulf of Mexico.
The number of sunshine hours in El Paso is one of the highest in the entire country. According to data by the National Climatic Data Center, El Paso registers on average 3,763 hours of sun. This puts it on a similar level of sunshine to Las Vegas or Phoenix (check out the warmest cities in Arizona) and sunnier than even the sunniest cities in California.
In the least sunny month (December), the percent possible sunshine is 79%. In the sunniest months (May and June), sun shines 90% of the time. In other words, El Paso is sunny almost all the time.
El Paso is also one of very few cities in Texas with a climate similar to California. More specifically, it's similar to some arid areas of California as it most definitely doesn't have mild weather like San Diego or San Francisco. The average temperature in El Paso is only temperate between November and March. The rest of the year average high temperatures are above 80-90 °F.
Check other Texas cities ranked by sunshine hours.
Which of the Six Major Cities in Texas Has the Best Weather?
The six major cities in Texas with over 500,000 inhabitants are Houston, San Antonio, Dallas (read my article on its climate and my comparison of Dallas and Houston), Austin, Fort Worth, and El Paso.
If we define bad weather as extreme heat and high humidity levels, we can right away exclude all but one city: El Paso. While El Paso has cooler winters than Houston, San Antonio, and Austin, it features much drier weather year round. This makes it the best Texas city out of the largest ones if you don't tolerate humidity well.
Even in the summer, when the average temperature climbs to 95 °F, El Paso is more comfortable than the same, or even lower, temperatures in the humid cities.
In the case of cities like Houston or San Antonio, you have potentially five months of uncomfortable weather. Meanwhile, in El Paso you get cooler (but not uncomfortable) three months of winter and much more comfortable five hottest months.
As an extra, you also get much sunnier weather, particularly in the winter when El Paso is still sunnier than most US cities even in the summer. This makes El Paso have the best weather out of the six largest cities in Texas.
Frequently Asked Questions
What town in Texas has the best climate?
For the sunniest and driest weather, El Paso is the best choice. For the coolest (and also drier) weather, Amarillo is the best option.
Which part of Texas has the least humidity?
West Texas has much less humidity than East Texas. That's because the region receives much less rainfall and has an arid or semi-arid climate. While the average relative humidity level reaches almost 77% in the most humid month in Houston, about 65% in Texas Hill Country (in cities like San Antonio or Austin), and 60% in North Texas (in Dallas or Fort Worth), in El Paso in West Texas the highest humidity is just 52%.
Is any part of Texas not hot?
The average summer temperature in Texas is always above 90 °F so all parts of Texas are hot in the warmest months. The closest major city close to not being that hot is Amarillo due to cooler nights in the summer and potentially cold weather in the winter. The closest small city to a "cold" city is Stratford which features average low temperatures below freezing for five months out of the year. For more on the topic of hot weather, read my article How Hot Does Texas Get?
What part of Texas is always warm?
Texas is one of the best states for hot weather. McAllen and Brownsville are always warm. The average high temperature never drops below 70 °F, even in the coldest month. While Florida is hotter than Texas, these two cities have a Florida-like climate with extremely mild winters.
We are sorry that this post was not useful for you!
Let us improve this post!
Tell us how we can improve this post?