Does Texas Have 4 Seasons?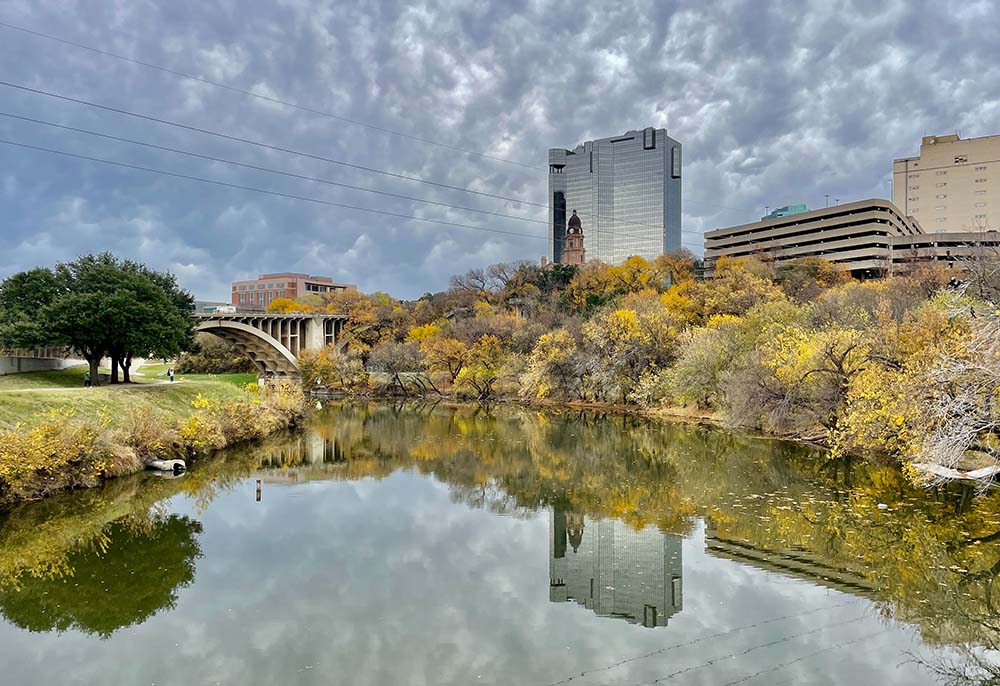 Those moving to Texas are often looking for warm weather which the state can provide in spades, particularly during its long, hot summers. But there are also those who would like to enjoy four distinct seasons. But is there any such place in Texas? Does Texas have 4 seasons anywhere or do you have to accept that for such weather you need to head further north?
Let's take a look at the climate of Texas and figure out if there's any place that has a proper winter, spring, summer, and fall.
How Do We Define If Texas Has Four Seasons?
For the purposes of this article, we first need to decide how we define whether a place has four seasons. What exactly are we looking for?
If we decide that Texas has four seasons because it has winters, then we need to decide what kind of winter would constitute a "proper" winter. Are mild temperatures sufficient or does it have to be cold? If so, how cold? And does there have to be snow?
None of the regions of Texas fit the bill for cold winters. Average daytime winter temperatures are well above what could be considered "cold," reaching at least 50-55 °F. Nighttime temperatures do fall below freezing in some areas but the hottest days may still have a summer-like feel.
Even in the coldest parts of Texas winter days may climb to warm temperatures. These areas have a very variable winter. It's not that rare to wear a t-shirt and shorts on one day and a coat the next. But on average, even most cold cities have mild winters that on average don't feel like a distinct season.
If your definition of four seasons allows for mild winter days and freezing nights, then we can find parts of Texas with four seasons. Same goes for snow. If your definition allows only some potential snow (but not all the winter), then we can also find places with four seasons.
So, ultimately it comes down to expectations. If you're looking for four distinct seasons in Texas, then you won't find them there because winters aren't usually cold. If you're okay with having somewhat distinct seasons (but not your stereotypical winter, spring, summer, and fall) then we may find places in Texas that will fit this requirement.
Climate Zones in Texas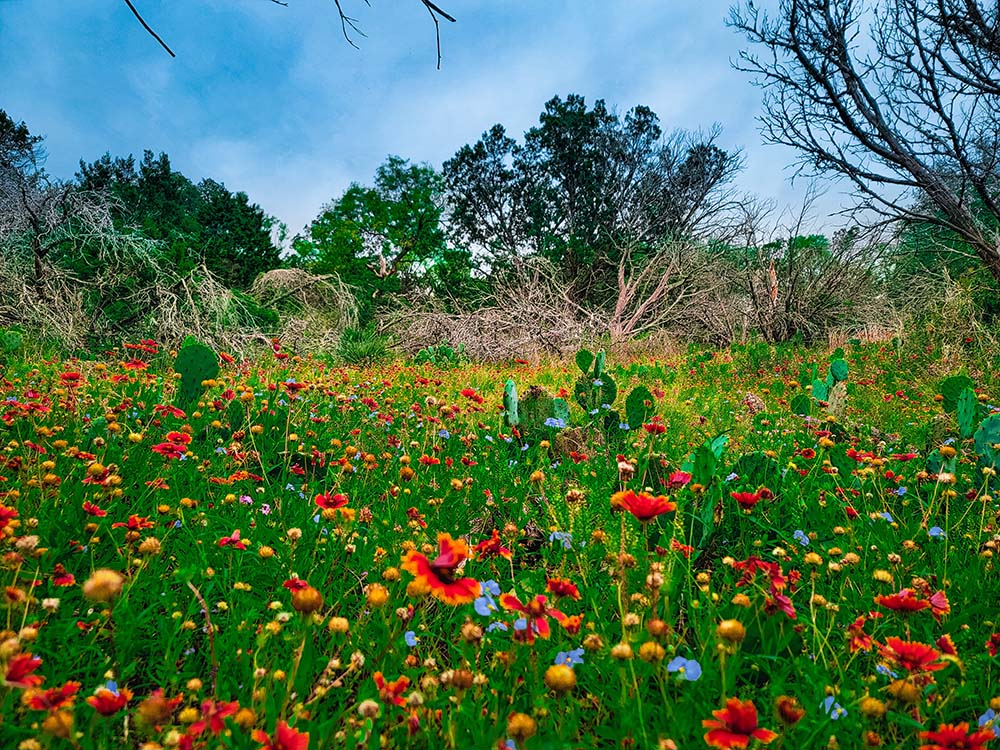 As the second largest state by area, Texas doesn't have just a single climate zone. So the question is not whether Texas has four seasons but which parts of the state have it. Texas can be divided into three main climate regions:
A humid subtropical climate found in the majority of the state, including North Texas, Central Texas, East Texas, and South Texas.
A semi-arid climate found in West Texas and the Texas Panhandle.
A desert climate found in pockets of Far West Texas, most notably in the Big Bend area.
Out of these, we can also exclude a desert climate right away. Such a climate can hardly be described as having four seasons in the traditional meaning of this word. Deserts usually have two seasons: an extremely hot rainy season with some precipitation and a dry season with little to no precipitation.
Temperatures are consistently warm to hot with no transitional seasons. Average daytime temperatures exceed 90 °F between April and September while the remaining months are still warm, with no month with daytime temperatures lower than 65 °F. This climate zone in Texas is also sparsely populated and is thus of no interest to most readers.
This leaves us with a humid subtropical climate and a semi-arid climate. So let's take a look at these two climates, or more specifically, let's look at the most populous cities that feature them.
Which Cities in Texas Have Four Seasons?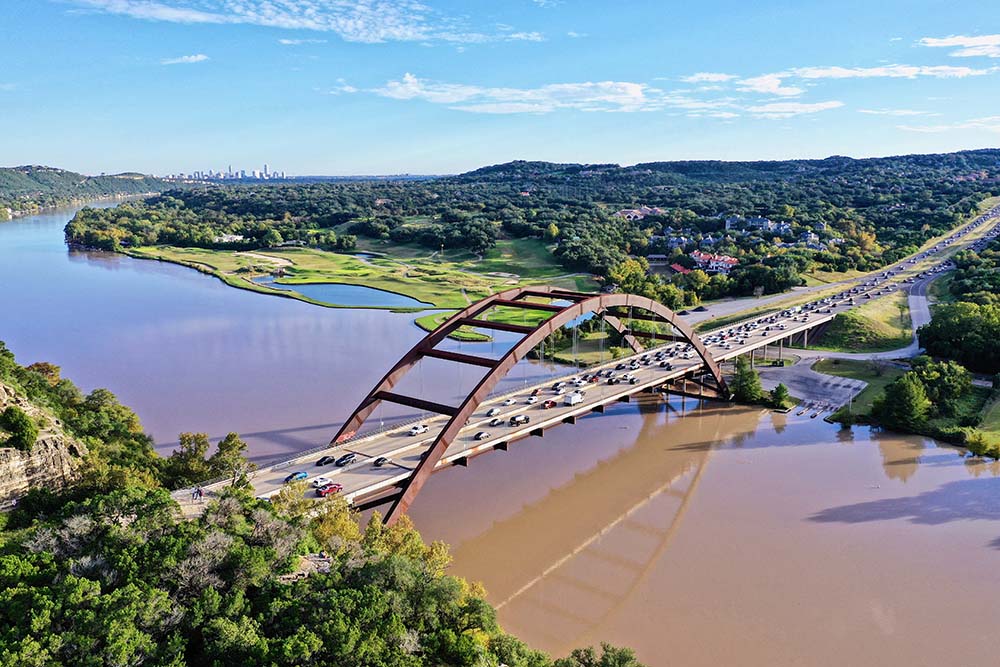 Let's take a look at the major regions of the state to see where we can find four seasons. I'll start with parts of the state that have a humid subtropical climate and finish with two areas of the state that are semi-arid.
South Texas
If we're looking for four seasons in Texas, we can immediately exclude South Texas with cities like San Antonio, Corpus Christi, Laredo, Brownsville, and McAllen. The proximity of the Gulf of Mexico keeps most of these cities warm to hot year round.
Out of these, San Antonio is the closest to having seasons. But the city's long hot summer transitions almost instantly into a cooler but still warm winter with daytime temperatures of 63-68 °F. Sometimes the early fall can still have temperatures above 90 °F while the warmest winter days can still climb over 80 °F.
You may see some fall foliage near San Antonio but with t-shirt weather it'll hardly feel like a fall (same goes for many major cities featured later in this article like Austin, Dallas, or Houston).
San Antonio also rarely experiences any freezing nights or freezing precipitation. On average, snow falls every four years and sometimes there may be no snowfall for even a decade.
Central Texas
Some of the major cities in Central Texas include Austin, Killeen, Waco, College Station, and Round Rock. Out of these, Waco has the coolest winters and so is the most likely candidate for a four-season city.
But still, with average temperatures that reach 59-63 °F during the day and 36-40 °F at night, this is hardly a proper winter. In fact, barring the coldest nights, Waco's winter is still more like spring than winter. Snow in Waco is also extremely rare.
And on the hottest days climbing to 78-82 °F, it's hard to describe Waco as having a proper winter.
East Texas
East Texas comprises of the Greater Houston Area and among the largest cities outside of it: Beaumont, Tyler, Longview, Port Arthur, Huntsville, Texarkana, Lufkin, Nacogdoches, and Paris.
Out of these, Texarkana and Paris have the coolest climate. Texarkana in particular has the coolest winters.
With average high temperatures of 54-59 °F it still has warm days. But average low temperatures are between 33-37 °F. This means that in the coldest month they do on average drop to around freezing. The hottest days may still bring temperatures of 73-77 °F, though.
March has temperatures that are cool enough (67 °F during the day) that we may consider it a warm spring month. Meanwhile, November, with daytime temperatures of 65 °F can be described as a month of fall (October is too hot with average highs of 77 °F).
Texarkana records on average about 1 day of snow a year. So far, Texarkana is the closest city to a four-season one but some may still argue that it's too warm.
North Texas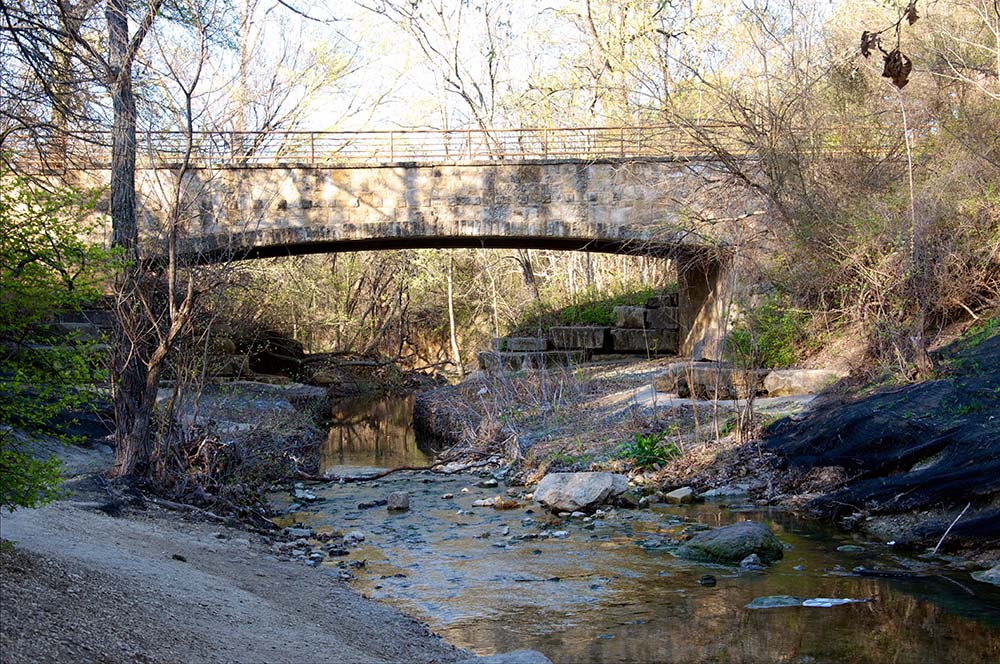 North Texas includes the Dallas–Fort Worth metroplex as well as rural counties along the border with Oklahoma. Main cities in this area include: Dallas, Fort Worth, Arlington, Plano, Garland, Irving, Grand Prairie, McKinney, Frisco, Mesquite, Carrollton, Denton, Richardson, Wichita Falls, Lewisville, Allen, and Flower Mound.
Out of these cities, McKinney is the coldest city. And McKinney is the first city that we may consider a true four-season city. Daytime temperatures between December and February are around 53-58 °F. These are of course more spring-like. But average low temperatures are 31-35 °F, bringing freezing temperatures regularly.
McKinney also experiences a clear spring. March and April feature daytime temperatures of about 66-73 °F. These are too warm to be considered winter-like and a little too cool to be considered summer-like, particularly with 42 °F at night in March and 51 °F in April.
Most cities in Texas provide long stretches of hot, humid weather with up to six months of muggy conditions. McKinney is a bit of an exception because it has only two months with average high temperatures near or above 90 °F (in comparison, Dallas, San Antonio, and Houston have four such months).
October begins to bring cooler weather but it still has average highs of 76 °F and lows of 53 °F. The fall in McKinney is thus shorter compared to spring. Temperature-wise, only November feels like fall with 63 °F during the day and 42 °F at night.
McKinney gets on average 2.2 snowy days which means that it's almost three times more likely to receive snowfall compared to Texarkana.
West Texas
West Texas has a semi-arid climate. This means dry and sunny weather year round. The major cities in this region of the Lone Star State are: El Paso, Lubbock, Midland, Abilene, Odessa, San Angelo, Socorro, Big Spring, Horizon City, and Plainview.
Among the cities that have NOAA weather stations, Lubbock is by far the coldest city. In fact, among the largest cities in Texas, it's the second coldest city in the state.
Lubbock is another true four-season city (for Texas standards). It has warmer winter days than McKinney, recording average highs of 55-60 °F compared to 53-58 °F in McKinney.
But average low temperatures in Lubbock are much lower. They're so low that all three winter months have nights below freezing. The temperatures range from 27 to 31 °F. On the coldest nights, the temperatures may even drop to 13-16 °F and not go above freezing during the day.
Because it's Texas, Lubbock may still experience much warmer days even in the coldest months. Temperatures may climb all the way to definitely non-winter-like 75-80 °F. But on average, Lubbock has cool for Texas winters and fits our definition of a four-season city.
The city also gets on average 5.7 snowy days with 7 inches of snow. Snow is thus a rather regular occurrence in the city each year.
Texas Panhandle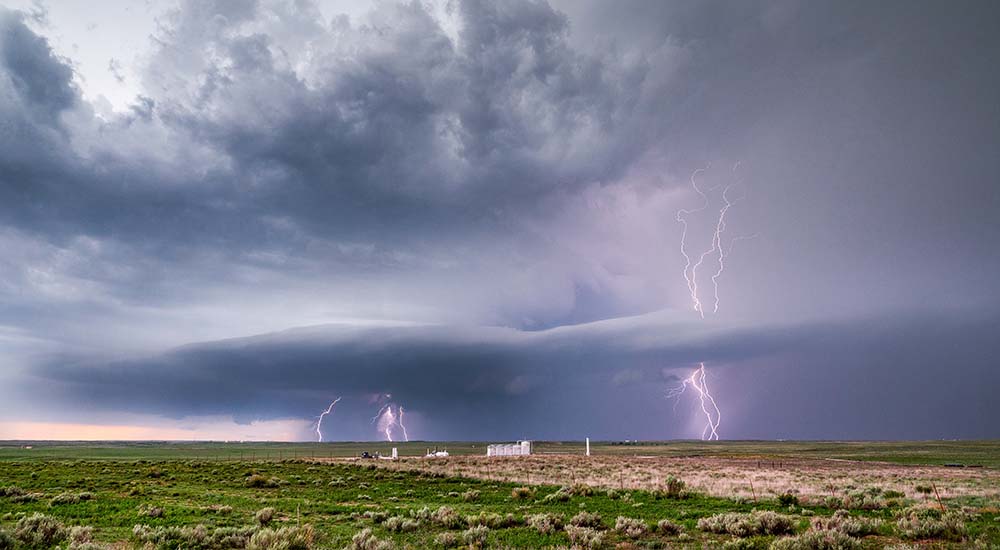 The Texas Panhandle is home to some of the coldest cities in Texas. The major ones include: Amarillo, Pampa, Hereford, Canyon, Dumas, and Borger. While they all somewhat differ in temperatures, all cities in the Texas Panhandle would qualify as four season cities.
Out of these cities, Hereford in particular is a very cold for Texas standards city. Its daytime temperatures are between 50-55 °F which is much lower than in other parts of the state.
But it's the average low temperatures in Hereford that uncover how cold it gets in the winter. They range from 21 to 25 °F between December and February. Yes, you've read that right. It does get this cold in Texas, and even much colder on the coldest nights in the city.
Hereford also gets 7.6 average snowy days with 16.9 inches of snowfall a year. It's not the snowiest city in Texas, though. The title goes to Amarillo with 11.1 snowy days and 17.2 inches of snowfall a year.
Even March and November in Hereford have average low temperatures dropping below freezing. With average highs of 64 and 72 °F in March and April respectively and 73 °F in October and 60 °F in November, Hereford unquestionably has four distinct seasons.
Hereford also has some of the coolest summers in Texas. While average highs still reach 89-92 °F, average lows are very cool for Texas summers: 59-63 °F. Hereford doesn't have the coolest summers, though. A small town of Stratford in the Texas Panhandle has average summer highs of 87-92 °F and average lows of 58-63 °F.
Further Reading
If you want to learn more about the climate of Texas, here are other relevant articles on the website on the topic:
We are sorry that this post was not useful for you!
Let us improve this post!
Tell us how we can improve this post?