Where Does It Not Snow in Oregon?
If you're looking for a place in Oregon where it doesn't snow or snows very little, this article is for you. I'm going to give you a few options on the best places that get little to no winter snow and offer the mildest winter weather in the state. You won't need much winter gear in these places.
If you're looking for the best climate in Oregon, you'll also enjoy reading my article on the best weather in Oregon.
Does It Snow in Oregon?
Before I share the places in Oregon where it doesn't snow, I need to answer a common question: does Oregon get snow? After all, the state is known for mild weather and is more in(famous) for its wet weather rather than snow.
Every major city in Oregon may experience some snow. While usually it's not much, there may be up to a few days of snowfall in the warmest cities in Western Oregon in cities like Portland or Eugene and up to 15 or so in colder semi-arid cities in Eastern Oregon like Bend or Klamath Falls.
For example, while Portland gets on average 4-5 days of snow (and about 4 inches of snow), Bend gets about 14 days (with about 22 inches of snow) and Klamath Falls 15 (with about 32 inches of snow).
Low elevations in Western Oregon rarely get much snow but there's one notable exception: Crater Lake National Park. Snow covers the park for eight months each year. There are 101 snowy days with incredible 463 inches of snowfall. Pro tip: don't go there if you want to avoid snow in Oregon.
And now, where do you go if you don't want to deal with snow?
Where Does It Not Snow in Oregon? Top 5 Places
While there's no place in Oregon where it doesn't snow at all, there are some places that record close to no average annual snowfall. If there's any snow (and in some years there's none), it quickly melts and never accumulates.
Oregon winters are mildest near the coast and in the rain shadow of the Cascade Mountains. That's where the top 5 places where it doesn't snow (or snow rarely) are located.
1. Brookings
The place that is the closest to the snow-free ideal, with some of the mildest temperatures in the winter months and a very low risk of snowfall, is Brookings on the Pacific Ocean.
This small city of about 7,000 residents features a rare in Oregon very mild Mediterranean climate with moderate average temperatures year round. The average high temperatures in Brookings range from 53 °F in the coldest month (December) to 66.6 °F in the warmest month (July). The average low temperatures range from 42.7 °F in December to 53.8 °F in August so they stay relatively low even in the summer months.
According to the National Weather Service, the average annual snowfall in Brookings is just 0.7 inches spread over just 0.2 average snowy days. This means that on average there's almost no snow in the winter months in Brookings.
However, due to its location, the city gets a lot of precipitation, and particularly a lot of winter precipitation. Between December and February it rains on average up to 19 days a month. But with average 2,546.7 sunshine hours a year (most of which are recorded outside the winter), the city still enjoys plenty of sunny days, particularly for the Pacific Northwest standards (check out my list of the warmest cities in the Pacific Northwest).
If you don't mind the rain, then this scenic town on the Oregon coast fits the bill the most when it comes to avoiding snow in Oregon.
If for some reason you're not interested in Brookings, there are two more major towns in this so-called banana belt of Oregon: Gold Beach and Port Orford further north. Like Brookings, they get virtually no snowfall, are largely free of cold weather but they do get a lot of rainfall.
If you'd rather have less rain, then there a couple of other options…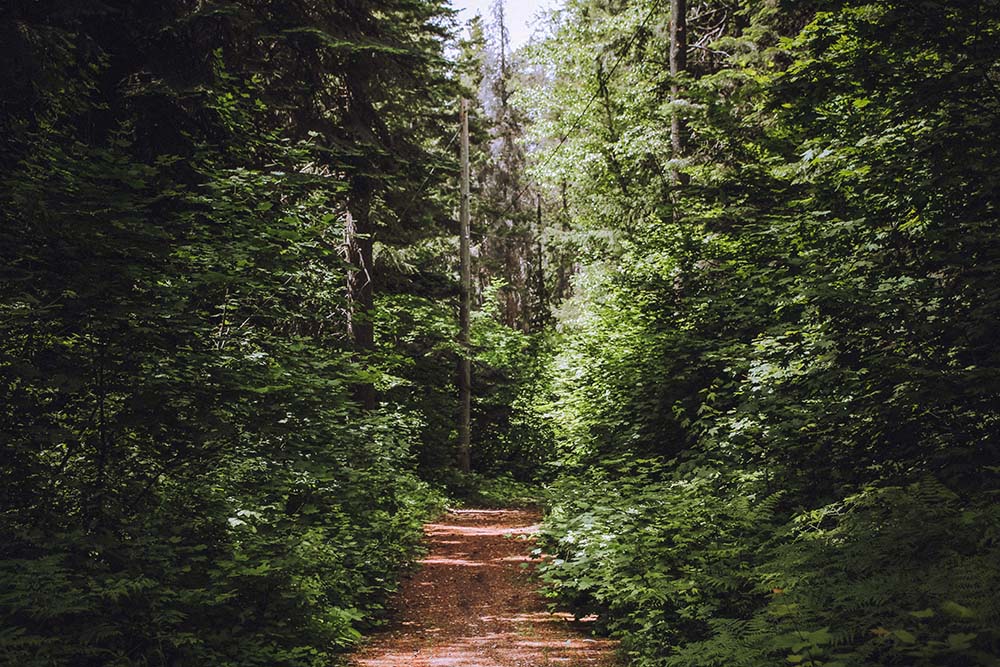 2. Grants Pass
Grants Pass is a city of about 40,000 inhabitants located in the Rogue Valley. It benefits from the rain shadow effect from the neighboring Cascade Mountains and Siskiyous. Because of that, the area is drier compared to the Willamette Valley, the coast, or the mountainous areas of the state (but it's still wetter than cities in Central Oregon like Bend).
Shielding Grants Pass from the wet weather, the Cascade Range gives it a climate that's more similar to the Central and Sacramento Valleys of California than stereotypical western Oregon with high cloud cover.
Grants Pass is the third warmest city in Oregon. Because Grants Pass isn't located at sea level as Brookings, it has slightly cooler winter temperatures. They range from 45.7 °F in December to 53.9 °F in February. Average low temperatures in Grants Pass are much lower than in Brookings, getting as low as 35.1 °F in December.
Grants Pass records just 0.9 average snowfall inches a year, spread over 1.1 average snowy days. Most snow falls in January (0.6 inches), so apart from January, the city is mostly snow-free year round.
3. Ashland
Similar to Grants Pass, Ashland sits in the rain shadow of the Cascade Mountains. This gives it drier weather, particularly in the summer. Located 42 miles southeast of Grants Pass, Ashland is within short driving distance.
The city's elevation at 1,949 ft above sea level makes it have colder weather than Grants Pass.
While Ashland enjoys slightly warmer winter temperatures than Grants Pass, with average highs ranging from 47.2 °F to 53.7 °F, the nights are much colder. The average temperatures are below freezing point: from 29.2 °F in December to 29.7 °F in February.
Ashland gets 0.5 snowfall inches a year which is less than Grants Pass. The snowfall is distributed over 1.3 days.
4. Medford
Medford is also located near the Cascade Mountains in the same area as Grants Pass and Ashland. It's one of the warmest cities in Oregon, with an average temperature of 55.95 °F. With 86,000 residents, it's the largest city in the region.
Medford gets more snow than the previous cities. It records 3.4 snowfall inches a year, with snow falling on average on 5.1 days. Because it's one of the warmest cities in Oregon, it still fits our list because any snowfall will quickly melt with daytime temperatures between 46.1 °F in December, 48.2 °F in January, and 54.2 °F in February.
Medford is also one of the sunniest cities in this part of the state, enjoying 2,520 sunshine hours a year. It also gets little rain, with just 73.5 average days of precipitation compared to 121.8 in Grants Pass, 113.7 in Ashland, and 140.8 in Brookings.
Medford borders the small town of Central Point which has virtually the same climate, with the same amount of snowfall.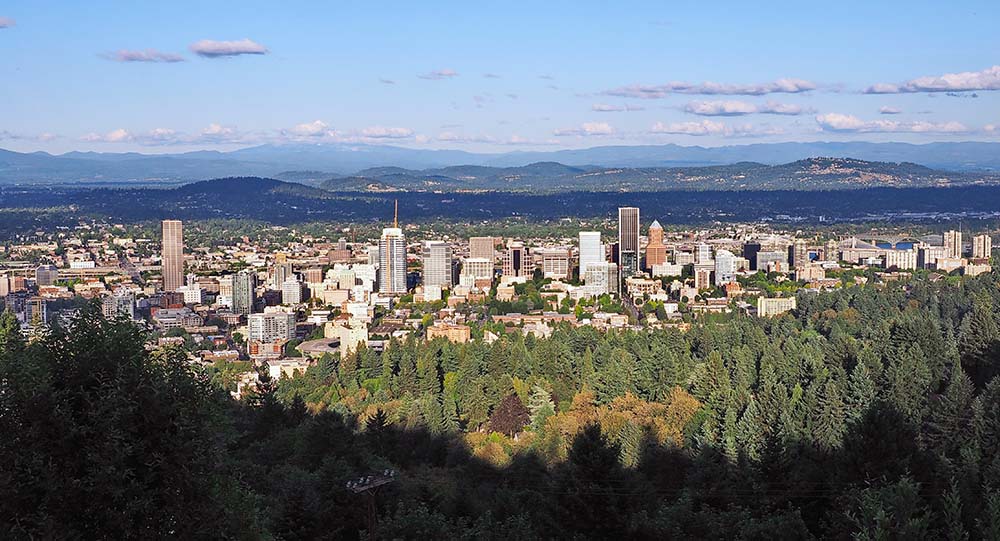 5. Portland
The largest city in Oregon is the final option to avoid snow in Oregon. While Portland gets more of the white stuff than the previous cities, it's still relatively little. How much snow is that?
The average annual snowfall is 4.3 inches, with snow falling on average on 4.4 days. Why doesn't it snow in Portland much? Because average daytime temperatures in Portland in winter stay well above freezing (between 46.9 °F and 51.5 °F), any snow quickly melts.
The biggest disadvantage of Portland is how rainy it is. The city gets on average 155.8 days of precipitation. The amount of rainfall is much lower than in Brookings but the number of rainy days is higher by 15.
Speaking of the largest cities, Eugene gets 2.4 snowy days which is almost half of the average of Portland. But Eugene records 7.1 inches of snow, which is more significant snowfall. So in the end, Portland may get more snowy days but there's a lower risk of snow accumulation.
If you're looking for the best temperate or warm weather in the United States, you may also want to read my article Best States for Weather: The Ultimate Guide.
We are sorry that this post was not useful for you!
Let us improve this post!
Tell us how we can improve this post?