What Are Winters Like in North Carolina?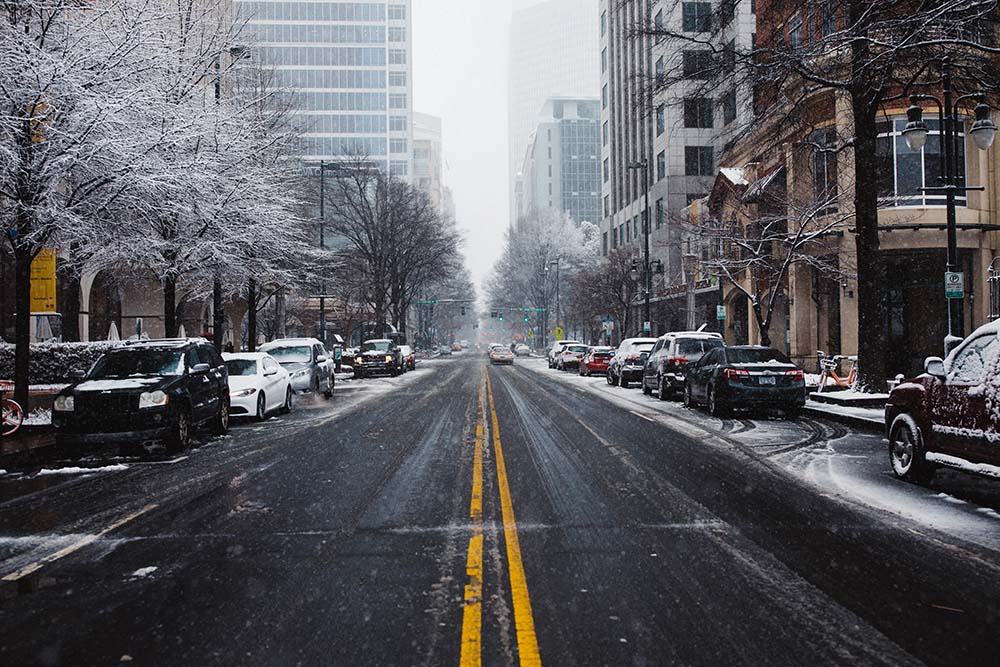 North Carolina's varied topography is one of the many reasons for the state's growing popularity. From spectacular beaches on the Atlantic Ocean, through dense national forests in Central North Carolina to Blue Ridge Mountains in Eastern North Carolina, outdoor enthusiasts are spoiled for choice there.
But if you want to enjoy outdoor activities, you also need good weather. North Carolina's summers are reliably sunny and warm. But what about the colder part of the year? What are winters like in North Carolina? Is North Carolina cold in the winter?
Let's look at weather patterns in three regions of North Carolina: Wilmington on the Atlantic coast, Charlotte for central NC and Asheville for the area near Great Smoky Mountains.
What Are Winters Like in Wilmington, NC?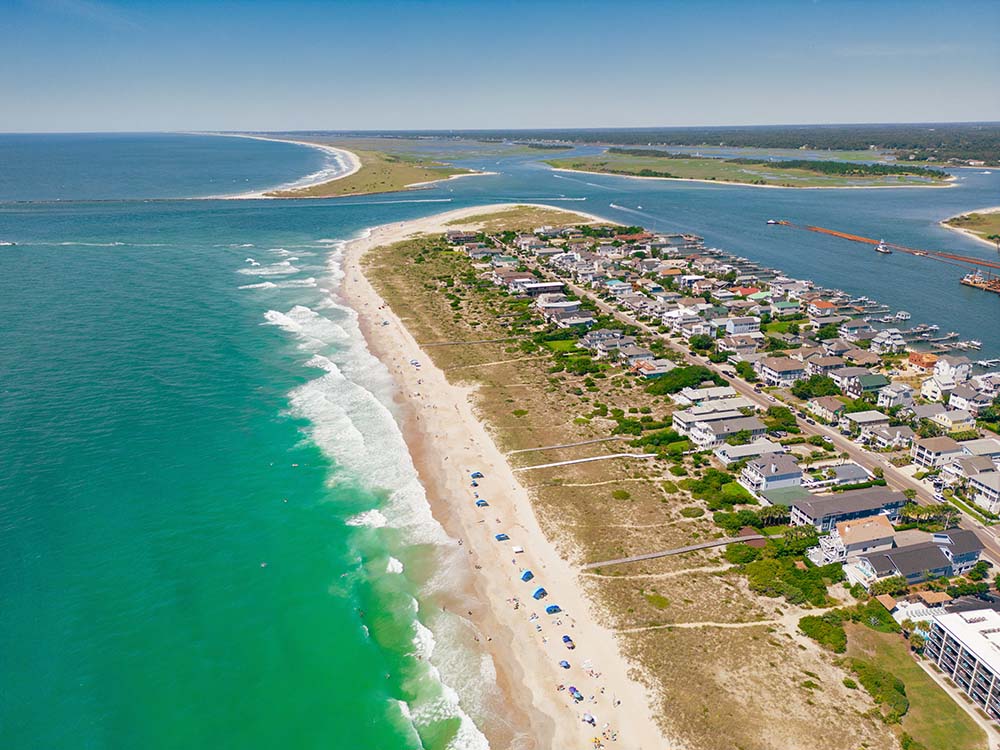 Wilmington area (stretching to Southport) is the warmest part of North Carolina. If you want the warmest winter weather, this is your best bet in the state.
Temperatures
On average, Wilmington sees the average temperature ranging from 57 to 60 °F between December and February. While nights can be cold, with temperatures around 36-39 °F, days can feel spring-like, particularly on a calm, sunny day. Of course, winter storms can bring cold air and Wilmington may still experience temperatures well below freezing (up to only 19 °F). But overall, the area has mild weather, similar to coastal cities in the northern part of South Carolina.
The hottest days in Wilmington may bring summer-like temperatures of 75-77 °F while the coolest nights may drop to 19-24 °F.
Southport, a town about 32 miles south of Wilmington is even warmer. Compared to standard for North Carolina weather that's mild at best in the winter, Southport records spring-like daytime temperatures even in the coldest months. Average temperatures during the day reach 60-63 °F while the town's average low temperatures are around 35-38 °F (cooler than in Wilmington). If you want warm weather during the day, this is the only place in North Carolina that has average temperatures of 60 °F or more even in the coldest month.
Humidity
While North Carolina's relative humidity is lower in the winter compared to the summer, Wilmington still sees humidity levels of about 68-72% (compared to 62-67% in Charlotte). This means that cooler days may feel even colder. Same goes for higher wind speed. On a windy, cloudy, and humid day, you can very much feel it's proper winter even in this area known for a very temperate winter season.
Rain and Snow
North Carolina's climate is consistently rainy and winter is no exception. In Wilmington, it rains about 10 days per month which is slightly less than in the summer. As for snowfall, coastal North Carolina gets almost no snow. On average, Wilmington records only 1 day of snow a year, with less than an inch of snowfall.
Sun
Wilmington records sun about 58-59% of the time in the winter months. Sunshine hours are between 181-182 hours per month.
As a side note, while the coastal plain of North Carolina has rather mild weather in the winter, it's prone to severe weather in the summer (namely: hurricanes).
What Are Winters Like in Charlotte, NC?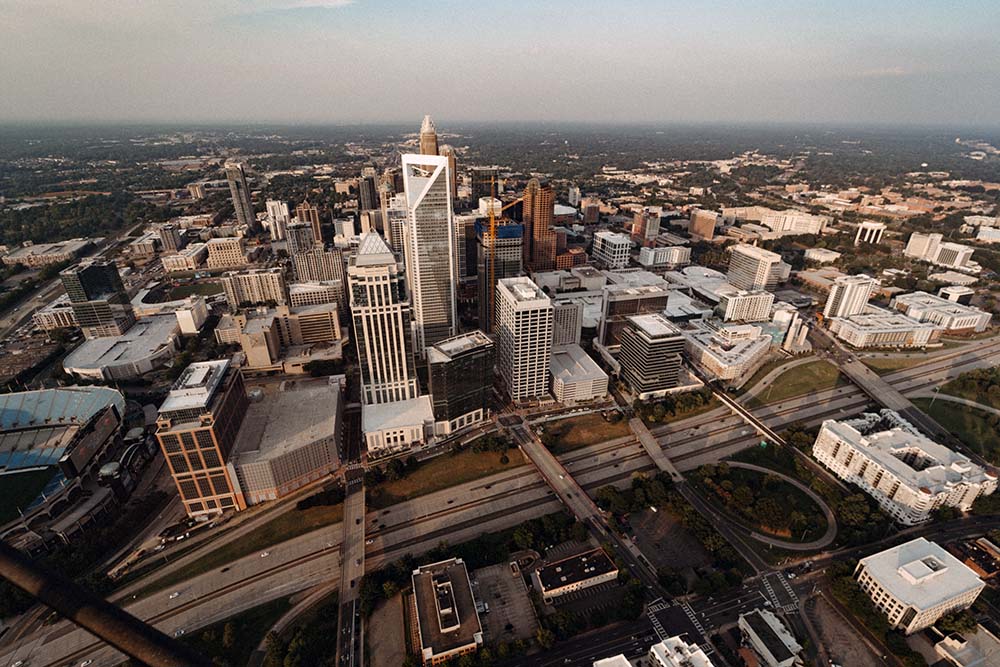 The largest city of North Carolina has a cooler climate than Wilmington, with more distinct four seasons. One of the reasons for that is that the Piedmont region of the state (where Charlotte is located) experiences cold air damming. It's a weather phenomenon when cold air gets trapped in the mountains, affecting weather patterns nearby.
Temperatures
The average temperature in Charlotte in winter months ranges from 52 to 57 degrees Fahrenheit during the day and 32 to 35 degrees Fahrenheit at night. While daytime temperatures may even feel pleasant if sun is out, at night proper winter clothes are essential. The coldest nights may record temperatures of just 15 °F while the warmest days can climb all the way to 70-74 °F.
As a side note, the climate data for Charlotte comes from Charlotte Douglas International Airport. It's located about 6 miles from downtown Charlotte and may record slightly cooler temperatures (city centers are usually a little warmer due to the urban island heat effect).
Humidity
Charlotte has lower humidity than coastal North Carolina. While the city still features a humid climate, average relative humidity in December-February is between 62-67%, making cold temperatures a little more bearable compared to the same temperatures with higher humidity in Wilmington.
Rain and Snow
Charlotte records about 10 days of rain per month in the winter season. While snow is more frequent than on the coast, on average there are only 2 days with snow. The average snowfall is 3.5 inches, meaning that any snow accumulation is very unlikely.
Sun
Sun in Charlotte shines 55-59% of the time in the winter. Sunshine hours are between 169-180 hours per month.
What Are Winters Like in Asheville, NC?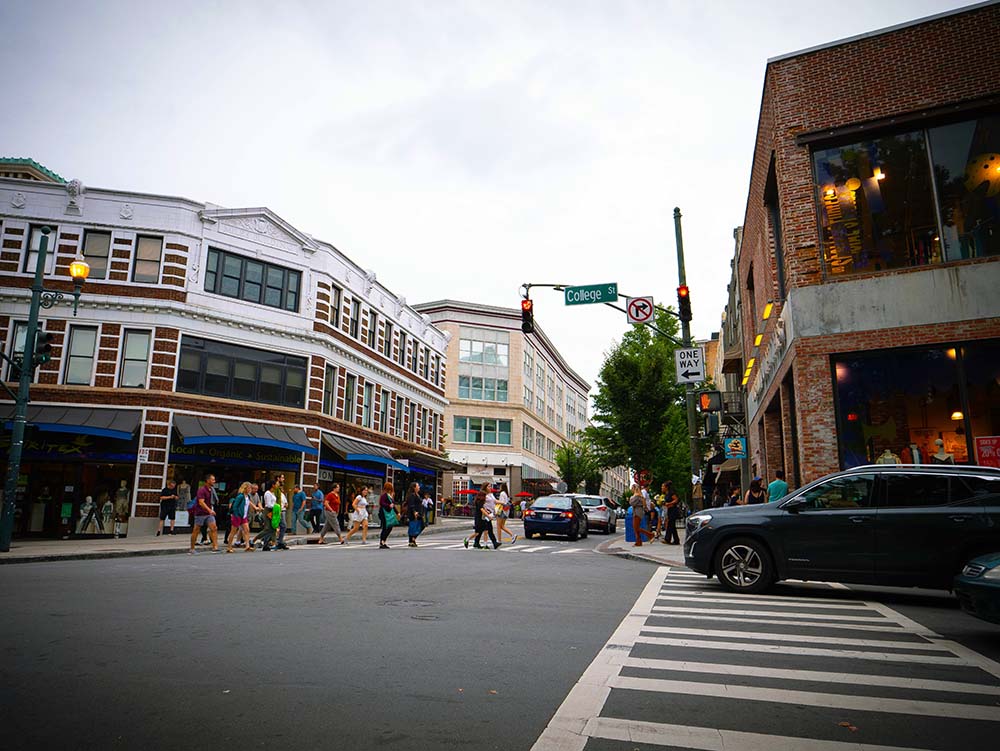 Due to its higher elevation, the average temperature in Asheville is one of the lowest in the state. Freezing rain, sleet, hail, and occasional snow are all a part of living in Asheville. You can call it a tax on living near the Appalachian Mountains and ski resorts. In return for cold winters you get milder summers, though, which makes Asheville a city with the mildest climate in North Carolina.
Temperatures
Despite elevation, average high temperatures in Asheville are still relatively mild. They reach about 49-53 °F between December and February. Nights are noticeably colder, though. All three winter months have average low temperatures below freezing, around 29-31 °F. And on the coldest nights, Asheville can get very cold, with temperatures reaching only 10 °F.
Asheville, like the previous cities, may still experience warm winter days. Mean maximum temperatures in Asheville between December and February may get to 67-69 °F.
Humidity
Out of the three featured cities, Asheville has the highest average relative humidity. In the least humid month, levels are still above 70%, even reaching 74% in December. This makes cool temperatures feel even cooler, further contributing to the city's decidedly four-season feel.
Rain and Snow
Like previous cities, Asheville records about 10 rainy days per month. The city gets more snow than Wilmington and Charlotte. On average, snow falls on 5-6 days a year and the average snowfall reaches 10.3 inches which is three times more than in Charlotte.
Sun
Despite colder temperatures, Asheville still gets sun 55-59% of the time in the winter. Sunshine hours reach on average 167-181 hours per month.
Does It Snow in North Carolina?
While I've given the number of snowy days in Wilmington, Charlotte, and Asheville, here's a table showing other major cities in the state so you can get a sense of how much it snows there. Note that some cities are missing because the NOAA doesn't offer climate data for them.
| City | Average snowy days | Average snowfall inches |
| --- | --- | --- |
| Charlotte | 1.9 | 3.5 |
| Raleigh | 3.4 | 5.2 |
| Greensboro | 3.9 | 7.1 |
| Durham | 3.4 | 5.2 |
| Wilmington | 0.7 | 0.9 |
| High Point | 0.6 | 1.9 |
| Asheville | 5.6 | 10.3 |
| Greenville | 1.8 | 3.3 |
| Jacksonville | 0.5 | 0.6 |
| Apex | 3.2 | 4.8 |
| Chapel Hill | 1.9 | 2.8 |
| Rocky Mount | 0.8 | 2.8 |
| Wilson | 1.1 | 1.9 |
| Hickory | 1.8 | 6.1 |
| Goldsboro | 1 | 2 |
| New Bern | 0.5 | 1.5 |
| Clayton | 2.2 | 3.2 |
| Kinston | 0.1 | 0.7 |
| Lexington | 2.4 | 7 |
| Boone | 14.6 | 25.6 |
Generally speaking, if there's snowfall in North Carolina, it begins in November at the earliest (though still unlikely). The months with most snow are December and February. There may still be some snow in March while in April it only snows at higher elevations.
When Does It Get Cold in North Carolina?
When it gets cold in North Carolina depends on the definition of cold.
If we define "cold" as average temperatures below freezing, then it gets cold in January when nighttime temperatures may drop below freezing anywhere but on the Atlantic coast.
If we define "cold" as temperatures during the day reaching on average about 50 °F at most, then cold weather starts in December.
Either way, North Carolina doesn't get particularly cold even in the coldest months. And in its warmest cities, daytime temperatures are so high that they don't qualify as having cold weather at all (barring colder nights).
How Cold Does It Get in North Carolina?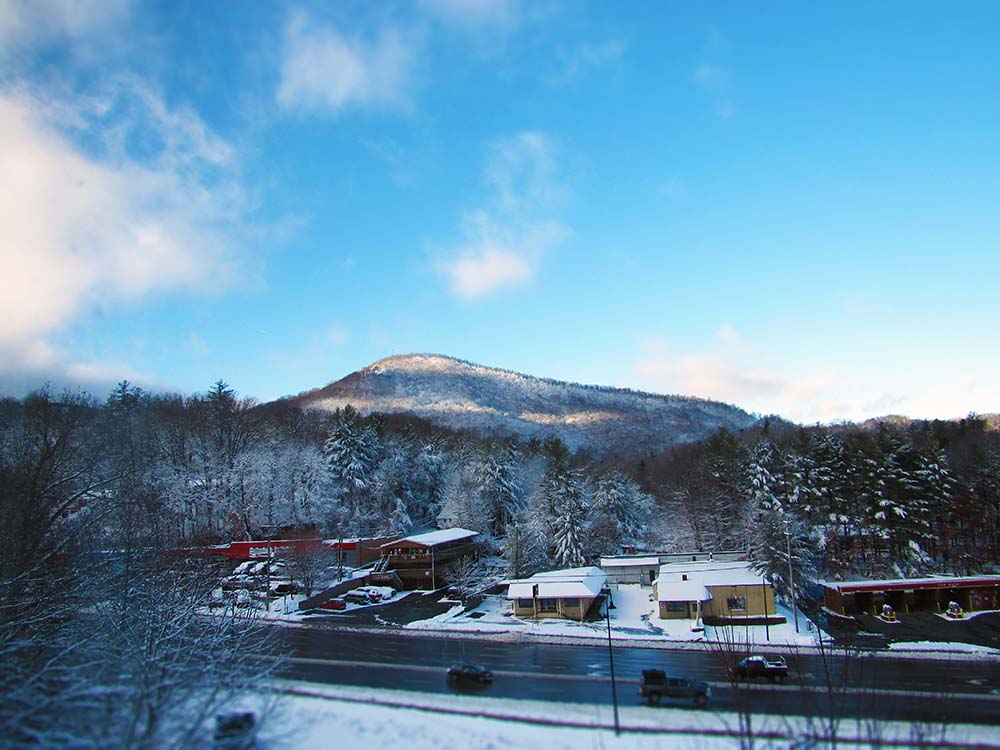 I've already covered the lowest average temperatures recorded in three parts of the state. Now, if we're looking for the absolute coldest temperatures in North Carolina in a populated area, out of the 50 major cities in the state, Boone is by far the coldest.
And unlike other cities, including Asheville, it can get very cold there. Between December and February Boone records average high temperatures reaching about 40-45 °F. This, of course, isn't very cold.
But it's not daytime temperatures that are cold but what happens after sunset. Average winter temperatures at night in Boone drop to about 22-25 °F while on the coldest nights they can drop even to 4-10 °F.
Among major populated areas in North Carolina, these are the coldest temperatures you can experience there. But if you stick to warmer cities, average coldest temperatures will be around freezing while only the coldest of the coldest nights will drop to maybe 10-15 °F.
Is North Carolina Humid or Dry in the Winter?
North Carolina has a humid subtropical climate. As the name implies, the climate is humid. But winters have a lower average relative humidity than summers.
Between December and February average relative humidity in North Carolina ranges from about 62% in Charlotte (one of the driest cities in NC) to over 70% in Wilmington and Asheville.
For those unaccustomed to humidity, these are relatively high humidity levels which may feel uncomfortable. Just for a comparison with some of the driest cities in the US, Las Vegas in the winter has average relative humidity of 40-45% while Phoenix records 45-50%.
Does North Carolina Have Harsh Winters?
Unless you're at higher elevations, North Carolina doesn't have harsh winters. Whether we're talking about coastal areas or inland cities, winters in NC are mild and perhaps cool on some colder days but definitely not harsh.
At higher altitude, in places like Boone (the coldest city in the state), days can be relatively mild with temperatures around 40 °F. Nighttime temperatures can get freezing cold, though, and drop to only 4 °F on the coldest nights.
But even in Boone, these are not harsh winters compared to truly harsh winters in states like North Dakota or Minnesota. There, daytime temperatures may reach about 20 °F and nighttime temperatures can drop to extremely cold -20 °F or less.
If you're interested in exploring major winter events in North Carolina, North Carolina State Climate Office has a handy page titled Winter Storm Database with recorded since 1959 North Carolina winter storms and other "major wintry events." You can access it here.
Does North Carolina Get a Lot of Sun in the Winter?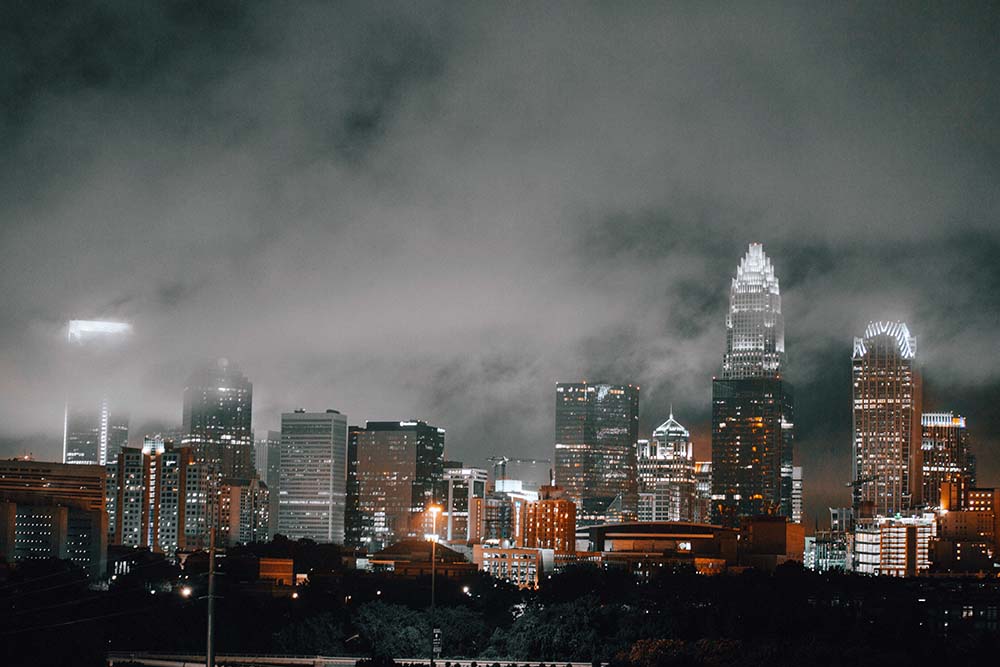 North Carolina is a relatively sunny state but it gets most of its sunshine in the summer months. This doesn't mean that winters are bleak and gray, though.
On average, you can expect sunshine at least 50-60% of the time in the winter months. December and January are usually the cloudiest months but they still get at least 150 hours of sunshine.
Compared to just 50-100 hours of sunshine per month in cloudy cities like Pittsburgh, PA or Seattle, WA, North Carolina's winters aren't that bad sunshine-wise.
Is North Carolina a Good Place in the Winter?
So, is North Carolina a good place in the winter? That depends on what you're looking for.
If you're looking for a state with four distinct seasons but with mild winters, North Carolina's climate will be excellent for you, particularly on the coast and in Charlotte area.
If you're looking for a warmer year round state, South Carolina will be a better choice than North Carolina as it has warmer winters, particularly in Charleston (check out my article on winters in South Carolina).
If you're looking for plenty of snow, you may be disappointed unless you choose Boone or another small town in the mountains in the High Country.
Compared to states further north on the east coast, North Carolina is rather temperate and allows participating in outdoor activities usually even in the coldest months.
We are sorry that this post was not useful for you!
Let us improve this post!
Tell us how we can improve this post?