What City Has the Best Weather in Georgia?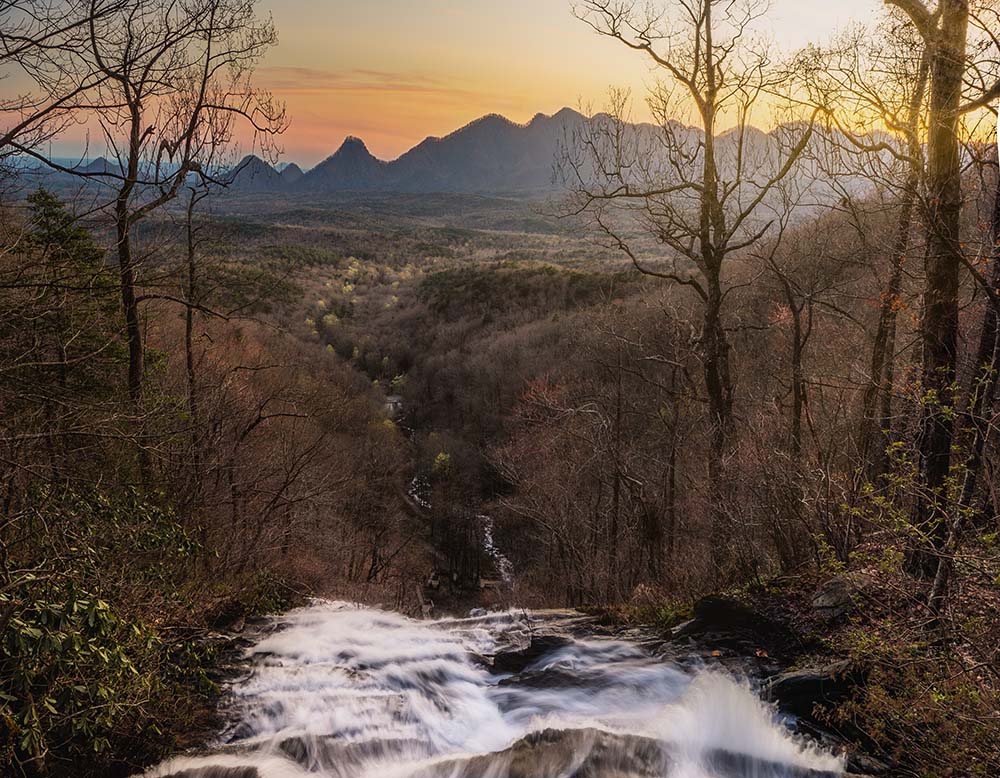 Georgia is known for its humid subtropical climate and warm temperatures throughout the year, particularly on the coast. But the state still differs weather-wise, with various average temperatures depending on the part of the Peach State. If you're looking for the most pleasant weather, in this article I'll give you some suggestions on what city has the best weather in Georgia.
Because we all have different definitions of what pleasant weather means, I'm going to provide a few options: for warm weather (for those who want to avoid freezing temperatures), mild weather (for those who don't like extremes), and the coolest weather (for those who don't like extreme summer heat).
What City Has the Warmest Weather Year Round in Georgia?
Coastal Georgia has the warmest temperatures in the state. St. Marys, located across the river from Florida, has the highest annual temperature in Georgia and the most consistent warm temperatures. It ranks first in my ranking of the warmest cities in Georgia.
In the winter, the average temperature in St. Marys reaches 63-66 °F during the day and drops to 44-48 °F at night. That's a very mild winter that feels more like spring, if not even like early summer on the hottest days.
In the summer, St. Marys, as most cities in Georgia, is hot and humid. Average high temperatures climb to 88-91 °F while average low temperatures are around 73-75 °F. Temperatures drop below 80 °F around early October and stay most pleasant until December.
The second warmest city in Georgia is Brunswick. Winter days in Brunswick are on average about two degrees cooler than in St. Marys.
What City Has the Mildest Weather in Georgia?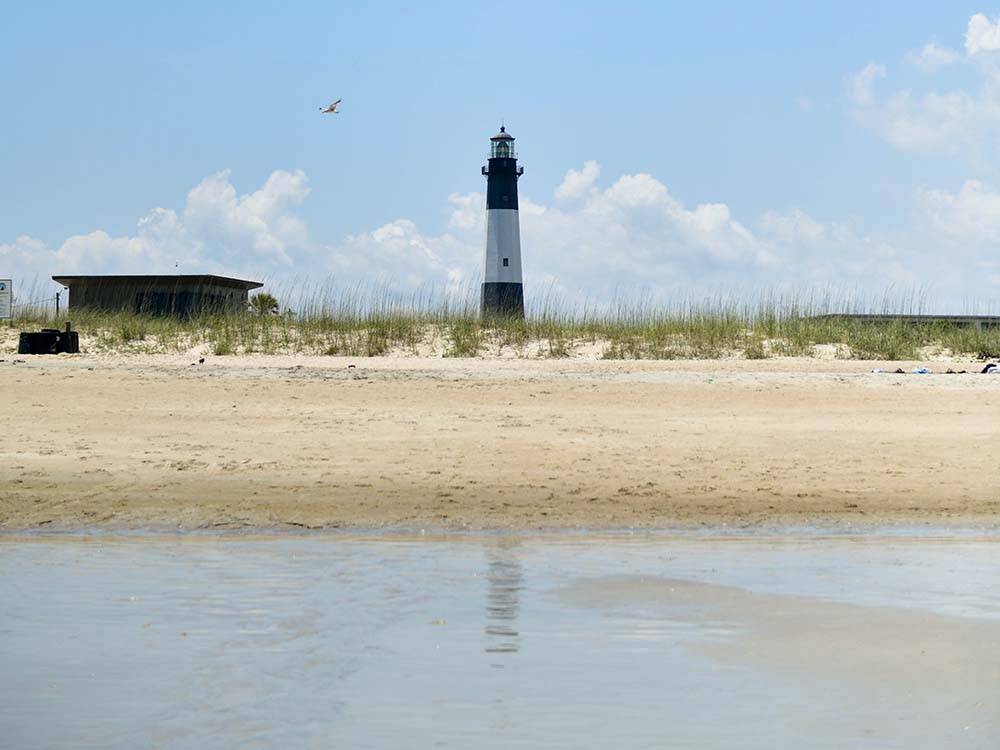 Georgia is a warm state with high temperatures most of the year, even in the colder cities. Georgia's climate is thus not particularly mild. Despite that, there are still some areas of the state with milder weather conditions (most notably at higher elevations). If you're interested in a more temperate climate, here are your options.
Because it's hard to get both mild winters and cool summers, below I give two suggestions. One prioritizes mild winters (while still offering relatively cool summers) while the other prioritizes cool summer (while still offering milder winters but not as warm as in the first category).
Mildest Winters in Georgia With Still Cool Summers
If you're okay with more intense summer heat (but still cooler than in other cities) in exchange for warmer winter months, Tybee Island located about 18 miles east of Savannah is your best option.
Winter temperatures are around 58-61 °F during the day and 37-40 °F at night. While much cooler than St. Marys, Tybee Island still offers warm winters.
In exchange for lower temperatures between December and February you get slightly cooler temperatures between June and August. Average temperatures during the day reach 85-88 °F. Nighttime temperatures drop to 69-73 °F, offering some respite from hot weather.
Coolest Summers in Georgia With Still Mild Winters
If you're hesitant to live in Georgia because of its hot summers, your best mild weather option is Clayton at the base of Black Rock Mountain in the Blue Ridge Mountains.
While the city has lower temperatures in the winter (particularly at night), they're still mild. Average high temperatures reach 50-54 °F while average low temperatures are around 30-32 °F. Yes, that's below freezing. But in exchange you get much cooler summers.
While the rest of the state bakes in intense summer heat above 90 °F, Clayton has average high temperatures of 83-85 °F. Average low temperatures of 62-65 °F allow to cool off at night and in the early mornings.
Despite cooler winters, Clayton gets only 1.5 snowy days a year with just 2.4 snowfall inches. Its average rainfall is almost 72 inches, with 130 precipitation days.
If you accept cooler winters, Cleveland is 1-2 degrees cooler on summer nights than Clayton. Cleveland is located 10 miles from Helen which has colder winters but the same summers as Clayton.
What City Has the Coldest Weather in Georgia?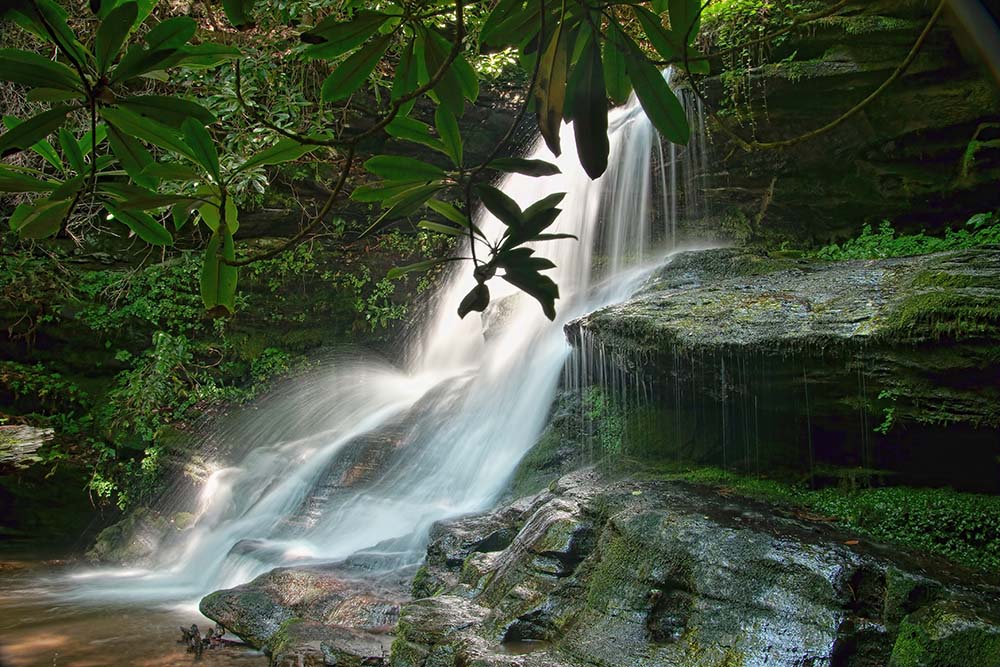 Sky Valley is the northernmost city of Georgia and the highest incorporated city (at an elevation of 3,124 feet). Due to this unique location, the city has a rare in the United States subtropical highland climate with cold winters and cool summers. It's the coldest city in Georgia, though "city" is a big word for a place with about 500 residents.
NOAA doesn't have any weather stations in Sky Valley. According to WeatherWX, average high temperatures in the winter in Sky Valley reach 46-49 °F while average low temperatures drop to 29-34 °F. Sky Valley has on average 5 snowy days.
The city is so cold in the winter that it used to be the only place in Georgia with (an unpredictable and unreliable) winter sports season because a ski area operated there. Today, the closest ski area is in Sapphire Valley in North Carolina.
In the summer, Sky Valley has pleasant temperatures ranging from 80 to 82 °F during the day and 60 to 64 °F at night.
The city gets on average 118 rainy days and an immense 71.1 inches of rainfall per year.
Out of the bigger cities, Roswell is the coldest city in Georgia. It's about 5 degrees warmer than Sky Valley.
Learn more about best weather states in my other article.
Frequently Asked Questions
Is it always hot in Georgia?
It's not always hot in Georgia. In fact, even in the warmest cities of Georgia it's only properly hot (temperatures above 80 °F with high humidity) between May and October. The rest of the year has cooler weather conditions, ranging from spring-like to temperate summer-like. In colder cities of the state, winters can be cold, particularly at night.
Does Georgia have good weather?
Most of Georgia has warm to hot weather, with lower temperatures in the winter. The state is humid and rainy, though. If you enjoy warm weather and don't mind humidity, Georgia does have a good climate. Otherwise, the summer months may be unbearable for you.
What month has the best weather in Georgia?
If you want to visit Georgia and enjoy the most pleasant temperatures, it's best to visit around late March to early May. Similarly nice weather conditions are in October to November, with coastal areas warmer on average than cities more inland.
What are the seasons like in Georgia?
Cities on the coast have two seasons: long, hot summers and short, mild winters that resemble spring. Cooler cities more inland do have four seasons that require more than a light jacket. But apart from the coldest cities, don't expect snow or very cold temperatures during the day. Temperatures around 50-60 °F are much more likely than 30-40 °F.
Does Georgia have a rainy season?
Rain in Georgia falls consistently year round but summer is usually the rainy season, with more rainy days and more precipitation (up to twice as much as in the least rainy months).
What are the rainiest months in Georgia?
The rainiest months in Georgia are June, July, and August.
Is Georgia nice in winter?
Coastal Georgia can still have nice mild weather in the winter. On the hottest days, it may even be possible to enjoy a summer-like beach day. More inland, winters are still mild but nights can bring freezing temperatures and outdoor activities may be less pleasant.
We are sorry that this post was not useful for you!
Let us improve this post!
Tell us how we can improve this post?