How Many Sunny Days Does San Diego Get Per Year?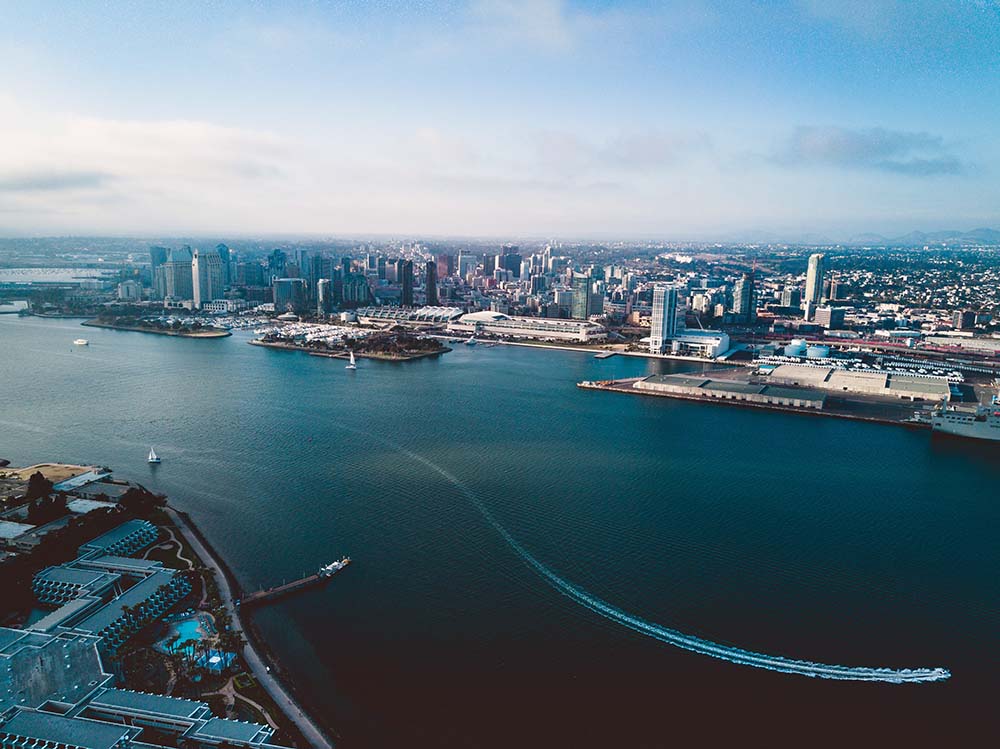 San Diego, California is considered to have one of the most pleasant climates in the United States. With its mild year round temperatures, it's perfect for those who don't like it too hot or too cold. If you're interested in learning how many sunny days in San Diego you can expect per year, you're in the right place. You'll not only learn how sunny the city is but also how much it rains there.
Climate data for San Diego covered in this article comes from the National Weather Service, an organization within the NOAA (National Oceanic and Atmospheric Administration).
Here's the Number of Sunny Days in San Diego, California
According to the NOAA, San Diego International Airport receives 3,054 sunshine hours a year.
Located near the city center, it offers the most reliable climate data. But because both the airport as well as downtown are located in coastal areas, these numbers may not necessarily be similar for areas further inland in San Diego County.
Let's see how these sunshine hours translate into the number of sunny days in San Diego:
| Month | Sunshine hours | Percent possible sunshine | Average sunny days |
| --- | --- | --- | --- |
| January | 239.3 | 75% | 23.25 |
| February | 227.4 | 74% | 20.72 |
| March | 261 | 70% | 21.7 |
| April | 276.2 | 71% | 21.3 |
| May | 250.5 | 58% | 17.98 |
| June | 242.2 | 57% | 17.1 |
| July | 304.7 | 70% | 21.7 |
| August | 295 | 71% | 22.01 |
| September | 253.3 | 68% | 20.4 |
| October | 243.4 | 69% | 21.39 |
| November | 230.1 | 73% | 21.9 |
| December | 231.3 | 74% | 22.94 |
According to this data, San Diego has about 252 sunny days per year. This includes both partly sunny days as well as clear days. San Diego thus has 113 cloudy days.
The sunniest months are surprisingly during the city's mild winters. December and January (the sunniest month) record 23 sunny days per month. These are some of the driest (relative humidity is around 63-64%) and coolest months in the city (December is the coldest month). The average maximum temperature reaches 66 °F while the average night temperature drops to about 50 °F.
Due to June Gloom (a thick marine layer cloud cover), the least sunny month is June with 17 sunny days. The average high temperature in June is about 72 °F, while at night temperatures drop to 63 °F. June Gloom also affects May which has 18 days of sun. The phenomenon reaches only a few miles inland so while the coastal areas may be cloudy, inland areas will have bright skies.
Sunshine Hours in San Diego Compared to Other Cities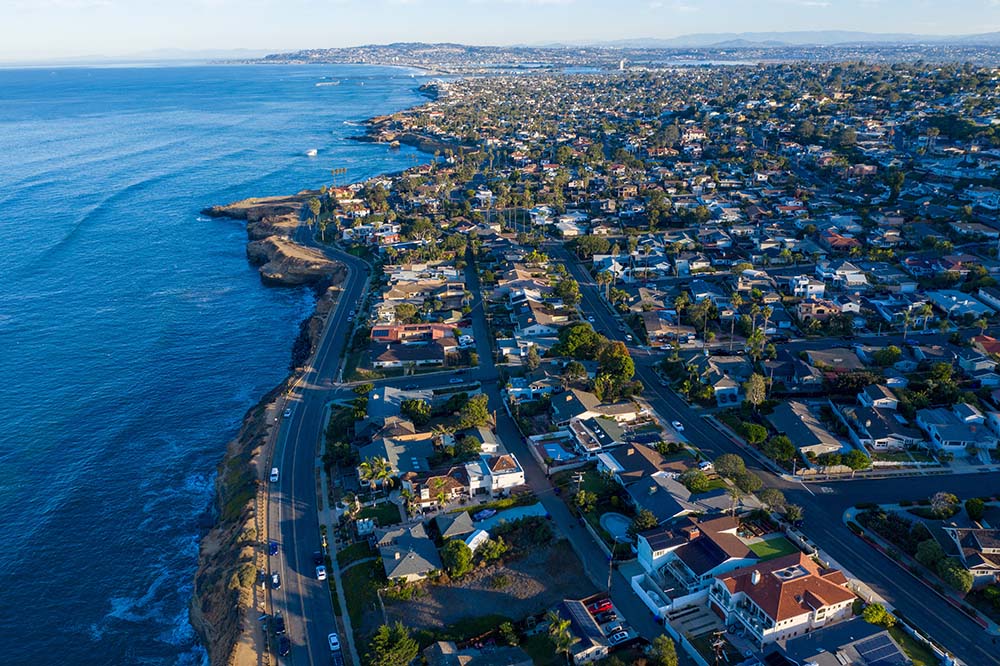 If you enjoy sunny weather, you can compare sunshine hours in various cities to figure out where you'll get the fewest cloudy days. Let's see how San Diego fares.
San Diego records 3,054 sunshine hours. San Francisco has a very similar number of sunshine hours, reaching 3,062 per year. Compared to Los Angeles which has 3,254 hours of sunshine, San Diego is slightly less sunny. It's much less sunny than Sacramento which gets 3,608 hours of sun.
The average weather conditions in San Diego are also much less sunny than in Las Vegas (3,825), Phoenix (3,872), and Tucson (3,806).
San Diego is much sunnier than other major US cities, though. It's noticeably sunnier than New York City (2,535), Chicago (2,508), Houston (2,578), Philadelphia (2,498), Seattle (2,170), Boston (2,634), and Washington (2,528).
How Many Days of Rain Does San Diego Get?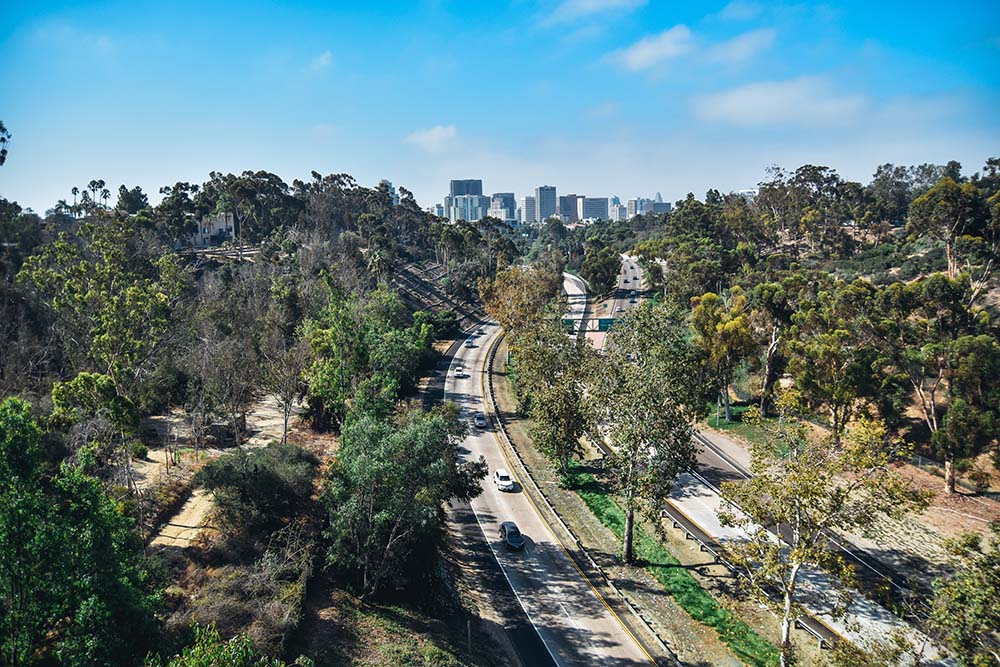 Let's see what's the average number of rainy days in San Diego and which month gets most rain:
| Month | Rainy days |
| --- | --- |
| January | 6.5 |
| February | 7.1 |
| March | 6.2 |
| April | 3.8 |
| May | 2.2 |
| June | 0.7 |
| July | 0.7 |
| August | 0.3 |
| September | 0.9 |
| October | 2.4 |
| November | 3.7 |
| December | 5.8 |
With 40 days of rain a year, San Diego is a great option for those who don't like when it rains.
The wettest month in San Diego is February with 7 days of rain. That still means that most of the time it doesn't rain. Meanwhile, the hottest month in the city (August) is also the least rainy one.
If you're interested in more articles about the climate in California, check out my articles:
Frequently Asked Questions
Is San Diego weather better than LA?
San Diego has more moderate temperatures than Los Angeles, particularly during the summer. It has 15 fewer sunny days. If you like milder weather conditions, San Diego's weather is better.
Does it rain a lot in San Diego?
It doesn't rain a lot in San Diego. The city records 40 days of precipitation a year, mostly between December and March.
Is San Diego usually sunny?
San Diego gets 252 sunny days a year. This means that it's often sunny but it still does get 113 cloudy days.
Is it always sunny in San Diego?
It's not always sunny in San Diego. Whoever said it must have not heard of Yuma, Arizona, which has 328 sunny days compared to 252 in San Diego.
Why is San Diego's weather so nice?
San Diego's Mediterranean climate, the ocean's moderating influence, low precipitation and no measurable snowfall give the city its pleasant year round climate. It has mild winters and dry summers, with plenty of sunny days to enjoy its many attractions.
We are sorry that this post was not useful for you!
Let us improve this post!
Tell us how we can improve this post?