Does It Rain a Lot in Cancun?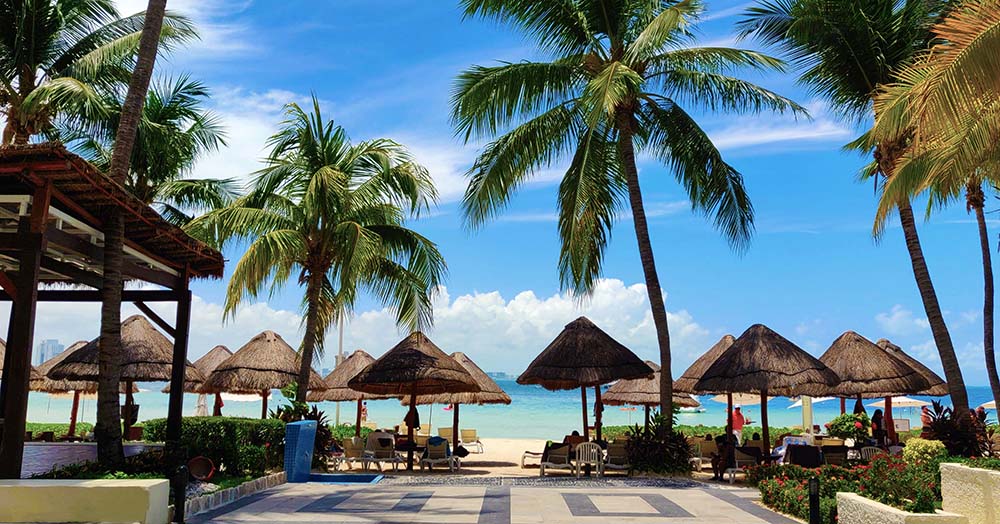 Cancun is one of the most popular resort cities in the Americas, attracting millions of tourists each year, including many American and Canadian travelers.
Typical for Cancun weather means it's hot year round, guaranteeing abundant sunshine hours and high average temperatures regardless of the season. The water temperature is also always pleasant.
But does it rain a lot in Cancun? Should you worry about visiting in the rainy season? Is there any bad time where you may encounter much worse weather than usual in Cancun?
In this article I'm going to share with you the average rainfall in the city in each month of the year. I'll also give you the average number of rainy days as well as other information related to rainfall in Mexico's most famous tropical destination.
Average Rainfall and Rainy Days in Cancun
Here's a table featuring average rainfall (in mm and inches) as well as the average number of rainy days in Cancun.
| | Jan | Feb | Mar | Apr | May | Jun | Jul | Aug | Sep | Oct | Nov | Dec | Year |
| --- | --- | --- | --- | --- | --- | --- | --- | --- | --- | --- | --- | --- | --- |
| Cancun average rainfall (mm/inches) | 104.6 (4.12) | 49.5 (1.95) | 44.1 (1.74) | 41.2 (1.62) | 86.9 (3.42) | 138.3 (5.44) | 77.9 (3.07) | 87.5 (3.44) | 181.9 (7.16) | 271.9 (10.7) | 130.3 (5.13) | 86.1 (3.39) | 1,300.2 (51.19) |
| Cancun average rainy days | 9.4 | 5.9 | 5.0 | 4.1 | 6.7 | 11.0 | 9.3 | 9.7 | 14.0 | 16.4 | 11.4 | 9.8 | 112.7 |
While it may look like a lot of rain, usually precipitation comes in the form of short-lived tropical storms and not a day-long drizzle. This means that even in the wettest months, it doesn't mean that you'll have to stay indoors the entire day.
Of course, there may be days with dark skies and cooler temperatures when it rains for a couple of hours but it's unlikely you'll go without sunshine for more than 2 days in a row.
And in Cancun, hot weather is always a given. Even when it rains, it doesn't mean you can't go outside. You can have a drink or a meal al fresco under a patio umbrella as you watch the heavy downpour part to blue skies.
When Is the Rainy Season in Cancun?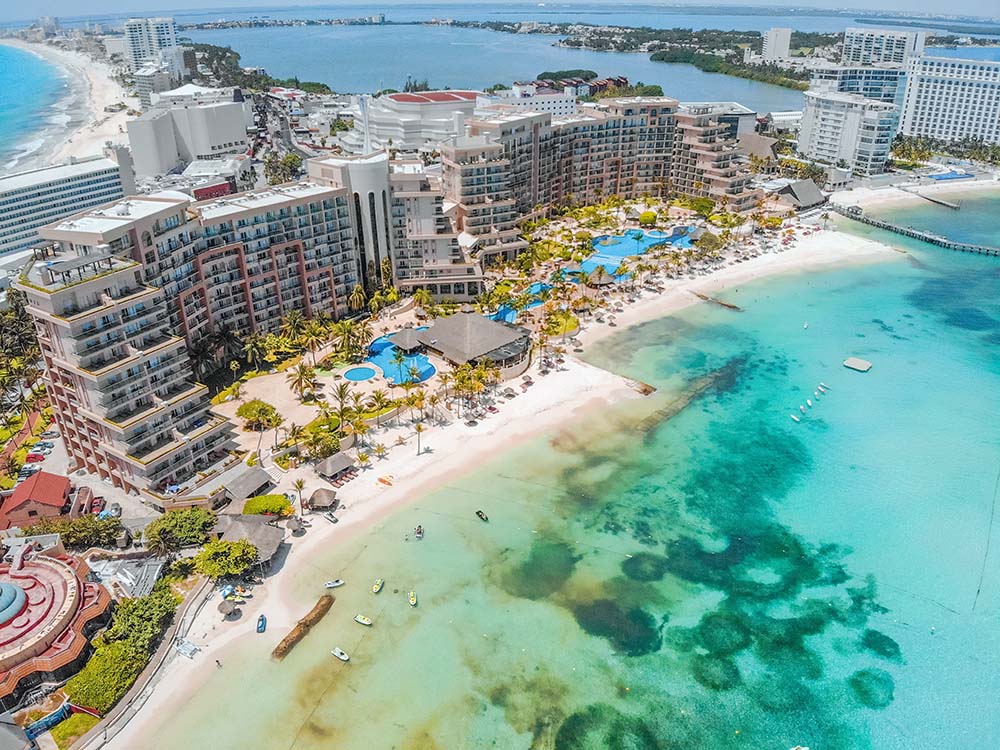 The rainy season in Cancun runs "officially" roughly from May to November. The rainiest months with the highest average precipitation are October, September, and June. It doesn't mean that the remaining months are rain-free, though. It's a tropical climate, after all.
Even outside of the wet season, it can still rain up to 10 days a month, such as is the case in January and December.
The city doesn't have a true, very dry season with much less rain other than the period between February and March when it rains about 4-6 days a month.
Average temperatures in the wet season are much higher than in the dry season. Cancun records average daily temperature of around 34-35 °C (93-95 °F) in the hottest months. Nights don't bring respite, either, with typical weather featuring temperatures of 24-25 °C (75-77 °F). During a tropical storm, humidity levels may be even higher and more unpleasant.
Weather in Cancun is less sticky in the drier months like January or February when average daytime temperatures reach 28-29 °C (82-84 °F) and drop to 20 °C (68 °F) at night. It's still hot weather perfect for enjoying sunny days.
When Is the Hurricane Season in Cancun?
As in other destinations near or in the Caribbean, the hurricane season lasts from June 1 to November 30, with the highest risk of a hurricane in August, September and October.
August has the highest average temperature out of all months and brings hot and humid weather. The months of September and October are also the rainiest months in the wet season. Considering the hurricane risk, it's best to avoid these months altogether.
The Best Months to Visit Cancun Considering the Weather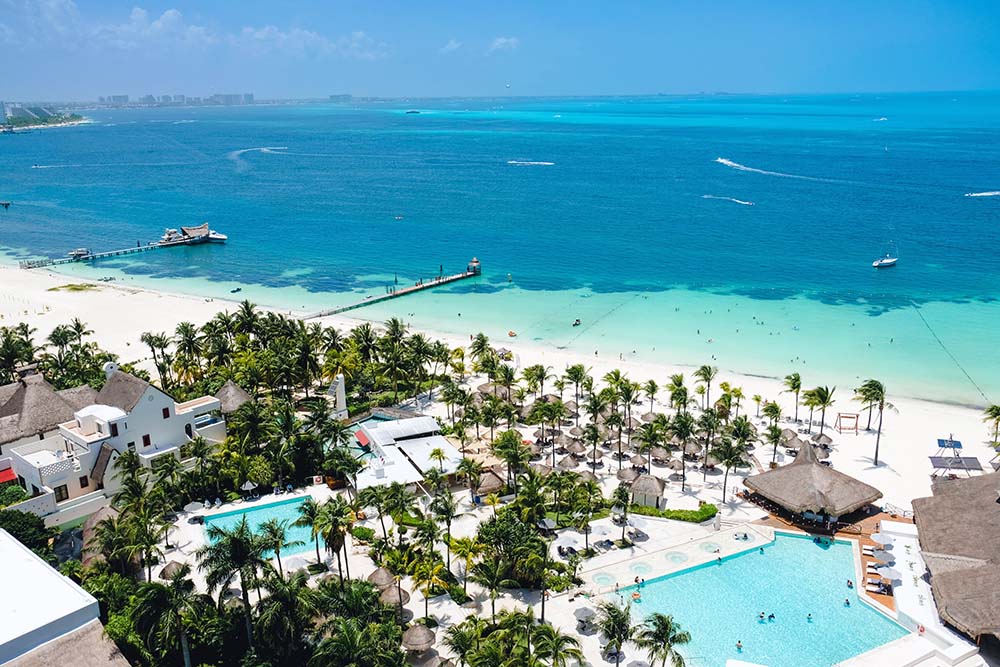 If you don't want to worry about the weather forecast, it's best to visit Cancun between February and May when it rains the least. The average temperature in these months is neither the lowest nor the highest (except for May when it starts getting very hot).
If you want to enjoy great weather and bright sunshine without hordes of party-goers, avoid Cancun during the spring break, between March and April.
If you want cooler temperatures, December or January can be good options, too. It'll likely rain more often and some mornings may be a little on the cool side. Still, sunshine hours in Cancun are consistent year round, with no month bringing multiple cloudy days in a row.
You may also want to read my article on the warmest cities in Mexico (Cancun is third).
Frequently Asked Questions
What are the rainiest months in Cancun?
The rainiest months in Cancun are in the wet season between May and October. The months that get most rainfall and most rainy days are October (16 days of rain and 272 mm or 10.7 inches of rain), September (14 days of rain and 182 mm or 7.16 inches of rain), and June (11 days of rain and 138 mm or 5.43 inches of rain).
Does it rain every day in Cancun?
Cancun has on average 113 rainy days a year. This means that on average it would rain every three days. Of course, the reality isn't so simple. The city has a dry and wet season. While in the least rainy months it rains only 4-6 days a month, in the wettest months you can expect up to 12-16 days of rain.
What do you wear in Cancun when it rains?
Cancun features very hot temperatures, even when it's raining. Wear lightweight clothes that dry quickly, for example linen shirts and shorts.
Is Cancun humid or dry?
Cancun features a tropical wet and dry climate with consistently high humidity levels year round. The hottest months between May and September can be extremely sticky and uncomfortable to people not used to a high heat index.
We are sorry that this post was not useful for you!
Let us improve this post!
Tell us how we can improve this post?