What's the Coldest Place in Utah?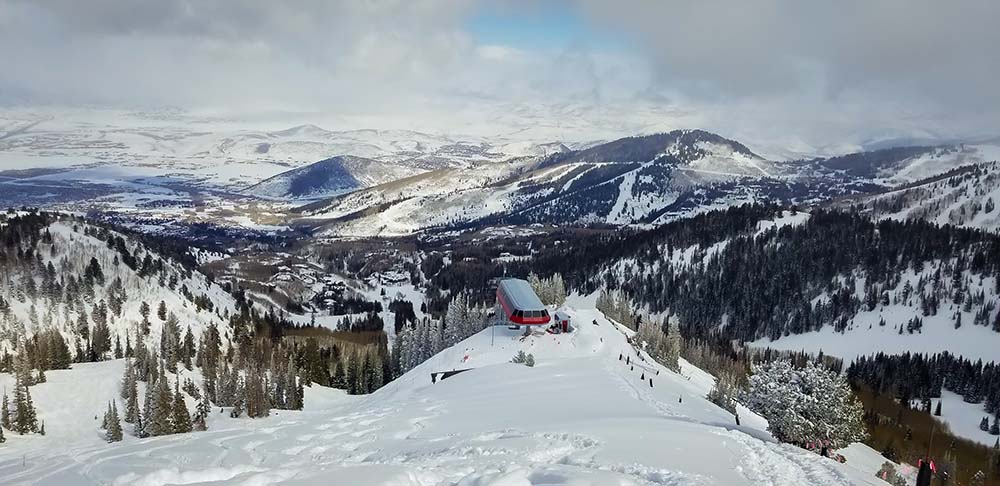 The Beehive State is not one of the coldest states in the United States but it does have some places with cold weather. In this article I'll share with you the coldest place in Utah. Or actually, three of them. We can look for the coldest temperature in a populated area (the coldest city in Utah), the coldest weather in an inhabited place (but not a city), as well as an unpopulated area (where extremely low temperatures are more likely to be found).
The Coldest City in Utah
According to my article on the warmest cities in Utah based on the data from the National Weather Service, by far the coldest city in Utah is Park City. Its average temperature is 42.95 °F. That's over 20 °F lower than in the warmest city in Utah, St. George. It's also 12 °F lower than in Salt Lake City.
Park City experiences such cold air temperatures due to its high elevation of 7,000 ft. The differences between Park City and Salt Lake City just 32 miles away can be quite staggering in the summer. While Park City on average experiences 82 °F during the day in July, in SLC that's 94 °F. Wintertime temperatures don't differ as much. But still, while an average January day in Park City reaches 32.5 °F, in Salt Lake City that's 38.6 °F.
Park City experiences cold winters with temperatures that can drop at night to -12 °F in the coldest month of January. Daytime winter temperatures are around 32-36 °F.
In the summer, while daytime temperatures can be in the seventies or eighties (and occasionally even reach nineties), at night cold temperatures are still present. On average, they get to 43-50 °F in the summer months.
Park City is notable for the amount of snowfall. It gets on average 142 inches of snow. There are only two months without snow: July and August (very little snow is still possible in June).
When it comes to the yearly average temperature, the second coldest temperature is in Heber City, located about 45 miles from Salt Lake City. It has much warmer summers than Park City, with cold temperatures during the day already disappearing by March and still staying warm in October. Heber City has slightly colder nighttime temperatures in the summer, though. They're between 42-50 °F compared to 43-50 °F in Park City.
The Coldest Inhabited Place in Utah
Brian Head is a tiny town with fewer than 100 inhabitants, located at an elevation of 9,800 feet. As the highest town in Utah, it's also the coldest inhabited place in the state.
With an alpine subarctic climate, in the winter it records average highs of 28-32 °F and lows of 10-12 °F. Summers are still cool, with average daytime temperatures of 67-71 °F and cold nights with just 36-43 °F. The town gets so much snow that July and August are the only two months without any snowfall.
The Coldest Place in Utah Where Nobody Lives
Peter Sinks is a natural limestone sinkhole in northern Utah in the Bear River Mountains. According to the Utah Climate Center (and originally discovered by Utah State University student Zane Stephens), it's one of the coldest places not only in Utah but also the entire contiguous United States.
Located at an elevation of 8,164 feet, a natural phenomenon of cold air pooling makes the cool dense air slide down toward the basin floor. This causes extremely low temperatures of up to -69.3 °F, particularly during wintertime arctic fronts. To put this into perspective, the coldest temperature ever recorded in Peter Sinks is over 15 °F lower than the coldest temperature recorded in the coldest city of Alaska, Utqiagvik.
The cold air gets trapped so easily in the sinkhole that even in the summer it's rare for Peter Sinks to go four consecutive days without freezing. With its own microclimate, this makes it by far the coldest place in Utah.
Getting to Peter Sinks requires driving down a dirt road, with the last three miles on foot, hiking in an isolated area that's very muddy if it's not covered in snow.
The closest populated place to Peter Sinks is the summer resort town of Garden City located on the Bear Lake. It's about 12 miles east of Peter Sinks.
We are sorry that this post was not useful for you!
Let us improve this post!
Tell us how we can improve this post?