What Are Winters Like in Arizona?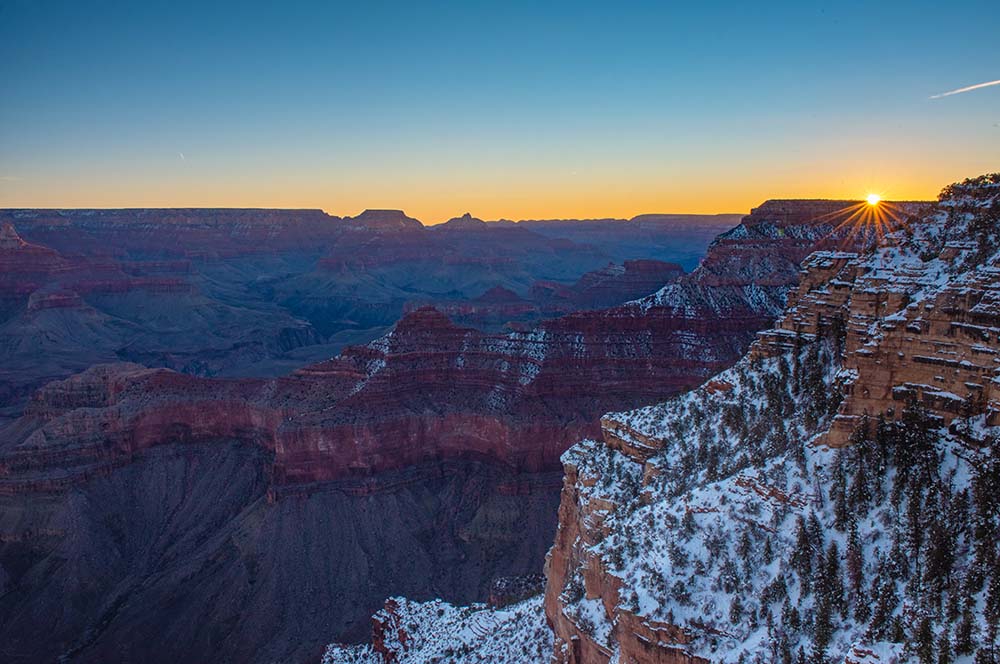 Arizona has mild winters with cooler temperatures at night that may drop near or below freezing in colder cities. Cool winter nights notwithstanding, Arizona's average temperature in winter months is pleasant. But what are winters like in Arizona more specifically? What type of temperatures, humidity, precipitation, and sunshine can you expect?
I'm going to cover what winters are like in four major cities in Arizona, covering various parts of the state: Phoenix, Tucson, Flagstaff, and Prescott. I'll also answer general questions about winters in Arizona.
What Are Winters Like in Phoenix, AZ?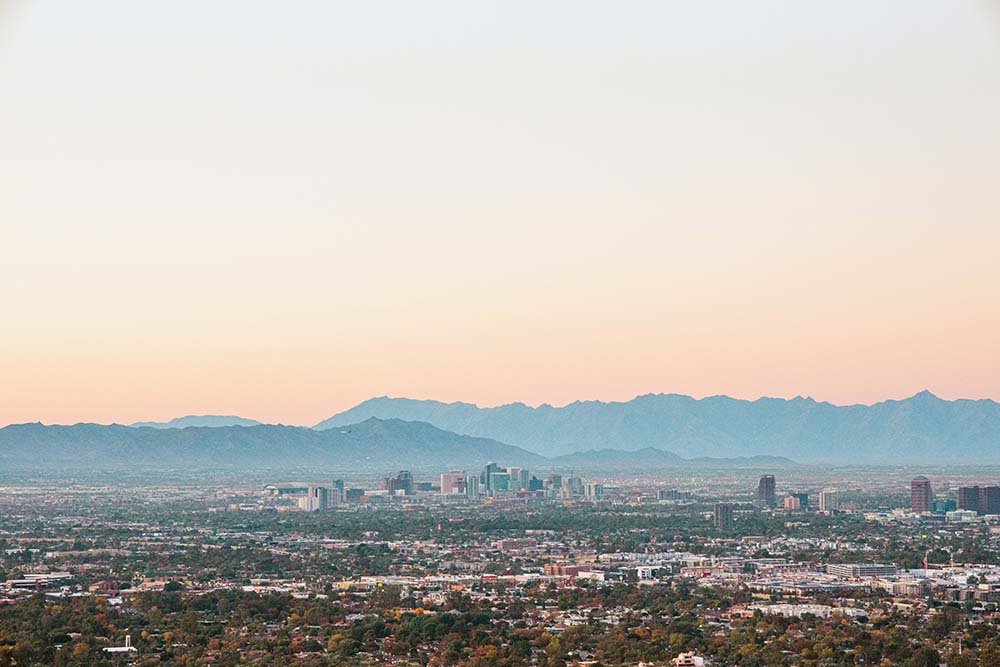 Phoenix is the second warmest city in Arizona after Yuma. If you want the mildest winters and live in a big city, Phoenix (and neighboring cities like Glendale, Scottsdale, Tempe, etc.) is the best place to go. Keep in mind that warm Phoenix winters transition into extremely hot summers.
Temperatures
If you're from a cold state, the average for Phoenix temperatures in the winter may feel more like spring or early summer than winter. Average daytime temperatures reach 66-71 °F while nighttime temperatures drop to 45-49 °F.
On the hottest days Phoenix can get hot even in the winter, with temperatures reaching 78-82 °F. On the coldest nights (the coldest temperatures are right before the sun rises), temperatures may drop to 35-40 °F.
From my own experience, having visited Phoenix in February, days can be very pleasant but nights do feel cold. If you aren't used to a desert climate, it's strange to wear a t-shirt and shorts during the day and then have to put on winter clothes at night (or freeze in your summer attire if you make the mistake of underestimating how cold evenings can get).
Humidity
If your skin doesn't tolerate extreme dryness for which Arizona is (in)famous for, visit Phoenix in the winter. While average relative humidity is around 20% in June, between December and February it's around 44-52%.
Rain and Snow
The typical for Phoenix weather is dry and sunny year round. Winters still get mostly blue skies but the average rainfall is some of the highest throughout the year. Expect about 4 rainy days and about 0.8 inches of rainfall per month.
Snow in Phoenix is very rare. Between 2010 and 2021 the city experienced three winter storms with graupel (snow pellets).
Sun
Phoenix experiences sunshine about 79-84% of the time in the winter. This translates to 245-257 sunshine hours per month. More on sun in Phoenix here.
What Are Winters Like in Tucson, AZ?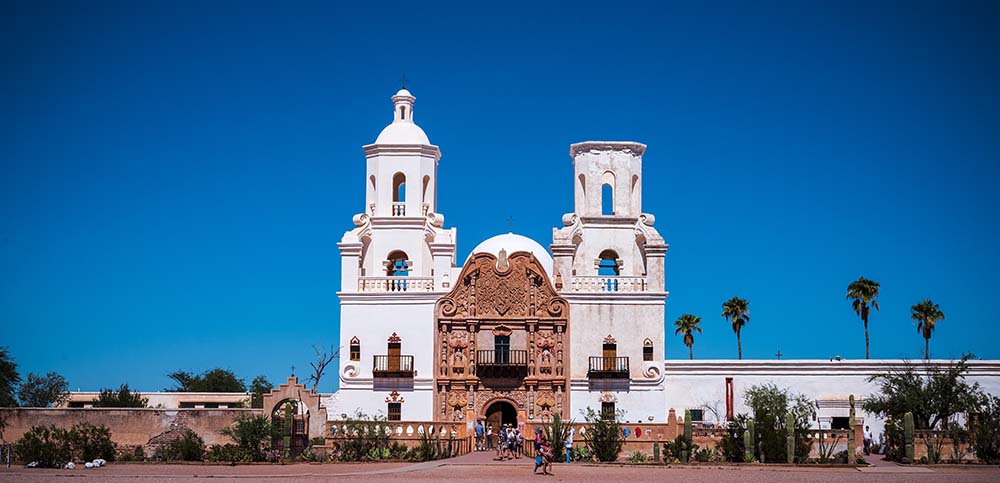 Tucson is cooler than Phoenix and that includes winters. Average temperatures may be up to a few degrees lower at night, with the coldest nights dipping below freezing.
Temperatures
Tucson records average winter highs of 66-69 °F while the warmest days may come with temperatures climbing to 79-83 °F. The city has cool nights with average lows of 41-43 °F while the coldest nights may drop below freezing to 28-32 °F.
Humidity
Tucson's average relative humidity in the winter is 43-50%.
Rain and Snow
Tucson gets about 4 rainy days per month. Like Phoenix, it rains very little: less than an inch per month.
Because of lower temperatures than in Phoenix, Tucson may record some snowfall every few years.
Sun
Tucson receives sunshine 79-84% of the time in the winter, with 246-258 hours of sun per month.
What Are Winters Like in Prescott, AZ?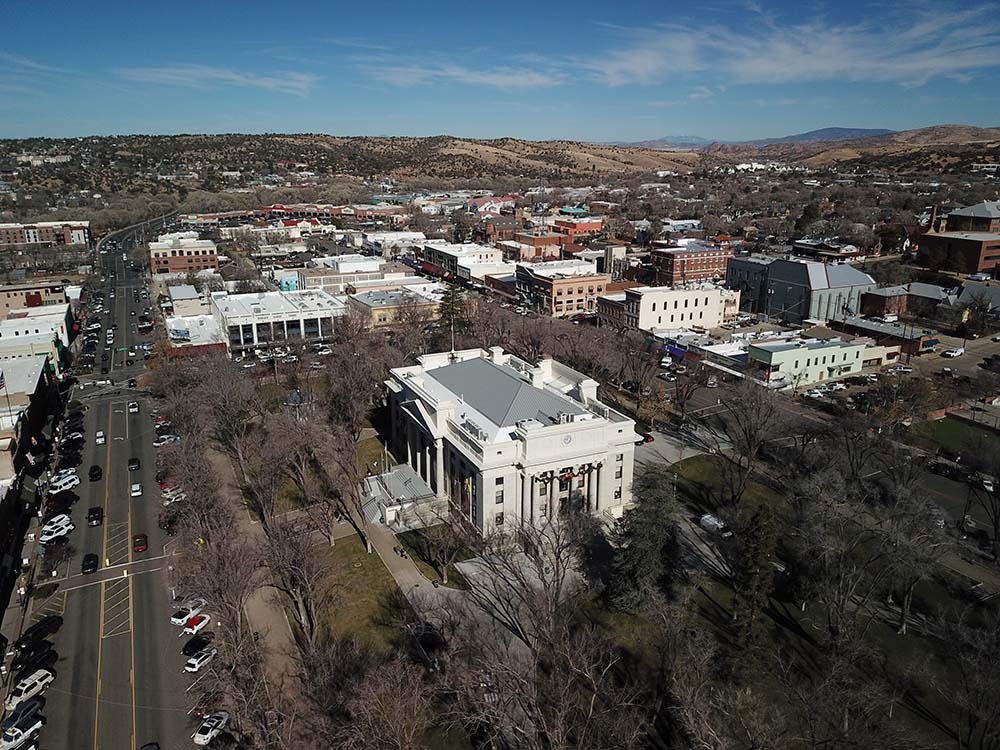 Prescott is unique for Arizona because it features a rare in the state Mediterranean climate. This means much cooler weather in the winter.
Temperatures
Like all cities at higher elevations, Prescott records noticeably lower temperatures than cities at lower elevations. Average high temperatures are only between 52-55 °F while average lows drop to 24-26 °F. This means that Prescott has more of a four-season feel than Phoenix or Tucson. The warmest days may still bring temperatures of 65-68 °F but the coldest nights may drop to very cold 12-15 °F.
Humidity
Due to a different climate, Prescott also experiences higher humidity. Average relative humidity between December and February is 53-57%.
Rain and Snow
Despite most rainfall falling during the monsoon season in July and August, Prescott still records 5-6 rainy days per month in the winter months. Average precipitation inches are around 1.5-1.8 inches per month.
Due to its elevation and cooler weather, Prescott receives on average 5.2 snowy days with 10.2 snowfall inches per year.
Sun
Prescott records sun 67-80% of the time in the winter months. It translates to 208-246 hours of sun per month.
What Are Winters Like in Flagstaff, AZ?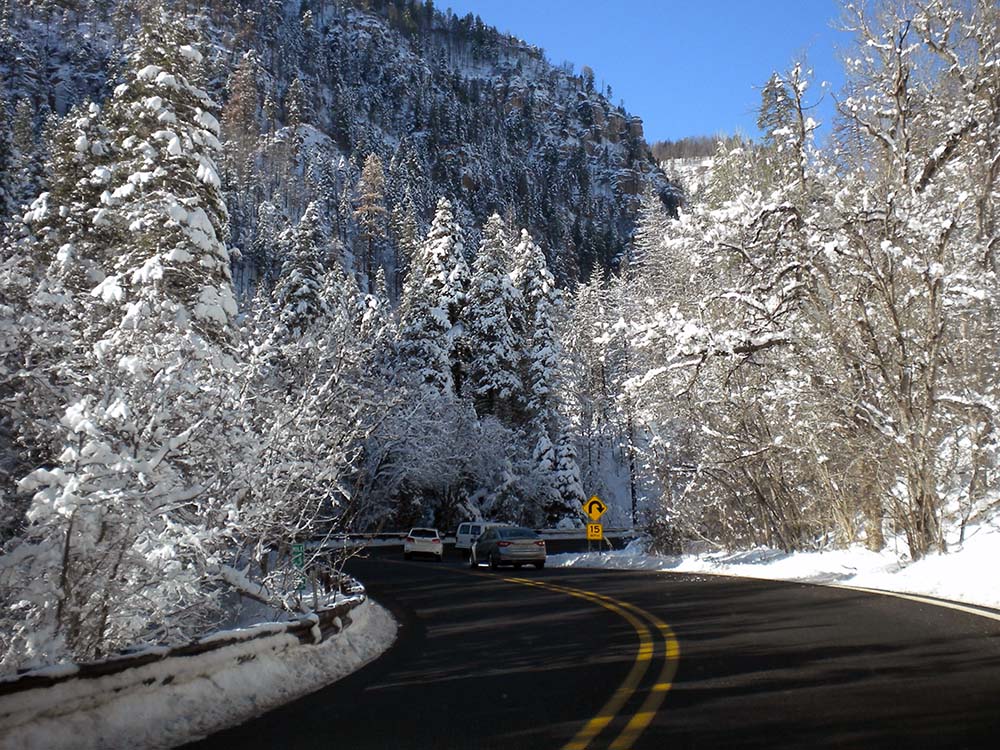 Flagstaff is the coldest city not only in northern Arizona but also in Arizona in general. It's one of the few major four-season cities in Arizona. Flagstaff has one of the snowiest climates in the entire United States. If you prefer to have warm but not hot summer months and accept cold, snowy winters in return, Flagstaff may be the right city for you.
Temperatures
Winter temperatures in Flagstaff are cold during the day and extremely cold at night. While daytime temperatures may be relatively mild, with 43-46 °F, nights drop well below freezing to 17-20 °F. And it may get even colder. The coldest nights in Flagstaff may bring extremely cold temperatures of just -1 to 3 °F.
Unlike other cities in Arizona, Flagstaff doesn't get particularly warm even on the hottest winter days. Mean maximums reach 57-59 °F.
Humidity
Flagstaff is humid for Arizona standards. Between December and February average relative humidity is 60-62%.
Rain and Snow
Flagstaff records 7-8 rainy days per month in the winter, with about 2 inches of rainfall (over twice as much as in Phoenix and Tucson).
Snow is where Flagstaff shines compared to other cities in Arizona. The city gets on average 28 snowy days with 90.1 inches of snowfall per year. There may still be snow in early spring, with June being the first month without snow.
Sun
Despite much colder, wetter, and snowier conditions, Flagstaff still enjoys sunshine 72-75% in the winter months (220-232 sunshine hours).
Does It Snow in Arizona?
The warmest cities in Arizona and cities at low elevation are unlikely to experience snow. While it may fall in trace amounts or as snow pellets in rare winter storms, overall snow is not much of a concern in the warmest parts of the Grand Canyon State.
Snow is a big concern in the coldest cities of Arizona, though. All four-season cities experience snow, with the coldest cities recording over 20-25 snowy days per year. For example, Flagstaff gets about 28 days of snow a year with over 90 inches of snowfall per year. Flagstaff gets so much snow that it's one of the snowiest cities in the entire country.
At higher elevations, for example in the San Francisco Peaks, it may snow any month of the year.
When Does It Get Cold in Arizona?
The warmest cities like Phoenix or Tucson don't ever get cold, at least during the day. Average high temperatures even in the coldest month reach at least 65 °F. But if we were to consider average low temperatures, then December is the first month with cold nights. Average temperatures may drop to 40-45 °F or below, necessitating winter clothes.
In the coldest cities of Arizona like Flagstaff cold weather begins in October. Despite average temperatures during the day reaching 64 °F, at night temperatures dip below freezing to 31-32 °F. November begins to get cold also during the day, with temperatures reaching 52 °F on average. First snow may fall already in October.
How Cold Does It Get in Arizona?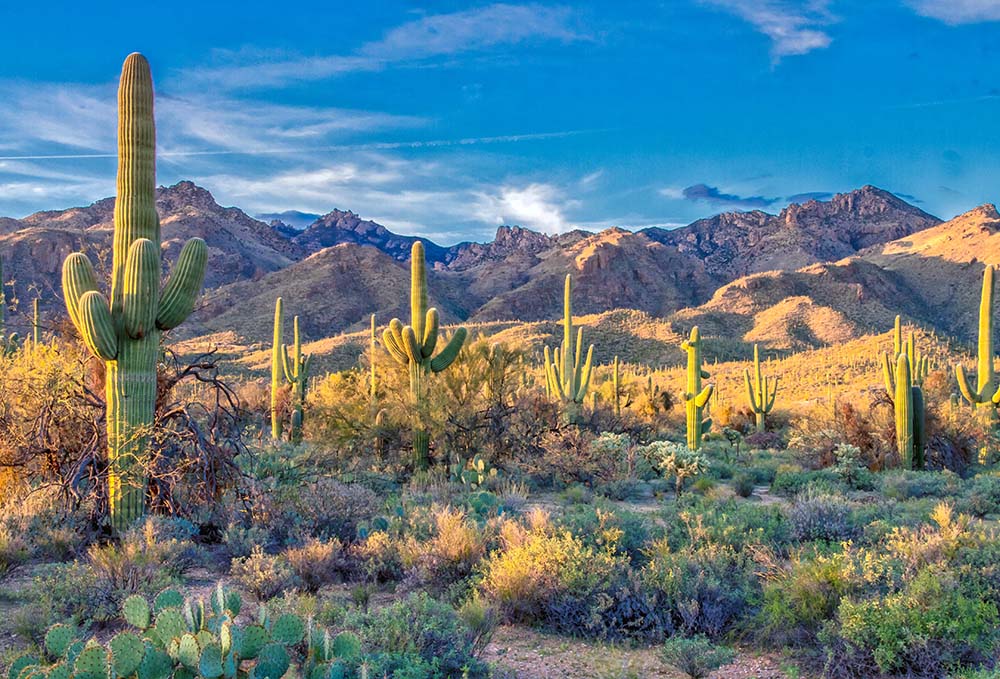 The warmest cities of Arizona may experience temperatures dropping to about 30-35 °F on the coldest nights of the coldest months. Average high temperatures are spring-like and reach at least 65 °F.
For the absolute coldest weather in an inhabited area, Flagstaff brings extremely cold conditions on its coldest nights. Temperatures may drop all the way to -1 °F in the coldest month. Even average temperatures are still very cold, ranging from 17 to 20 °F.
Is Arizona Humid or Dry in the Winter?
Arizona is dry year round but winters are more humid. Still, we're talking about average relative humidity of 45-55% or 60% at most in the most humid cities. Consequently, Arizona in the winter has moderate humidity at worst and optimal at best.
Does Arizona Have Harsh Winters?
Generally speaking, Arizona doesn't have harsh winters. They're colder than in Florida but still mild. But there are areas of the state that do get harsh winters, particularly at night.
One such example is Flagstaff. While average high temperatures in Flagstaff are around 43-46 °F, nighttime temperatures on average drop to just 17-20 °F and may even go below 0 °F on the coldest nights of the year. Combined with a lot of snowfall, Flagstaff has harsh winters very different from the stereotypical image of dry, sunny Arizona winters.
Does Arizona Get a Lot of Sun in the Winter?
Arizona is blessed with abundant sunshine regardless of the time of the year. In fact, winters in Arizona are much sunnier than many other parts of the US in the summer.
The sunniest cities in Arizona record sunshine over 80% of the time even in the winter months. The least sunny areas will still get sunshine at least 65-70% of the time even in the cloudiest month.
Is Arizona a Good Place in the Winter?
Due to the state's varied geography and several climates, Arizona in the winter has something for everyone.
If you prefer mild or warm winters, Phoenix and cities in Southern Arizona are excellent places to skip cold weather. The region enjoys abundant sunshine in the winter with pleasant daytime temperatures and cooler temperatures at night. Rainfall is sparse and snowfall is very rare. On the hottest days climbing to 75-80 °F, combined with dry heat, the area offers one of the most pleasant winter climates in the United States.
The Grand Canyon State is also a good choice for those who prefer cooler temperatures. You may head to Northern Arizona to cities like Prescott or Flagstaff and have a climate with four seasons, including snow. The northern half of the state also gives easier access to various wilderness areas. If you prefer living at higher elevations and with cooler weather, you'll find yourself at home in the northern part of the state.
We are sorry that this post was not useful for you!
Let us improve this post!
Tell us how we can improve this post?