How Many Sunny Days Does Pittsburgh Get Per Year?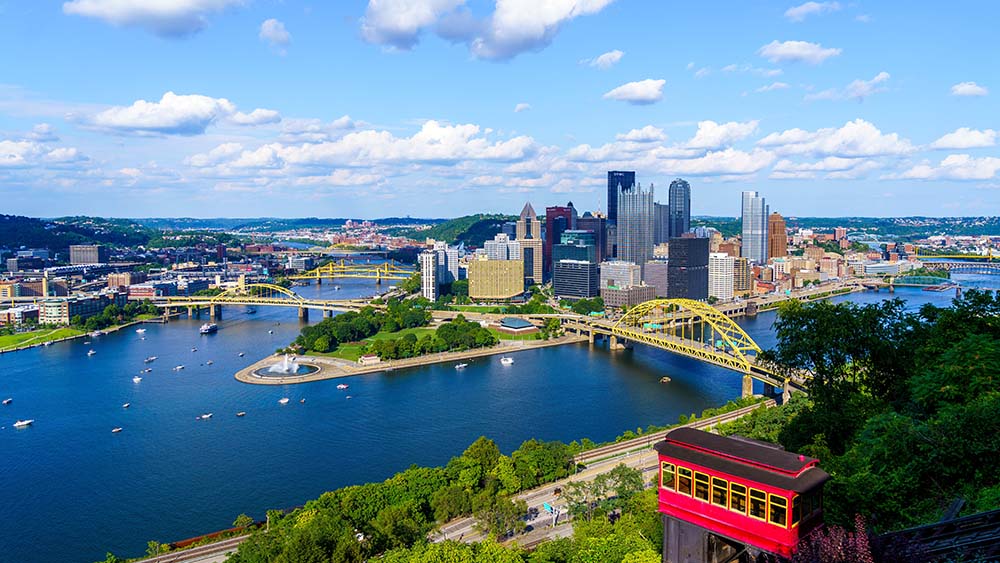 Pittsburgh, Pennsylvania is known for its relatively pleasant weather in the summer months, much less muggy than in Philadelphia. But what climate does it have year round? What's the average cloud cover and how frequently can you experience cloudy days? In this article we'll explore how many sunny days in Pittsburgh you can expect during an average year. I'll also give you other useful numbers, such as the number of rainy days and the number of days with snowfall.
Climate data used in this article comes from the National Weather Service, which is an agency in the National Oceanic and Atmospheric Administration (NOAA). This guarantees the most accurate data possible.
Here's the Number of Sunny Days in Pittsburgh, Pennsylvania
According to the National Weather Service, Pittsburgh International Airport, the largest airport located near the city, receives 2,021 sunshine hours a year.
When we look at the percentages of possible sunshine per month, we can calculate the average number of sunny days in Pittsburgh. These may slightly differ for downtown because the airport is located about 18 miles west (but they shouldn't be super different). We're also calculating average weather conditions which may not necessarily always reflect observed conditions.
Here are my calculations for the average number of sunny days in Pittsburgh:
| Month | Sunshine hours | Percent possible sunshine | Average sunny days |
| --- | --- | --- | --- |
| January | 93.9 | 31% | 9.61 |
| February | 108.5 | 36% | 10.08 |
| March | 155.4 | 42% | 13.02 |
| April | 182.8 | 46% | 13.8 |
| May | 217.4 | 49% | 15.19 |
| June | 242.2 | 54% | 16.2 |
| July | 254.9 | 56% | 17.36 |
| August | 228.4 | 54% | 16.74 |
| September | 196.7 | 53% | 15.9 |
| October | 167.3 | 48% | 14.88 |
| November | 99.4 | 33% | 9.9 |
| December | 74.4 | 26% | 8.06 |
According to this data, Pittsburgh has about 161 sunny days per year, defined as both partly cloudy days and clear days. This means that Pittsburgh has 204 cloudy days and that cloudy weather is much more common in the city than sunny skies.
If you want the lowest risk of encountering a cloudy day, the sunniest month is July with 17 days of sun (it's also the hottest month with the highest average high temperature of 83 °F during the day). The least sunny month is December with 8 days of sunshine when residents may go long periods without seeing much, if any, sun (short daylight hours and cold air coming from Lake Erie don't help, either).
These numbers make Pittsburgh one of the cloudiest cities in the US, particularly of this size. Even Seattle, often thought of as the gloomiest city in the country, has 167 sunny days. The difference, though, is that Seattle has even less sunshine in the winter months. It also doesn't have such high temperatures in the summer as Pittsburgh (which are paradoxically mild for Pennsylvania), making it one of the relatively few US cities with mild summers.
Sunshine Hours in Pittsburgh Compared to Other Cities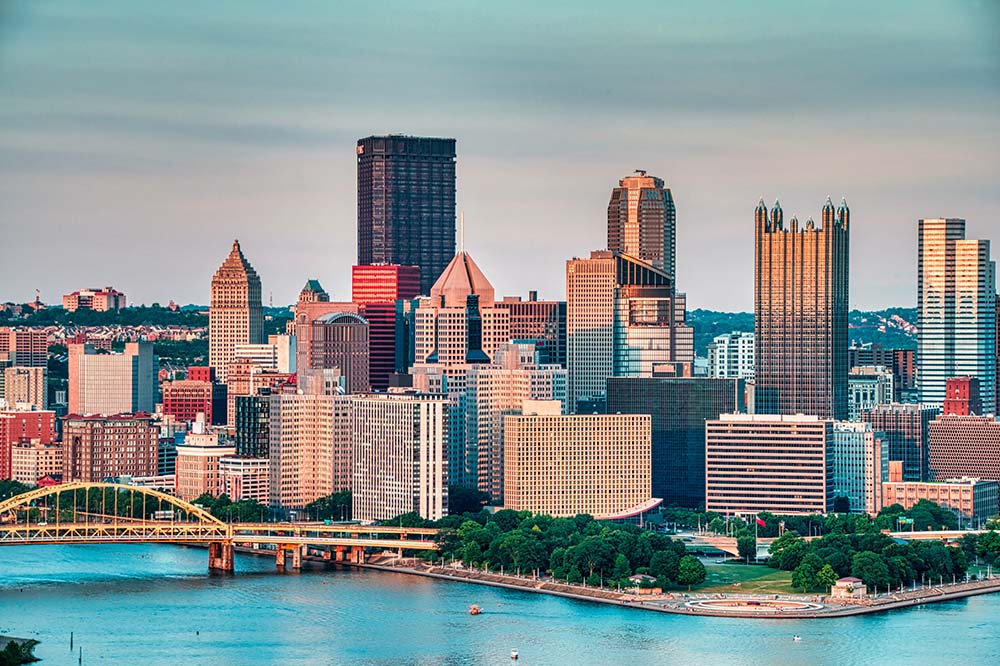 We now know that for residents of Pittsburgh, weather conditions on average aren't particularly favorable. Cloudy days are much more common than days of sunshine and there's particularly persistent cloud cover in the winter months.
For an even better picture of Pittsburgh's climate, we can compare the number of sunshine hours in Pittsburgh to some other cities.
For example, compared to cities in Pennsylvania, Pittsburgh with its 2,021 hours of sun is rather gloomy. Philadelphia gets 2,498 hours of sun (read more on Philadelphia), Scranton gets 2,303, and Harrisburg gets 2,614.
Cleveland gets 2,280 hours, Columbus 2,183, and Washington, D.C. gets 2,528.
As a fun fact, Pittsburgh has about half as much sunshine as the sunniest city in the United States (Yuma, Arizona, which gets 4,015 hours of sun a year).
How Many Days of Rain and Snow Does Pittsburgh Get?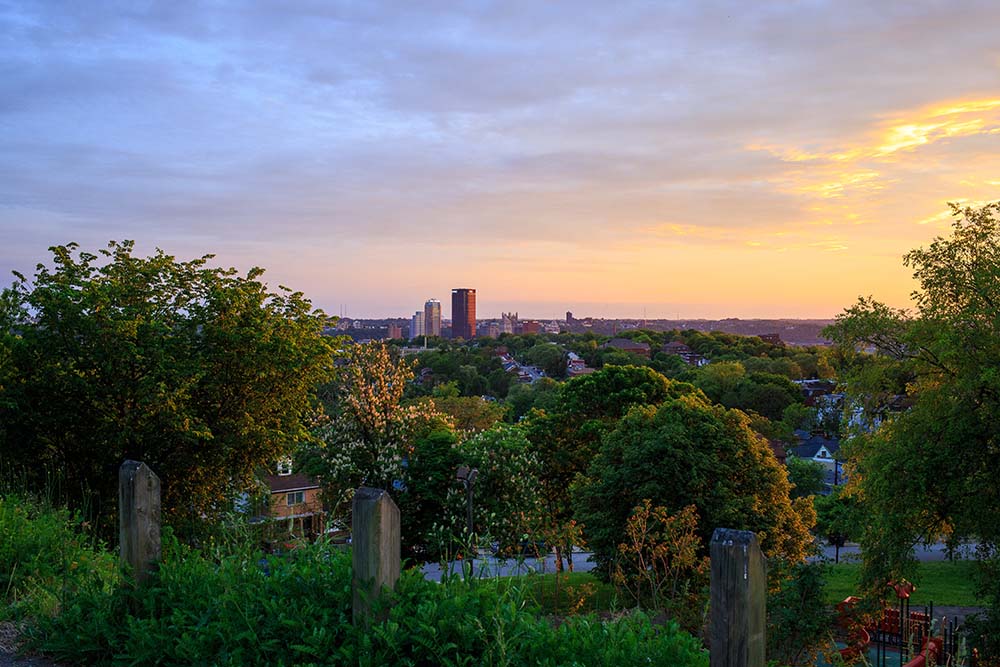 We can already imagine that with so little sun, Pittsburgh probably also gets a lot of rain and snow. But let's look at data first:
| Month | Rainy days | Snowy days |
| --- | --- | --- |
| January | 16.8 | 12.2 |
| February | 13.9 | 9.3 |
| March | 14 | 5.9 |
| April | 13.9 | 1.6 |
| May | 13.5 | 0 |
| June | 12.4 | 0 |
| July | 11.2 | 0 |
| August | 10.5 | 0 |
| September | 9.8 | 0 |
| October | 11.1 | 0.3 |
| November | 12 | 3.3 |
| December | 14.6 | 7.6 |
This confirms that Pittsburgh is indeed not only a cloudy city but also a rather rainy one, with 154 days of rain a year. To make matters worse, rain is consistent year round. 40 days of snow guarantee snowy winters, too.
If you'd rather live in a warmer city in Pennsylvania, check out my article on the warmest cities in Pennsylvania.
Frequently Asked Questions
How many gray days are in Pittsburgh?
Pittsburgh has on average 204 cloudy days, with up to 23 overcast days in the cloudiest months (during the winter). The rest is partly cloudy days and clear days.
Is Pittsburgh more cloudy than Seattle?
Pittsburgh is indeed more cloudy than Seattle. It has 161 sunny days per year while Seattle has 167. Pittsburgh is slightly sunnier in the winter months than Seattle, though.
Is Philadelphia sunnier than Pittsburgh?
Philadelphia is much sunnier than Pittsburgh. It records 2,498 hours of sunshine, which is 477 hours more.
Which city gets more snow: Philadelphia or Pittsburgh?
Pittsburgh gets much more snow. It has 40 days of snow with 44.1 inches of snowfall a year. Meanwhile, Philadelphia has only 12 days of snow and 23.1 inches of snowfall per year.
Does Pittsburgh get a lot of rain?
Pittsburgh does get a lot of rain. It records 154 days of rain, with about 40 inches of rainfall a year.
Is Pittsburgh the cloudiest city in the US?
Pittsburgh, while being a cloudy city, is not the cloudiest city in the US. Some cities in Alaska are much cloudier. For example, Juneau has only 1,531 hours of sunshine while Pittsburgh gets 2,021.
Does Pittsburgh get a lot of snow?
With 40 snowy days a year and over 44 inches of snowfall, Pittsburgh does get quite a lot of snow.
Does Pittsburgh have nice weather?
Pittsburgh has milder summers than other cities in Pennsylvania. Unfortunately, it has many more cloudy days and is much colder in the winter than Philadelphia. If you value a clear sky and don't like clouds, Pittsburgh doesn't have nice weather.
Is Pittsburgh colder than Philadelphia?
Pittsburgh is much colder than Philadelphia. Its yearly average temperature is 51.8 °F compared to 56.3 °F in Philadelphia. It has much colder winters with temperatures up to 5 degrees Fahrenheit lower. Summers are cooler by about 5 degrees Fahrenheit as well.
We are sorry that this post was not useful for you!
Let us improve this post!
Tell us how we can improve this post?